By Columbia Threadneedle Investments Global Asset Allocation Team
Global Asset Allocation Outlook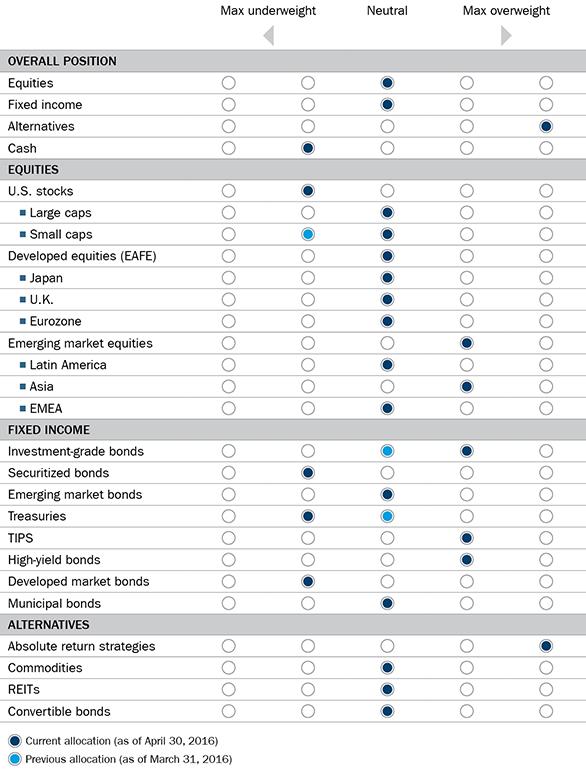 Equities: We continue to support a neutral weighting for equities. Our global equity scorecard argues that any expansion of risk should occur in non-U.S. equity markets, which remain well below last year's highs. We view the dynamic of a weaker U.S. dollar, recovering commodity prices and easing pressures on energy-related borrowers as a key reflationary factor, while the longevity of this virtuous circle remains the central issue for expanding equity risk more generally.
Within equity allocation: We remain moderately overweight emerging market equities and moderately underweight U.S. equities. While the S&P 500 is near its all-time high, emerging market equities have been hurt over the last several years by a strong U.S. dollar, plunging commodity prices and fear of a slowing global economy. More recently, the dollar has stabilized and commodities have begun to recover, presenting a tactical entry point for emerging market equities. Recent outperformance due to the reflation dynamic referenced above has been trivial compared with trailing underperformance. This would suggest that scope remains for the gap to close further. While we do not emphasize regional preferences, we have upgraded small cap to neutral following prolonged underperformance, model upgrades and the possibility of an economic and earnings trough. Finally, a country-specific dislike of Canada has emerged from our analysis.
Fixed income: Overall, fixed income remains neutral. Recession risks in the U.S. have abated somewhat in recent months, while negative or very low yields are all we see across the globe. The overall duration framework remains negative, with duration performing poorly in the context of the reflation dynamic. To the extent that the weak dollar/strong commodity dynamic remains in place, we believe that easing duration might make sense.
Within fixed-income allocation: With our high-yield model suggesting a positive carry environment, we remain modestly overweight high yield. Other spread sectors are similarly attractive, with investment grade offering better risk-adjusted return opportunities. We have moved investment grade to modest overweight and Treasuries to modest underweight. TIPS remain at modest overweight.
Alternatives: We maintain our overall overweight for alternative investments based on the need for diversification to help ease the impact of volatile markets. Alternatives can also serve as a hedge against a renewed loss of diversification efficacy from bonds. Recent weakness in alternative beta performance is something that we are monitoring, but overall, expanding our diversifying components within portfolios remains one of our biggest priorities.
Disclosure: None
Disclaimer: The views expressed in this material are the views of the author through the date of publication and are subject to change without notice at any time based upon market and other factors. All information has been obtained from sources believed to be reliable, but its accuracy is not guaranteed. There is no representation or warranty as to the current accuracy, reliability or completeness of, nor liability for, decisions based on such information and it should not be relied on as such. This information may contain certain statements that may be deemed forward-looking statements. Please note that any such statements are not guarantees of any future performance and actual results or developments may differ materially from those discussed. There is no guarantee that investment objectives will be achieved or that any particular investment will be profitable. Past performance does not guarantee future results. This information is not intended to provide investment advice and does not account for individual investor circumstances. Investment decisions should always be made based on an investor's specific financial needs, objectives, goals, time horizon and risk tolerance. Please see our social media guidelines.