The economy is weakening in this self-reinforcing cycle. When businesses notice others lowering expansions, they lower investments themselves. When stock markets fall because consumer sentiment is falling, it causes consumer sentiment to fall further. Everything in the economy works with this feedback loop. This is why this slowdown is not going to randomly recover and head higher. The idea that Q1 was a bottom for corporate earnings ignores this cycle. The stock market hasn't even corrected yet and the economy hasn't fallen into a recession yet.
The cycle is just getting started rolling over. The economy moves at a slow pace. The reason why some investors have missed this point is this recovery has been the slowest in decades. It has looked like it could fall into a recession at any point in the past 5 or 6 years. Also the Chinese economy which was the engine of the previous cycle has been slowing for many years. With the absence of accurate data, it is difficult to tell if China is decelerating at a faster clip. Economists have a difficult time predicting the American economy even though it has mostly accurate data. Imagine how tough it is to measure China with the government obfuscating the truth. The one thing we do know is the Chinese government will not be enacting a new stimulus program. This is a healthy approach for the long-term, but it means China will not be saved from the recession which is staring it in the face.
You can see my point about this being a weak recovery in the chart below. It shows the GDP annual change lower than any point since 1971. This recession the Federal Reserve will not be able to cut interest rates as they are already at the zero bound. The Fed knows it is in a bind where it cannot raise or cut rates. This is why it reacted with such force after the correction earlier this year. If the market would have gotten out of hand, it could have sparked the inevitable recession which is breathing down the economy's neck.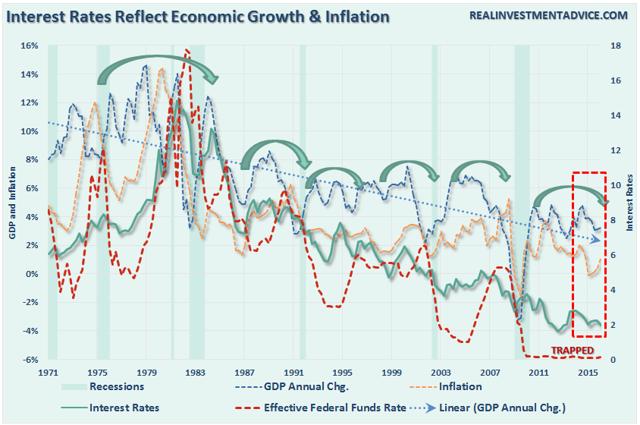 Earnings are down -7.1% for Q1. This is an objectively bad result. However, bulls are spinning this as the bottom even though they have no evidence to back it up. FactSet did a bottoms up analysis of Q2 EPS estimates in the chart below. Estimates are down 9.5% in the past 26 weeks and 2.1% since March 31st alone. Q2 will not offer the bulls any hope.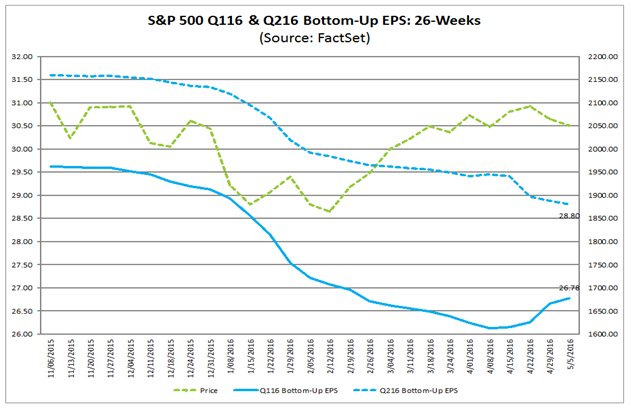 Finally, we have companies' guidance to help us get a better picture of Q2. So far, out of the 79 companies issuing guidance, 55 have issued negative forecasts. This accounts for 70% of the firms as you can see in the chart below. Heading into this Q1 earnings season, the companies issuing negative guidance was at 78%. We are on pace for a slight sequential improvement in earnings, but a continuation of the negative earnings trend. This reinforces my negativity on the market.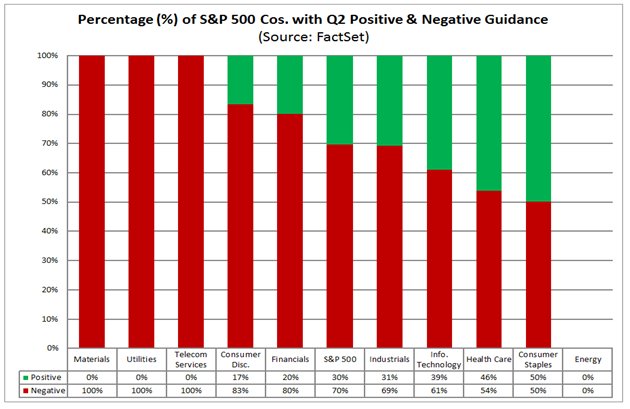 Disclosure: I/we have no positions in any stocks mentioned, and no plans to initiate any positions within the next 72 hours.
I wrote this article myself, and it expresses my own opinions. I am not receiving compensation for it. I have no business relationship with any company whose stock is mentioned in this article.