Shares of Merck & Co. Inc. (NYSE:MRK) have pulled back about 5.75% from the April high, along with the S&P 500 Healthcare sector, down 2.38%, on concerns about interest rate decisions from the Fed, and the Senate Special Committee on Aging's third hearing on April 27 that focused on the drug price model of Valeant Pharmaceuticals (NYSE:VRX) and three of its medications. According to witness testimonies, Valeant raised the prices of those drugs by about 3,000% and 6,000%, after the company acquired the rights to manufacture them.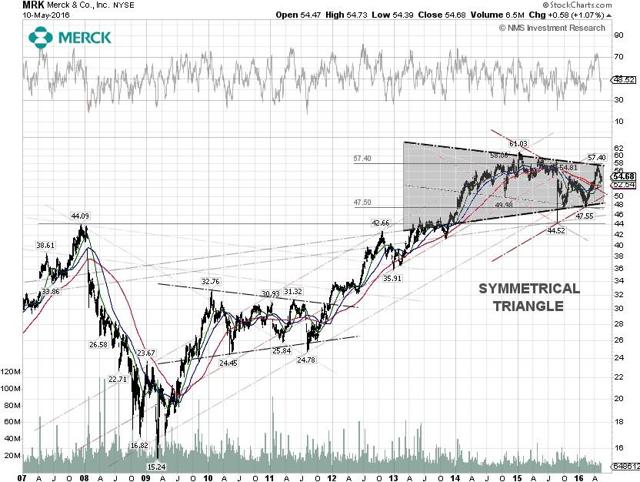 Merck's stock is trying to rebound after the company disappointed Wall Street on May 5 with its first-quarter 2016 earnings report that showed a 2.2% year-on-year decline in pharmaceutical sales, as revenues from immunosuppressant drug Remicade (infliximab) and nasal allergy spray Nasonex (mometasone furoate monohydrate), plunged 30.3% and 20.8%, respectively. Merck will now have to heavily rely on the continued strong uptake of its top-selling type 2 diabetes drugs Januvia (sitagliptin) and Janumet (sitagliptin/metformin HCl) while the company is banking on the new drugs like chronic hepatitis C virus, or HCV, drug Zepatier (elbasvir and grazoprevir) and anti-PD-1 cancer drug Keytruda (pembrolizumab).
Merck has been pursuing M&A activities as in January, it acquired a small privately-held UK-based drug discovery company, IOmet Pharma Ltd, that focuses on cancer immunotherapy and cancer metabolism. In late December, there was also a report that Merck might be interested in the small biotech company Relypsa, Inc (NASDAQ:RLYP), that develops and markets non-absorbed, polymeric drugs for the treatment of cardiovascular, renal, and metabolic diseases.
Here what was Merck's CEO Ken Frazier told Christopher Schott, analyst at JP Morgan Securities at the first-quarter 2016 earnings conference call last week,
And so I guess what I'm signaling is I'm not focused on a large consolidation type merger such as we've seen in the industry in the past. But I also think that bolt-on acquisitions can be larger than, for example, a Cubist.
In January 2015, Merck acquired Cubist Pharmaceuticals for a total transaction deal of $9.5 billion.
The bolt-on acquisition, in which the acquiring company merges with the acquired company at a cost lower than the acquiring company would have to spend to develop that business from scratch, may be a thing of the past as companies like Pfizer (NYSE:PFE), Gilead Sciences (NASDAQ:GILD), Allergan (NYSE:AGN) and Sanofi (NYSE:SNY) are also hunting for deals. M&A deals will become increasing important as Merck's pharmaceutical revenue erosion continues and sales from new drugs are still years away from making a significant impact to its top line.
Merck's Blockbuster Drugs Are Under Siege
Merck's top-selling blockbuster drugs, meaning those with $1 billion or more in annual sales, generated revenues of $16.13 billion in 2015, accounting for 46.38% and 40.84% of their pharmaceutical and total sales, respectively. Januvia and Janumet, type 2 diabetes drugs with the dipeptidyl peptidase-4, or DPP-4, inhibitor approved by the FDA in October 2006 and March 2007, respectively, showed flat growth in 2015 with revenues of $6.01 billion, up 0.2% year-on-year.
Much of the competition for Januvia and Janumet may have come from Eli Lilly and Company (NYSE:LLY) and Boehringer Ingelheim's Jardiance (empagliflozin), launched in September 2014, and other members of a family of medicines called sodium/glucose cotransporter 2, or SGLT-2, inhibitors, which have shown to significantly reduce both cardiovascular risk and death.
Sales of asthma and allergy drug Singulair (montelukast sodium) have fallen over 80% since 2011 to under $1 billion in 2015, due to generic competition when the patent expired in the U.S. in August 2012. Revenues from other top-selling drugs, including cholesterol-lowering drugs Zetia (ezetimibe) and Vytorin (ezetimibe/simvastatin), and Remicade continue to decline as generic drug competitors make inroads. Vytorin is a combination drug between Zetia and Zocor (simvastatin), which lost its U.S. patent protection in June 2006.
Zetia and Vytorin, which generated $3.8 billion in sales last year, may soon be facing generic competition from Mumbai-based Glenmark Pharmaceuticals Ltd., which can sell its generic version in the U.S. starting in December 2016, as part of a settlement of a patent-infringement lawsuit ahead of the April 2017 expiration of Zetia's and Vytorin's patents. Glenmark received approval from the FDA in June 2015 for its ezetimibe.
Sales of Isentress (raltegravir), an HIV integrase inhibitor for use in combination with other antiretroviral agents for the treatment of HIV-1 infection, was down 9.68% to $1.51 billion last year, due to increased competition from the likes of Gilead Sciences' Vitekta (elvitegravir), approved by the FDA in September 2014.
In its first-quarter 2016 earnings announcement, Merck said it anticipates significant losses of future sales of Nasonex, as a generic version became available in the U.S. in March 2016. Additionally, in June 2016 the company will lose U.S. patent protection for Cubicin (daptomycin), an I.V. antibiotic for treatments of bacterial infections of the skin and underlying tissues, with significant losses of sales expected to occur thereafter. Cubicin's revenue was $1.13 billion in 2015.
Biosimilars Could Wipe Out Merck's Remicade Sales
Sales of Remicade plunged to $1.79 billion last year from $2.67 billion in 2011, due to loss of exclusivity and the accelerating impact of biosimilar competition in Merck's marketing territories in Europe. In April 2011, Merck agreed to pay Johnson & Johnson (NYSE:JNJ) $500 million up-front in order to retain rights to market Remicade and Simponi (golimumab), a new-generation anti-inflammatory drug, in Europe, Turkey and Russia and end the dispute with J&J, resulting from the acquisition of Schering-Plough in March 2009.
In early 2015, Hospira, now part of Pfizer, launched Inflectra (Biosimilar infliximab), its biosimilar version of Remicade, in the U.K. and key European states at about 20% to 30% below the price for the branded drug, according to The Wall Street Journal. Hospira's rival, Cambridge, UK-based Mundipharma International Ltd, has also launched distribution of Remsima (Biosimilar infliximab), another biosimilar version of Remicade made by Incheon, South Korea-based Celltrion Healthcare, in certain European markets.
In February 2016, Sandoz, the generic pharmaceuticals division of Novartis (NYSE:NVS), acquired the rights in the eurozone from Pfizer to PF-06438179 (Biosimilar infliximab), now in Phase 3, following Pfizer's commitments to the European Commission in connection with the acquisition of Hospira to exit the European market for Remicade biosimilars.
Zepatier and Keytruda Need to Gain Market Share Fast
Merck said in the first-quarter 2016, it sold $50 million worth of Zepatier, a once-daily hepatitis C pill approved by the FDA in late January for the treatment of chronic HCV genotypes 1 and 4 infection with a price tag of $54,600 for a 12-week course of treatment. It is still too early to tell how Zepatier will match up against competitors Gilead Sciences and AbbVie (NYSE:ABBV), as the drug is still pending the approval of the European Medicines Agency.
In March, the U.S. Department of Veterans Affairs, or VA, announced that all veterans with the hepatitis C virus infection will be able to be treated, regardless of the stage of liver disease, after Congress increased its funding for fiscal year 2016. Merck said during its earnings call that Zepatier had been added to the formulary at the VA. A recent study conducted by a VA Medical Center showed that about 80% of military veteran patients with HCV are infected with genotype 1, and about 1.2% of the patient population was diagnosed as genotype 4 infected.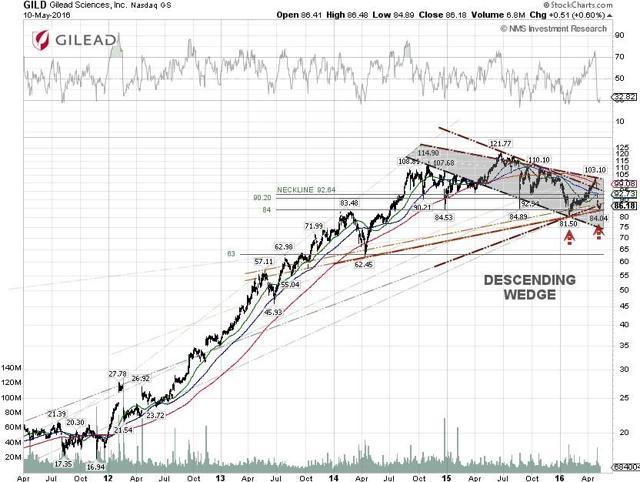 Gilead's top-selling hepatitis C drugs, Harvoni and Sovaldi, which generated revenues of more than $31 billion over the last two years, has seen its sales declining. The company, however, said it maintains high market share, with more than 90% of all patients treated in the first-quarter 2016 being prescribed either Harvoni or Sovaldi. Gilead could launch a more powerful hepatitis C drug for the treatment of chronic HCV genotype 1-6 infection as early as June 28, 2016, pending FDA approval.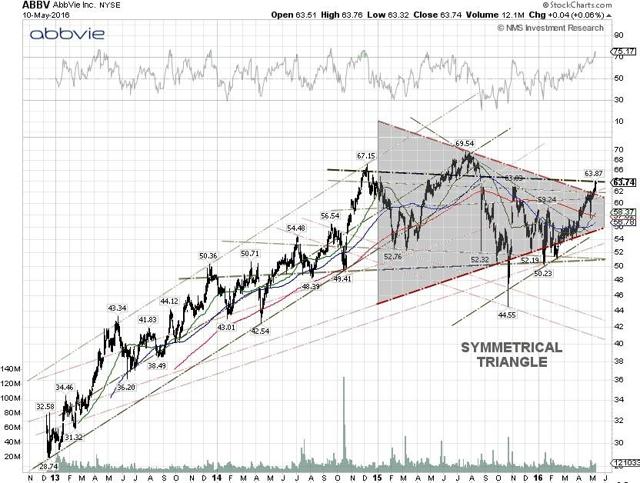 AbbVie seemed to gain some market share, as the company said that sales of its hepatitis C drug, Viekira Pak launched in December 2014, jumped 79% year-on-year in the first-quarter 2016 to $414 million. The Bristol-Myers Squibb (NYSE:BMY) hepatitis C franchise, including Daklinza (daclatasvir) approved by the FDA in July 2015 for the treatment of HCV genotype 3 infection, appears to also be doing well, as it generated $1.64 billion in revenues last year, primarily in overseas markets.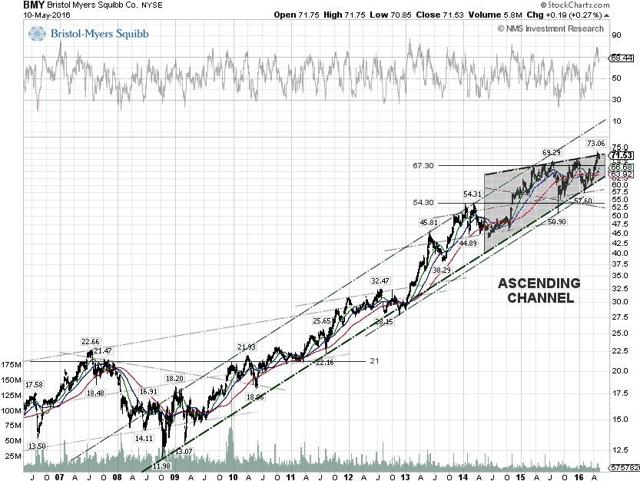 Merck's Keytruda, an anti-PD-1 (programmed death receptor-1) therapy approved by the FDA for treatments of advanced melanoma in September 2014 and metastatic non-small cell lung, or NSCL, cancer in October 2015, is making big progress, but faces stiff competition from Bristol-Myers Squibb's Opdivo (nivolumab), an anti-PD-1 therapy approved by the FDA in November 2015 for treatments of an advanced form of kidney cancer. Other FDA approvals for Opdivo include advanced melanoma, lung cancer and metastatic NSCL cancer treatments. According to Bloomberg, sales of Opdivo have been accelerating since the third-quarter 2015, outpacing that of Keytruda.
Conclusions
Merck shares are trying to rebound after disappointing Wall Street with its earnings report that showed declines in pharmaceutical sales. While revenues from their blockbuster drugs are showing flat growth or falling sales as generic drug and biosimilar competitors make further inroads, Merck will now have to heavily rely on new drugs like Zepatier for hep C and cancer drug Keytruda.
Merck has been pursuing M&A activities but its bolt-on acquisitions, in which they would merge with another company at a cost lower than it would spend to develop that business from scratch, may be a thing of the past as other drug companies are also hunting for deals. M&A agreements will become increasing important as Merck's pharmaceutical revenue erosion continues and sales from new drugs are still years away from making a significant impact to its top line.
Disclosure: I am/we are long ABBV, AGN. I wrote this article myself, and it expresses my own opinions. I am not receiving compensation for it (other than from Seeking Alpha). I have no business relationship with any company whose stock is mentioned in this article.