What You Need To Know:
Global X wants you to invest the largest growing population segment, or at least in their spending habits. This month they have launched a new fund aimed at Millennial target spending, Global X Millennials Thematic ETF (NASDAQ:NASDAQ:MILN)
What is Thematic mean exactly? An example of the dynamic behind the strategy would be to develop an advantage through long-term returns caused by stock mispricing and other volatility due to demographic or social volatility. Simply put, MILN seeks to gain returns based on long-term investment themes rather than focusing on short-term business cycles. Thematic investing is referring to the process of recognizing large scale macro-level trends and identifying investment options that can benefit from the developing theme.
Investing on a theme such as "Millennial Spending" goes past the typical screening of vehicles that hypothetically benefit from events due to fluctuating economic policies such as OPEC event or an expected interest rate increase. This macro-view style of screening may help to deliver tomorrow's investors an edge in identifying opportunities rooted in changing demographics, like the shift that just occurred between Baby Boomers and Millennials.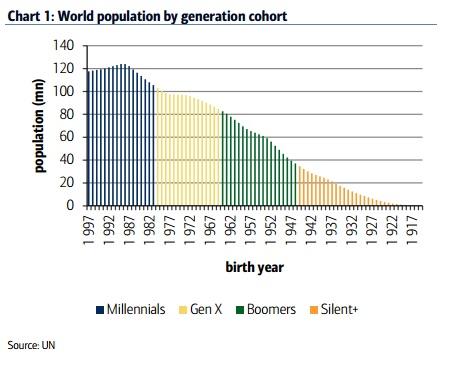 According to The U.S. Census Bureau's 2015 report, Americans born between 1982 and 2000 are now over 83 million strong in population. This represents more than one-quarter of the nation and exceeds the 75.4 million Baby Boomers.
Global X Millennials Thematic ETF
The fund was launched just this month and is part of the latest attempt to marry social trends with financial investing. Global X has a long history of bringing forth controversial and unique vehicles for unconventional investors but we will save that topic for a future article. What potential investors should look at today when comparing MILN and it's holding against similar funds promoting "FANG" type strategies is the reasoning for the allocation.
MILN passively manages $1,514,977.19 in funds, costing investors an annual fund operating expense of 0.68%. The ETF selects only U.S. listed companies who have a Market Cap of over $500 million and a secure amount of liquidity. Using criteria focused on consumer spending, consumer behavior, technology and demographics, the fund has identified eight target Millennial spending categories.
Social and Entertainment
Clothing and Apparel
Travel and Mobility
Food/Restaurants and Consumer Staples
Financial Services and Investments
Housing and Home Goods
Education and Employment
Health and Fitness
MILN has a current portfolio allocation that reflects the interest of Millennials, focusing heavily on Internet usage the products and services offered by publicly owned companies who have met the funds criteria.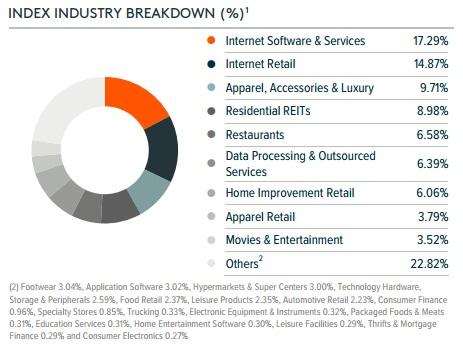 Unlike other funds with similar allocation, Global X will not seek short-term shelter in nonrelated industries. That does not mean to say that the ETF will not change its allocation or target categories over time. As Millennials age so will their spending habits and the fund recognizes this coming shift.

Why Millennials Matter
Companies who recognize the connection between Millennials and their spending habits will become marketable to over 90 million consumers. Fueled by what some deem "The Great Transfer", this demographic will inherit an estimated $40 trillion from U.S. Baby Boomers to Millennials. Over the course of their lives, Millennial spending will translate to real economic leverage and as their expendable income grows it will help drive the global economy.
Millennials are socially conscious investors who will change the economic landscape. 67% of Millennials that they invest as a way to "express their social, political or environmental values". In the United States, the federal decision based upon Citizens United has deemed that corporations are people and that money equates to free-speech. The savvy Millennial understands that this means it's time to put their money with their moral and political views lay.
Supporting this case for Millennials to become more socially responsible investors, 73% believe that it is possible to compete with market rate returns on companies based on their "social or environmental impact". The impact of their socially conscious driven investing has not been felt by today's market but in the future there lays a possibility that a strong balance sheet may not be as desirable as it once was if those profits are driven but unethical or immoral motives.
Compared to Boomers, Millennials spend more of their money on products from companies who demonstrate sustainability compared to the previous generation. This can be looked as a way to illustrate that in the future, brand loyalty will not come from clever packaging but instead the content of the packaging and the macro-impact the product has.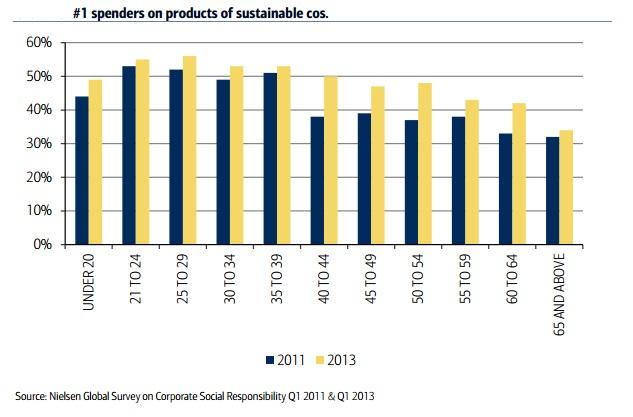 Millennials Represent A Large Portion of U.S. Spending
Millennials are now the largest generation in the US and will make up 75% of the labor force by 2025. As for their spending power, they will inherit an estimated $40 trillion from the previous generation. This age group will become a key factor driving the future US economy. For example, Millennials already account for $1.3 trillion in direct annual consumer spending and that figure is expected to grow as their annual income reaches $8.3 trillion over the next decade.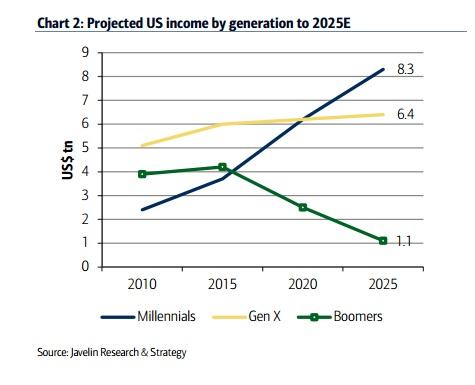 *source: BofA / Merril Lynch - Thematic Investing Generation Next - Millennials Primer
Millennials Have Unique Spending Habits
Millennials are the first generation to be complete emerged in the concept of online consumerism. At first, the market may have underestimated the impact of this digital shift from the "Sears Catalog" style of directly marketing to at home customers but to keep the Millennial generation brand loyal, companies have had to stay current with the technology.
Let's use a contemporary example of a brick and mortar institution from the Baby Boomer generation, Radio Shack. The now bankrupt company failed to stay relevant to the consumer in comparison to online retailers who took away much of their core business. The company failed to adapt for many reasons but mainly the overhead incurred by their business plan helped to expedite the process. Yesterday's direct sales plan of having "X" amount of stores in proximity to "Y" amount of consumers proved to be too costly in today's online dominated retail space. Even though many Millennials held a nostalgic view of RadioShack, they would not change their spending habits in order to stay brand loyal.
Conclusion:
With the creation of this new fund, Global X intends to commoditize the Millennial generation. This is not a new practice, it has been done by corporations since the onset of the digital record-keeping era and successfully used by social media to convert their user-base into a marketable product. This interesting concept is in its infancy and will require some time before the everyday investor understands these type of investment vehicles.
I look forward to seeing how the fund performs and intend to do a full analysis of the fund's major holdings and their social impact. Let's just hope that I'm not covering beard grooming products and vegan-tofu wholesalers for the next 25 years!