On Friday, the U.S. Census Bureau will publish the 'Advance Monthly Retail Trade and Food Service Survey' with consensus estimates pointing to strong monthly gains, reflecting a rebound in motor vehicle sales for April but also generally improved sentiment and the belief that the U.S. economy will once again bounce back from a disappointing first quarter. Unfortunately a number of factors work against this optimistic view and Friday could well deliver another disappointment!
Retail & Food Service Sales, one of a handful of major U.S. economic statistics, are driven by economic, financial, fiscal/monetary, wealth and psychological factors. Over the last two years, the combined picture has been mediocre at best as many unfavorable factors (lead by a historically low 2.5% growth in average hourly earnings) prevented any real, sustainable growth. On top of that analysts and investors now should pay more attention to falling consumer confidence, which could be a more powerful leading indicator than currently taken into account.
In April 2016, the 'Consumer Confidence Index' from the University of Michigan fell to 89.0 - the lowest level since November 2014 and the sub-component for 'Consumer Expectations' (77.6) hasn't been more restrained since September 2014. Over the last years, consumer confidence indicators lost some of their significance and even became subject of ridicule when confidence - on back of falling energy prices - spiked in the second half of 2014 to reach an 11-year high on January 2015, which has never been followed up by consumer-related and general economic activity. Still (and ignoring the actual level of the index), the direction of the monthly consumer confidence reading has actually been a highly reliable leading indicator for retail sales in the following month since January 2015 (and a respectable leading indicator prior to that). The first few months of this year showed four consecutive declines in confidence, which not only led to weak retail sales in the first quarter of this year but will most likely be a major driver for weak retail sales in the current quarter!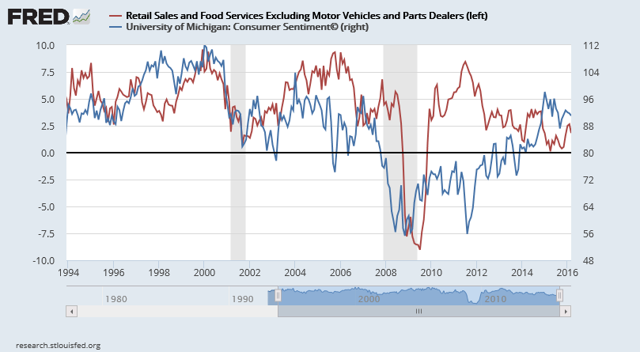 Since the end of the 'Great Recession', the economic recovery has been almost exclusively based on the factor 'hope' but year after year very few long-term growth trends materialized and overall economic activity remained in a zone between stagnation and moderate growth. More recently, market participants once again hope that stocks have finally finished the correction phase, that crude oil has finally found a bottom and a steady appreciation will help the energy sector and the global economy, that a falling Dollar will reverse all negative currency-related trends, that the worst is over for U.S. corporate earnings and revenues, emerging markets and corporate bonds, that China's economic slowdown is behind us and of course that economic activity in the U.S. will finally accelerate and show above-average growth for years to come (and each point feeds the others). In an environment like this - with 'hope' being the major pillar on which the "recovery" is built - sentiment-based indicators like consumer confidence might have become more reliable and indeed be the leading indicators they were supposed to be (until sentiment and action diverted and the leading indicators became coincident or even random indicators). Since the beginning of last year, monthly consumer confidence fell seven times month-over-month; each time, retail sales disappointed across the board in the month that followed (it also worked the opposite way but not as consistently). Consumer confidence also dropped in March compared to February and in April compared to March, suggesting that retail sales in April and May (to be reported on June 14, 2016) could disappoint once again. But this is only half of the story:
Taking a closer look at retail sales:
Analyzing the majority of economic data available, there is strong evidence that growth for the U.S. economy already started slowing down in the middle of 2014. Since then, retail sales looked rather solid in absolute terms although monthly growth has been sluggish and year-over-year growth steadily decelerated to 1.7% (and 1.8% excluding motor vehicle & parts in March this year. Solid headline numbers, however, have been rather deceiving.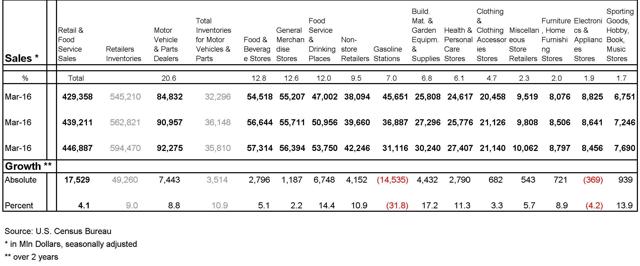 The table on top shows the sub-categories as reported by the U.S. Census Bureau, sorted by size. The growth in absolute Dollar amounts and percent reflects the two-year period from March 2014 until March 2016, so the average annual growth is obviously half the value. Here is a summary of the details:
A number of segments have shown weak growth (food & beverage, general merchandise, clothing & clothing accessories, miscellaneous) with 'electronics & appliances' even negative (followed by 'gasoline stations' but that's a different story).
Year-over-year growth has been in a downtrend for almost all categories.
'Building materials, garden equipment & supplies' as well as 'health & personal care' displayed surprising strength in the last few months (between December and March), a time when consumer spending slow markedly…
Looking at the absolute (Dollar-) change on a monthly base, selected growth areas like 'food service & drinking places', 'building materials, garden equipment & supplies', 'health & personal care' and 'sporting goods, hobby, book & music' reached the top of their historic range and growth going forward may deteriorate from here.
Solid or even strong growth in 'furniture & home furnishing' as well as 'sporting goods, hobby, book & music' looks good on paper but with 2.0% and 1.7% of total sales, respectively, these categories are simply too small to move the needle on total sales.
With 7% of total sales, lower sales from gasoline stations are less significant than frequently portrayed; at the same time, it is already obvious that lower gas prices didn't ignite strong discretionary spending in other categories (in fact we might even see the opposite effect as long as gas prices climb higher).
In addition, over the last two years, total retailers' inventory levels rose by $49.3Bln or 9.0% (compared to $17.5Bln or 4.1% for total sales), of which inventories for 'motor vehicle & parts' increased by $3.5Bln or 10.9% (compared to $7.4Bln or 8.8% higher sales). Simply looking at the structure and quality of retail sales and considering general weakness of economic activity and consumer spending, it wouldn't be surprising if retail sales continued to disappoint in the upcoming months.
While developments over the last 24 months and the "internal" composition of retail sales doesn't leave a lot of (if any) space for growth, external factors make things even worse:
A brief summary of determining factors:
Consumer spending and retail sales in particular are driven by a variety of factors. Almost all of them don't create a healthy environment for spending. Economic drivers like economic growth, capital investments, production and corporate profits are underwhelming at best and, looking at the latter three, literally depressing. Expectations for inflation are highly divided but fear of further disinflation or even deflation probably also holds back some spending. Financial drivers are mainly defined by personal income and wages as well as consumer borrowing (or the ability to do so). Average hourly earnings - arguably the most important and most consistent indicator for retail spending - grew by plus/minus 2% over the last few years and are up by a still historically low 2.5% in April this year and hardly provide any foundation for sound spending.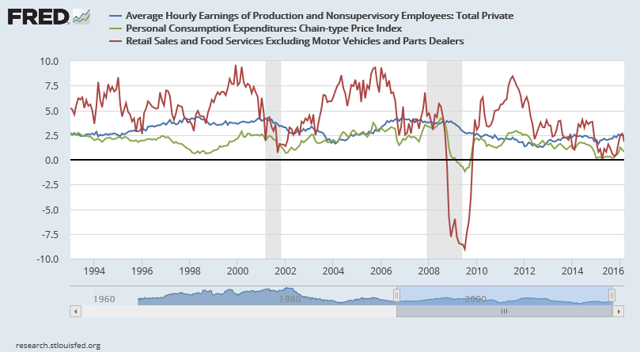 In fact, it was and still is not enough to cover all fixed and discretionary expenses as seen in a noticeable rebound of revolving consumer credit from March 2015 until now. Last year, each month that showed higher retail sales was followed by a sizeable increase in credit card debt. After not growing at all until February 2014, the accumulation of credit card debt expanded from an annual rate of 1.6% in March 2014 to 6.2% in March 2016 (that month, consumers decided to put an almost record amount of $11.1 billion on their credit card - in order to pay for the suspiciously strong spending in 'building material & garden equipment & supplies' and 'health & personal care'…?). This comes on top of non-revolving consumer credit, which mainly comprises automobile and student loans and already went through the roof over the last seven years (up $1.1 trillion to $ 3.6 trillion of total outstanding consumer credit owned and securitized). Fiscal and monetary drivers, defined by taxes and interest rates should be seen as just neutral: While the landscape for taxes hasn't changed too much over the last seven years, interest rates at historic low levels are certainly good for those who borrow money (i.e. sharp rise in automobile loans) but hurt others, who depend on the return of their savings. Wealth drivers are probably the only category that provided some support to consumer spending as real estate and stock market values improved but the distribution of those wealth gains have been very selective and don't fully apply to the average household. Finally there are psychological drivers that cover a wide range of areas from political uncertainty, job and income security to fear of terrorism and war. Without going into detail but uncertainty in general has been frequently if not constantly present in front of consumers over the years.
Summary:
The macro environment and most drivers for retail sales put pressure on the ability for consumer to really spend. Mandatory expenses like rent and healthcare take away disposable income, which barely rises due to historically low growth in salary and wages. Discretionary spending gets covered by swiping the credit card. Since summer 2014, core retail sales (excluding automobile & parts) were nearly flat and growth has been limited to selected areas, which may turn out to be unsustainable. Mostly ignored or underestimated, a variety of indicators and surveys show that consumer confidence has been falling over the last few months, which was reflected in weak retail sales in the first quarter and will most likely be a major driver for weak retail sales in the current quarter as well!
Disclosure: I/we have no positions in any stocks mentioned, and no plans to initiate any positions within the next 72 hours.
I wrote this article myself, and it expresses my own opinions. I am not receiving compensation for it (other than from Seeking Alpha). I have no business relationship with any company whose stock is mentioned in this article.