India ETF products were down as much as 4% for the week as Indian markets cooled a bit after an official start to a bull market the week before. Here is the performance chart of all India ETF products.
(Click charts to expand)
Year to date India ETF products and the markets they track have rebounded from 2011 lows. Now it appears that a combination of profit taking and fear over the impact of a spike in oil prices may be letting a bit of the air out of the markets in India.
India ETFs that track small-cap stocks have led the peer group this year with SCIN, the Market Vectors India Small Cap ETF, now up 49% year to date despite a 3.9% loss this past week. EPI, the largest and first India ETF has gained over 33% this year.
India leads all BRIC countries in performance this year after lagging the group in 2011. Here's a 2012 performance chart of the leading BRIC country ETFs including EWZ, RSX, EPI and FXI.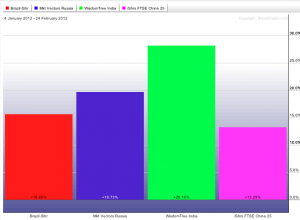 Source: stockcharts.com
Going forward concerns over the price of oil, the euro debt crisis and conflict in Iran will likely keep investors anxious about valuations in India. In addition, all eyes will be fixed on inflation numbers within the country as lower inflation is what is needed to produce the interest rate cuts that investors have priced into the markets.
Disclosure: IndiaETFs.com is published by Christian Magoon.