Trading FX markets from a deflationary angle suggests a higher JPY, CHF and EUR and a higher USD against a depreciating EM/commodity bloc. Australia's May consumer price inflation falling from 3.6%Y to 3.2%Y, getting near a historical low of 2.9%Y in September 2013, highlights the dilemma of commodity-producing countries caught up by the 'Dutch Disease'. Australia's past commodity boom allowed high wage increases within the mining sector but now, as this sector consolidates, employment shifts from higher-paying to lower-paying sectors. Smaller wage increases don't only affect disposable income growth. Price expectations fall too along with the shift in consumer behavior. The RBA will take notice and is likely to accommodate monetary conditions further from here, continuing to ease and push yields lower.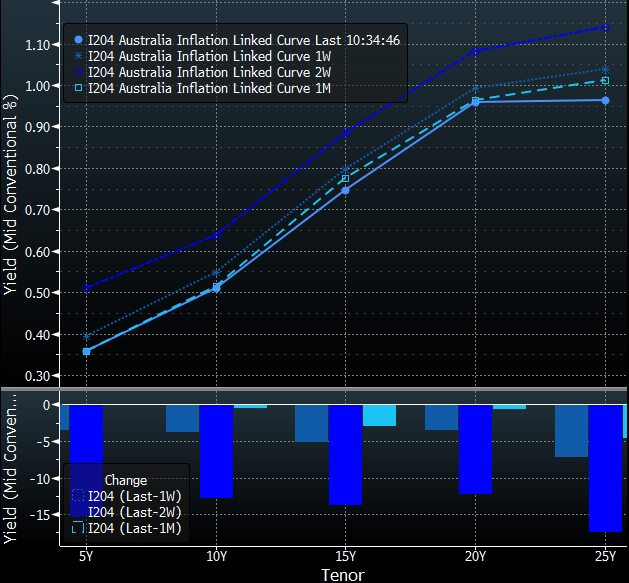 Australia's economic rebalancing from mining into services has been triggered by the terms of trade shock initiated by the commodity price decline. Here China remains the elephant in the room, with its economic prospects dictating the future commodity trend. China's current cyclical recovery is set to run out of steam within the next few months. Falling commodity prices may herald China's economy losing steam again. Hence, the performance of commodity prices and implicitly of AUD remains the seismograph for China's economic activity. China-related commodities like iron rebar (-25%) and iron ore (-24%) have declined sharply over the past 12 trading days. In contrast, Brent oil futures printed a new cycle high yesterday supported by the EIA projecting energy consumption to increase by 48% until 2040 and US commercial oil inventories declining by 3.4m barrels last week.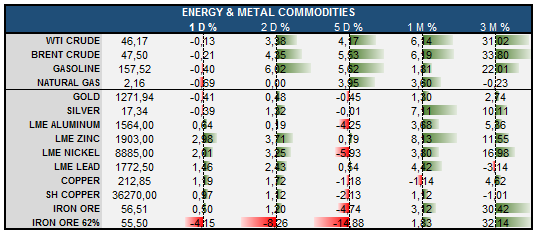 In China, demand-side stimulus was needed to halt the growth slowdown. It probably over-shot, supply-side reforms now are the main direction. The bond market is under stress. The Economic Information Daily reported yesterday that CNY1.66trn of bonds mature this month of which 70% are high-yield. In a separate but related story, Shanxi province pledged to guarantee the bonds of seven coal companies. The coupon default by one of them in early April contributed to the spike in credit spreads, contagion from which spread to government bond yields. Shanxi is coal country and as such is a front-line province for supply side structural reforms. Shanxi's bond guarantee and central government support are needed to prevent supply side structural reforms from becoming politically toxic. It seems the consensus view of the recent People's Daily "authoritative voice" interview and the follow-up publication of the speech President Xi gave in January on supply-side reforms is that it reflects divisions at the top level of policymaking. Supporters of the view see the authoritative voice's answer to the question about whether there would be more demand-side stimulus given its success in boosting first-quarter economic performance as implicit criticism of the State Council. The next key data for the market is likely to be the new loans and money supply data from China to be published between today and Sunday.
Meanwhile, widest spread between Yuan funding rate onshore vs. offshore remains worrying. The gap is around 390 pips now but it has been a headache for Chinese officials since the devaluation last year, most expect some form of PBOC intervention to fight the speculators who take advantage of the mismatch and buy the currency in Hong Kong and sell it in Shanghai. Rumor is officials are working on some tools including a tax which could potentially squeeze the liquidity out of the market and invite further volatility with a smaller spread.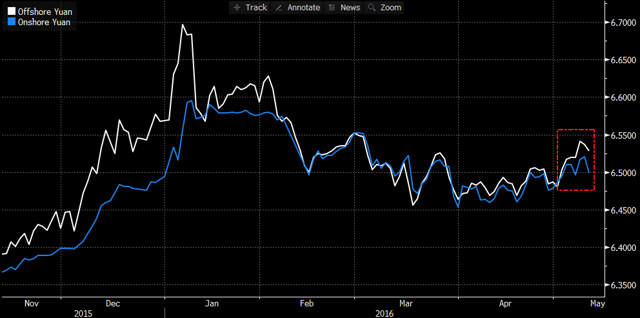 Disclosure: I/we have no positions in any stocks mentioned, and no plans to initiate any positions within the next 72 hours.
I wrote this article myself, and it expresses my own opinions. I am not receiving compensation for it (other than from Seeking Alpha). I have no business relationship with any company whose stock is mentioned in this article.