The US Treasury announced this morning that it will reopen CUSIP 912828N71 at auction on May 19, creating a 9-year, 8-month Treasury Inflation-Protected Security.
This TIPS originally auctioned on January 21 with a coupon rate of 0.625% and a real yield (after inflation) to maturity of 0.725%. I was a buyer of this TIPS at auction back in January, but a whole lot has changed in the ensuing four months.
CUSIP 912828N71 trades on the secondary market, so you can track its current real yield and price. Here is where this issue stands one week before the auction.
Bloomberg's Current Yields page shows it trading Thursday morning with a real yield of 0.14% and a cost of $104.61 for $100 of par value. Four months ago, this TIPS auctioned with a price of $98.95. As its yield has plummeted, its price has risen a remarkable 5.7%.
The Wall Street Journal's Closing Prices page shows this TIPS - which matures in 2026 Jan 15 - closed Wednesday with a yield of 0.103% and a price around $104.72.
The Treasury's Real Yields Curve page estimates that a full-term 10-year TIPS would have closed Wednesday with a yield of 0.14%.
So, one week away from the auction, it's looking like CUSIP 912828N71 will generate a real yield in the range of 0.10% to 0.15%, down about 60 basis points from its original auction in January. And buyers will be paying a big premium for the 0.625% coupon rate -- as much as 4.5% above par value.
A yield below 0.20% would be the lowest for any 9- to 10-year TIPS auction since May 2013. Thursday's auction will be the 18th of that term since May 2013.
I Bonds, and why this TIPS investment makes no sense. I am speaking from the viewpoint of a small investor, not a big-money hedge fund or foreign central bank. You can go out today and buy an I Bond paying a fixed rate of 0.1% above inflation, and get the added benefits of a flexible maturity, tax deferral and better deflation protection. There would be no reason - NO REASON - to buy this a TIPS paying a real yield of 0.1% when an I Bond is paying the same fixed rate.
In 'normal' times, a 10-year TIPS would have a 0.60% to 0.75% yield premium over an I Bond. These aren't normal times, and so if you haven't bought an I Bond allocation in 2016 - $10,000 per person per year - the I Bond is clearly the way to go. You just may want to wait for the November 1 rate reset.
Inflation breakeven rate, and why this TIPS investment might make sense. Big-money investors aren't in the I Bond market, so they have to look at how this TIPS compares with a nominal 10-year Treasury. That comparison creates the 10-year inflation breakeven rate. With a nominal 10-year yielding 1.74% this morning, that sets up a 10-year inflation breakeven rate of 1.60%. The breakeven number was 1.30% at the January auction, meaning there's been a 30-basis point jump in four months.
So, while TIPS yields have been falling, TIPS have also been getting more expensive versus nominal Treasurys. But I'd say the 1.60% breakeven means a 10-year TIPS is still 'cheap' by historical terms, as shown in this graph: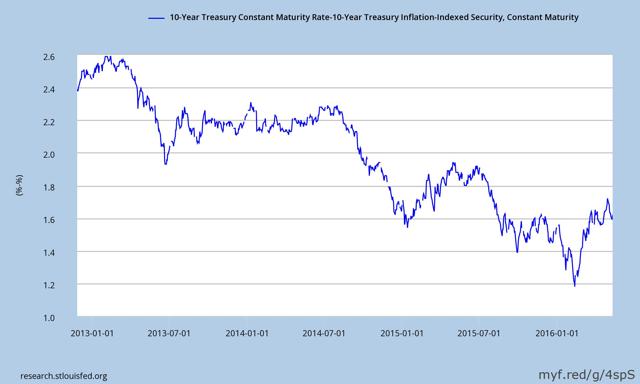 Inflation fears are obviously on the rise, especially as the Federal Reserve seems intent on weakening the strong dollar, which causes commodity prices to rise in dollar terms. We've seen gasoline prices rise gradually this spring, for example.
So if you are a big money investor, do you opt for a 10-year nominal Treasury paying 1.74% and likely to trail inflation? Or do you take the safer bet on a 10-year TIPS yielding 0.14% above inflation? TIPS are a popular investment right now, and that's why. Take a look at the 6-month chart for a the TIP ETF: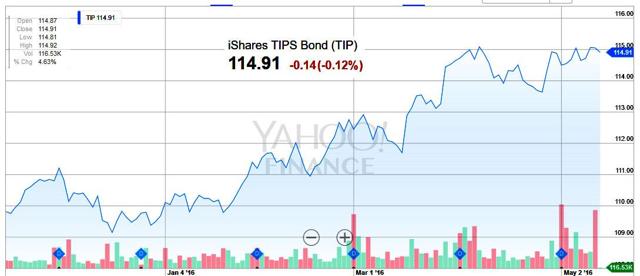 I have long argued - totally arbitrarily, I admit - that a price of $110 on the TIP ETF is a buy signal for TIPS mutual funds. The ETF did dip below $110 in December 2015 and into January 2016 - right up to the initial, very desirable auction of CUSIP 912828N71 on Jan. 21.
Since then, the trend has been up, as yields decline. Next Thursday's auction won't offer much for the small investor, but it could still turn out to be a big success for the Treasury. Here is a history of all 9- to 10-year TIPS auctions since 2009: