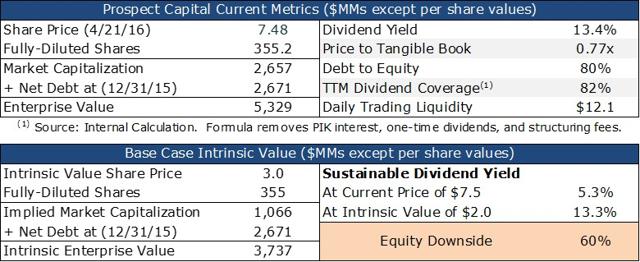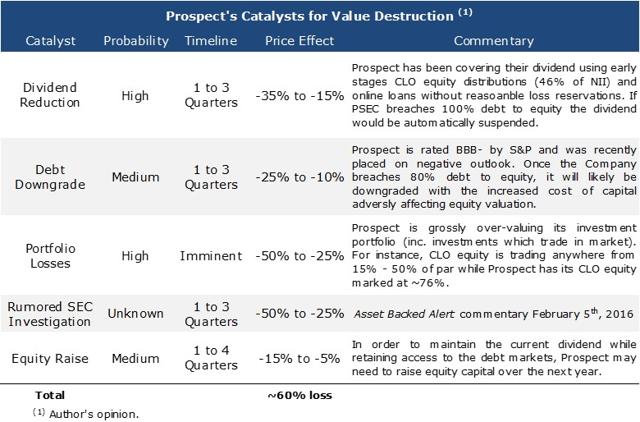 Business
Prospect Capital (NASDAQ:PSEC) ("Prospect", "PSEC", or the "Company") is a business development company ("BDC") controlled by John Barry III. The Company originally focused on energy investments, yet pivoted strategies in 2007, expanding its focus to all industries.
Short Thesis
Prospect has become a retail "darling" through skillful promotion targeting retail investors lured by its unsustainable dividend. In order to meet its dividend, the Company has taken on a disproportionate amount of risk transforming into a holding company for a variety of low-quality assets (triple C rated loans, CLO equity, online consumer loans and dubious private equity investments).
Due to a 2/20 fee structure, management is incentivized to continue growing PSEC's collection of low-quality assets and mark them at unrealistic values allowing for higher fees and bigger bonuses for the sponsor. The end game is near, as balance sheet leverage, poor investing, misaligned incentives and turbulence in the credit markets has placed Prospect in a precarious position.
Catalyst #1: Dividend Reduction
Prospect Capital's dividend is not sustainable. Recently, the Company has boosted NII through its CLO investments (~46% of NII). The Company's CLO equity investments are facing negative pressures with the CLO market in disarray; hence, cash flow from these investments will shrink over the course of the year, decreasing NII. Prospect is attempting to mitigate these issues by aggressively purchasing online loans in controlled entities (and then lending to these entities at unsustainable rates); however, these loans are unseasoned and will likely lead to an increase in non-accruals. As non-accruals rise, NII will decline.

Catalyst #2: Debt Downgrade
Prospect Capital's credit rating was recently placed on negative watch by S&P and is close (at ~78) to breaching the 80% debt-to-equity investment-grade requirement.
Prospect's debt could lose its investment-grade rating, and the Company's cost of capital could materially increase (PSEC previously sold debt at ~5%).

Catalyst #3: Portfolio Losses
PSEC is materially overvaluing its investment portfolio (even investments which trade, including syndicated loans and CLO equity). If marked at appropriate values, PSEC's equity is significantly impaired. While BDCs generally provide only debt capital to private equity buyouts, this company has taken on a more aggressive approach, opting to purchase both equity and provide debt financing at materially above market rates (10-20%, versus ~8-10% for comparable loans). Over 58% of its net assets are in control investments (historically, this has allowed PSEC to market-to-model).
If assets are marked appropriately, NAV would decline to ~$5.4 per share, breaching the debt-to-equity RIC trigger and leading to dividend elimination.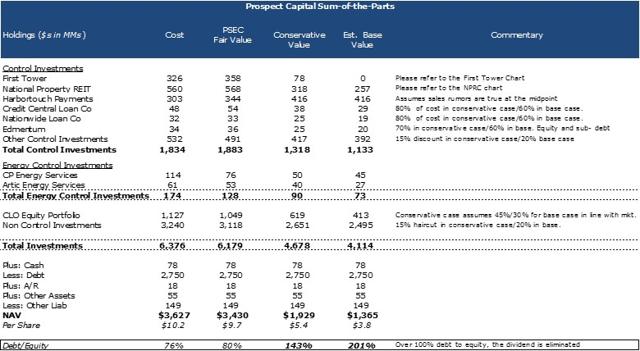 Under various NAV assumptions and placing a discount in line with the BDC space, PSEC should trade for $2-4 per share, depending upon the severity of the events presented above. Moreover, applying a similar yield to its sustainable dividend leads to a share price of ~$2.
The Company's largest asset is currently National Property REIT Corp. ("NPRC"), a Maryland corp. and REIT which holds a variety of real estate assets. Over the past 18 months, PSEC has aggressively shifted the entity into a purchaser of online loans from Lending Club, Prosper, etc. PSEC owns 100% of the equity and various equity-like debt tranches.

NPRC is a highly levered entity (2% equity to assets). PSEC's debt is essentially equity behind significant mortgage and senior debt. Moreover, the implied rate (~18%) supports this. NPRC has aggressively grown its low-quality online loan book 13x over an 18-month period, fueled by incremental debt investments from PSEC and revolver debt. As PSEC's CLO stream runs off, the Company is attempting to fill the NII gap with unseasoned online loans.
Recent commentary from industry participants has warned of heightened losses, particularly from newer vintages. PSEC appears to have only provisioned 4-6%, on average, for loans which will have loss provisions likely accelerating over 10%.


PSEC invests heavily in subprime consumer finance firms (~22% of NAV) such as First Tower, and will face intensified regulatory scrutiny, particularly from the CFPB. There is a strong chance these investments may be a "zero", or wiped out, and they are likely to be severely impaired over the next 12-18 months.
First Tower (10% of NAV) is a subprime consumer installment lender (akin to privately held World Acceptance Corp. (NASDAQ:WRLD)). Prospect owns 80% of the equity, with management owning 20%. CFPB is announcing new rules and regulations for the subprime finance industry, particularly for installment lenders such as First Tower and WRLD. This will impair earnings power and increase costs. Business is fundamentally impaired: WRLD trades under 4.5x EBITDA, while Enova (NYSE:ENVA) (a better business) trades at a low-single digit P/E multiple and has secured debt trading at $70. Other lenders such as Speedy have debt trading in the $50s. Utilizing a 4.5x multiple, which is in line with comps, First Tower's EV is estimated at $396 million. This leaves a recovery value of $78 million for the 2L, implying PSEC's First Tower investment is likely worthless and represents impairments of ~$305 million.

CLO equity constitutes roughly 30% of NAV. PSEC historically has been an aggressive buyer of CLO equity due to its strong cash flows in the early years - however, that is now declining, as historically, the CLO equity cash flow exceeded income recognized, which allowed for the Company to sustain the dividend. With the CLO market undergoing turbulence, this lever is now gone.
Moreover, comparisons of marks for individual CLOs have shown divergences of up to 38-40% of par. PSEC is significantly marking up its CLO portfolio in order to dodge its covenants. This pattern of having its CLOs marked at a premium to actual trading values and where other BDCs have them marked is increasing in magnitude. (Note: PSEC has marked CLO equity 20 points higher than the exact same security was marked at another manager/closed-end fund.)
Over 30% of PSEC's CLO equity currently have a negative NAV. PSEC does not utilize industry standard valuation items such as Intex. Conversations with CLO participants and trading desks suggest that PSEC's equity portfolio would likely trade anywhere from 15% of par to 50% of par. For our adjustment, we use the higher end at 45% of par.

Catalyst #4: Rumored SEC Investigation
Per Asset Backed Alert and other industry sources, PSEC may be under investigation for its portfolio marks. An announced investigation would likely cause a significant decline in the stock price given the Company's ~80% retail shareholder base.
Catalyst #5: Equity Raise
PSEC's founder/CEO John Barry has been an aggressive purchaser of the equity, accounting for as much as ~20-30% of daily volumes in recent times. Mr. Barry is trying to get the stock price up in order to keep access to the capital markets, keep PSEC's rating, and finally, preserve his lucrative fee income stream for Prospect Advisors, which brings in over $200 million a year in revenues (per our knowledge, he's the biggest holder of the advisor). Hence, the Company will do whatever it can to keep the fee stream alive.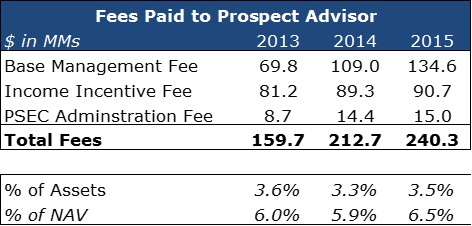 Poor Disclosure and Accounting Wizardry used to Inflate Results and Hide Challenges
After the 2013 10-K, Prospect Capital changed its non-accrual policy from 90 days past due, to reasonable doubt of repayment. The Company is quick to say its non-accrual is 0.5%, yet that's misleading, as PSEC constantly converts debt to equity. It's a consistent theme, and real non-accrual loans are realistically in the high single digits/low double digits. It's likely Prospect Capital's portfolio contains numerous other mismarked control and non-control investments. All of PSEC's assets are predominantly Level 3 per GAAP. While PSEC does employ third-party valuation firms such Gifford Wong (Note: Credibility issue regard vendor selection), its board ultimately decides on the marks used. Out of the Company's 5-person board, 2 are employees, while the remaining three have strong ties with management, including one being the former CFO. PSEC is notorious for creating income within its control investments. In such transactions, it will often recognize a dividend during a specific quarter, boosting NII/fees, while simultaneously re-investing a larger dollar amount back into the portfolio company within the quarter. PSEC has poor disclosure around its control investments and has deleted disclosures such as the First Tower balance sheet.
Short Thesis Risks
The largest risk revolves around management monetizing its control investment in Harbortouch, a payment processor. Per WSJ, it was rumored that PSEC was in conversation with Searchlight Capital to sell the asset from anywhere between $500 million to $600 million. Assuming the mid-point, this would represent a ~$70 million gain.
Despite poor coverage, PSEC may attempt to continue paying its dividend. Nonetheless, we believe the decline in CLO income and cash flow from online loans will lead to a significant cut. Currently, dividends appear to be a return of capital.
Technical risks including a short squeeze or an increase in borrowing cost.
(Editors' Note: This is a republication of an entry in the Sohn Investment Idea Contest. All figures are current as of the entry's submission - the contest deadline was April 22, 2016).
Disclosure: I am/we are short PSEC.
I wrote this article myself, and it expresses my own opinions. I am not receiving compensation for it. I have no business relationship with any company whose stock is mentioned in this article.
Additional disclosure: The author/related party currently holds a short position in the security. Author may buy or sell additional shares or all of these shares at any time. Author has no obligation to inform anyone of any changes to Author's view of PSEC. The information set forth in this article does not constitute a recommendation to buy or sell any security. This article represents the opinion of the author as of the date of this article. Please consult your financial, legal, and/or tax advisors before making any investment decisions. While the Author has tried to present facts it believes are accurate, the Author makes no representation as to the accuracy or completeness of any information contained in this note. The reader agrees not to invest based on this note, and to perform his or her own due diligence and research before taking a position in PSEC. READER AGREES TO HOLD AUTHOR HARMLESS AND HEREBY WAIVES ANY CAUSES OF ACTION AGAINST AUTHOR RELATED TO THE NOTE ABOVE.