Algovita
On March 14, 2016, medical device manufacturer Greatbatch, Inc. (GB) spun off its neuromodulation division under the new name "Nuvectra Corp." (NASDAQ:NVTR). On the day of the spinoff, Greatbatch shareholders received one share of Nuvectra for every three shares of Greatbatch. The decision to spin off Nuvectra was made when Greatbatch's Algovita Spinal Cord Stimulation system received FDA approval. Algovita is a spinal cord stimulation system designed to help alleviate chronic pain in the back, arms, and legs. The system uses electrical impulses to prevent pain signals from being received by the brain. It is implanted through a minimally-invasive surgical procedure which sets the system in place. This video explains spinal cord stimulation in more detail.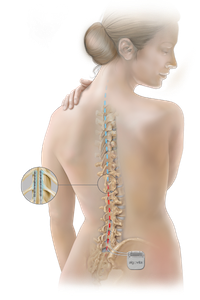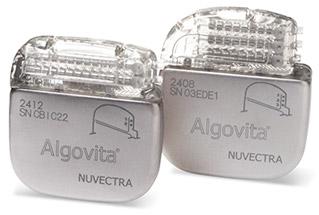 The Upside
The approval of this technology for distribution was the green-light for Greatbatch to move on with the spinoff of their neuromodulation division. According to the company's 10-12B, "Nuvectra will be focused on the development and commercialization of its neurostimulation technology platform and, in particular, its Algovita spinal cord stimulation system." This filing also identified a number of competitive advantages which distinguish Algovita from its competition.
The implantable pulse generator, or IPG, delivers a broader spectrum of pulse delivery ranges. The chipset in the IPG will also allow new waveforms and stimulation outputs to be activated in the future.
Algovita will provide a diverse portfolio of leads (the piece which runs along the spinal cord and delivers the electrical pulses) capable of tailoring therapy to a wider spectrum of patients.
Algovita will also utilize an innovative wireless interface and algorithmic programming system capable of targeting pain more precisely.
Predicting future revenues derived from Algovita is difficult, but investors have some clues at what they could look like in the coming years. On March 18th, the company secured a $40 million term loan, $15 million of which was funded in full at the initial closing of the loan agreement. An additional $12.5 million in debt will be available for withdrawal in the first half of 2017 if Nuvectra can achieve consolidated trailing six-month revenues of at least $13.5 million. The final $12.5 million in debt will be available for withdrawal in the second half of 2017 if Nuvectra can achieve consolidated trailing six-month revenues of at least $20 million. This gives us an idea of the company's revenue targets:
| | |
| --- | --- |
| Withdrawal period | Trailing six-month revenues needed to receive additional funding |
| Dec. 31, 2016 - Jun.30, 2017 | $13,500,000 |
| Jun. 30, 2017 - Dec. 31, 2017 | $20,000,000 |
Revenue projections beyond these periods are not well known, but Piper Jaffray Companies (PJC), the company acting as Nuvectra's financial advisor, projects that Algovita could generate over $108 million in revenue by FY 2020.
The Q1 2016 report also gives investors their first idea of the margins Algovita could provide. Gross profit for the first quarter was $1,007,000 on revenue of $2,062,000 for a gross profit margin of about 49%. Initially, this number appears poor when compared to the 62% profit margin of Nevro Corp. (NVRO), Nuvectra's competitor who also specializes in spinal cord stimulation. Most of the company's revenue has been derived from the sale of their neural interface components/systems and Algovita sales internationally; once Algovita sales improve domestically, investors should expect gross margin to improve. Operating expenses were also much larger than total revenue for the first quarter, ($7,083,000) vs. $2,062,000 respectively. These numbers provide an unclear picture regarding the profitability of Algovita. We can assume Algovita's distribution has not begun yet because revenue derived from Algovita has actually declined slightly from Q1 2015, so it makes sense that cash flow is poor. Only when Algovita's sales pick up will investors understand how it stacks up against its competitors.
Considering the two companies produce slightly differentiated versions of a similar product, we can expect margins for Nuvectra to be similar to those of Nevro Corp. in the long run. Any projection of long-term revenue growth, including the one presented by Piper Jaffray Companies, is nothing more than speculation, but these numbers may give investors a rough estimate of what they should expect. Luckily, investors do not need to pinpoint the exact upside to understand Nuvectra presents an attractive investment opportunity.
Nuvectra's Liquidation Value
Look down, not up, when making your initial investment decision. If you don't lose money, most of the remaining alternatives are good ones.

- Joel Greenblatt, You Can Be a Stock Market Genius
In my previous article, I identified numerous micro and nano-cap stocks which qualified as potential investment opportunities despite their declining prices and poor fundamentals. These stocks, known as net-nets, provide significant upside when incorporated into a diversified portfolio. This is because net-nets can be bought for less than the value they would generate during a worst-case-scenario: liquidation of the company. Many of the net-nets identified in that article were medical companies with virtually no revenue but a lot of cash on hand. Most of these companies had experienced a sharp decline in price due to failure to receive FDA approval of what would be their sole revenue source. It makes sense for these companies to trade below their liquidation value because unless they get bought out by a larger firm or decide to liquidate their assets, they will continue to burn cash. It doesn't make sense, given Algovita's bright future, that Nuvectra trade near or below its liquidation value.
Just after Nuvectra was spun off, it experienced tremendous downside pressure, falling from its March 14th close of $7.38 to a March 29th low of $4.17. This is a phenomenon often seen with recently spun off companies. Shareholders of Greatbatch, who were most likely invested for Greatbatch's businesses other than their neuromodulation division, received their shares of Nuvectra on the morning of March 14th. Since many of these investors would rather have their money invested in Greatbatch, they sold their shares of the new company, Nuvectra. This generated tremendous downward pressure on the company's share price, sending it far below the company's liquidation value of $6.64. Amid the large selling pressure, the share price of Nuvectra deviated greatly from its underlying value. Shares of Nuvectra subsequently doubled in the following month, trading as high as $9.95/share on April 25th. The window in which investors could have gotten in cheap was very small, but Nuvectra is presenting investors with a second chance to buy shares. In their first 10-Q, Nuvectra's liquidation value was adjusted after assuming some long-term debt in hopes of launching Algovita into the spinal cord stimulation market. Below is a calculation of the company's net current asset value per share, the main measure of liquidation value.

| | |
| --- | --- |
| | Nuvectra Corp. |
| Current assets | $92,141,000 |
| Total liabilities | $(19,974,000) |
| Net current asset value | $72,167,000 |
| Shares outstanding | 10,267,666 |
| Net current asset value/share | $7.02 |
Since the future of Algovita appears bright and nearly all of Nuvectra's current assets are cash, intrinsic value can be conservatively estimated as being $7.02 per share at the minimum. This indicates a downside risk from the May 12th closing price, $7.10, of roughly 1.1%.
The Spinoff Factor
Spinoffs are, in nature, often subjected to unfair selling pressure created by shareholders of the spinoff's parent company. Many of the shareholders of the parent company are not interested in the spinoff and consequently dump shares in the weeks following the distribution. This creates a period of potential undervaluation which persists until the new company's true value is realized by the market. This sometimes allows investors to buy spinoff shares at unnaturally cheap levels. Besides the price factor, spinoffs can appear even more attractive if their executives are given correct incentive.
In Nuvectra's 10-12B filing, under the section titled "Reasons for the Spin-Off," the company states that it hopes to use "equity-based and performance-based incentive plans and other benefit plans that more directly link employee compensation with the specific business objectives, financial goals and performance metrics of our business." Essentially, the company hopes to incentivize its management team into acting like an investor. Ideally, companies will offer equity incentives, like stock options which vest after certain "goals" are met. These equity incentives help keep a company leader focused on its goals and also encourages them to behave like shareholders. Equity incentives are the most desirable form of incentive from a spinoff shareholder's perspective, but cash bonuses can help improve a company leader's performance as well. In 2015, Nuvectra's CEO, Scott Drees, was eligible to earn a cash bonus equivalent to 120% of his base salary, assuming certain goals were met. Nuvectra's CFO, Walter Berger, was also eligible to earn a cash bonus equivalent to 95% of his base salary. These incentives seem to be effective motivators for these executives but they could increase to encourage better performance now that the spinoff has been completed.
Conclusion
Nuvectra is presenting investors with a potentially lucrative investment opportunity. Not only does Algovita offer the company significant revenue growth potential, but the shares have also been subjected to extreme downward pressure due to "uneconomic" selling by Greatbatch shareholders. While the upside in share price is hard to determine, the downside risk is minimal due to the company's large share of current assets and minimal debt. Nuvectra could become an obvious "buy" if its share price declines slightly (ideally below $7.02) in the coming weeks.