Today, we got new retail sales data. Advanced retail sales increased 1.8% on a month-to-month basis which is about 50 basis points higher than expected and way better than the 0.4% decline in March. However, this monthly data is completely irrelevant. In this article, I will show you data that matters and give you an outlook.
First of all, let's take a look at year-on-year data.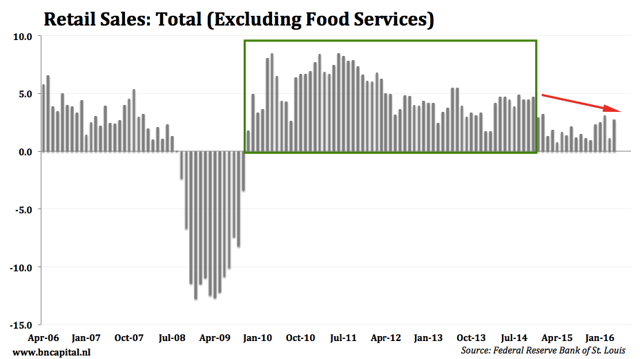 Year-on-year sales increased more than 2% after a rather bad print in March. As you can see, the March print was preceded by many months with slow growth. Growth started slowing in Q3 2014. Just like the entire economy as you can see in the graph below. From 2009 till Q3 2014, we saw tremendous retail growth. Sadly, retail sales entered a period of growth slowing and haven't broken that trend yet.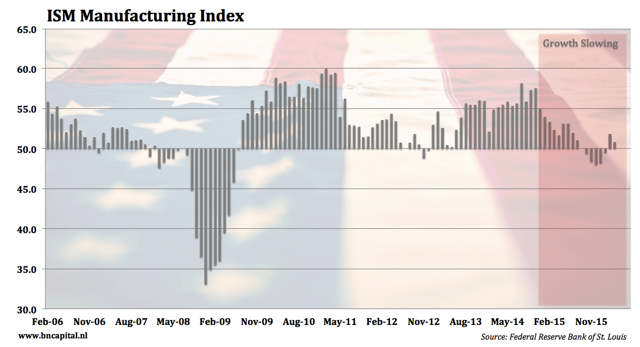 The important thing is that official retail sales are not leading. The non-manufacturing index, however, is leading. Especially retail sentiment in this case.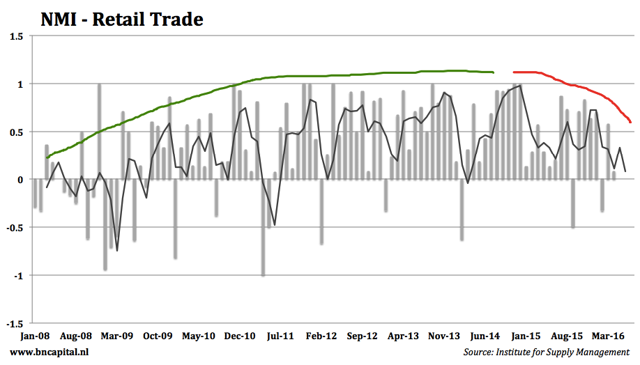 As you can see in the chart above, sentiment has been declining since Q2 of 2014. And it is getting worse. This indicates that above average retail sales growth are out of the question. At least the odds are close to zero.
Retail stocks have reacted accordingly. Retail stocks topped in Q4 2014 and have been in a steady decline since then. The chart below shows the SPDR S&P Retail ETF XRT.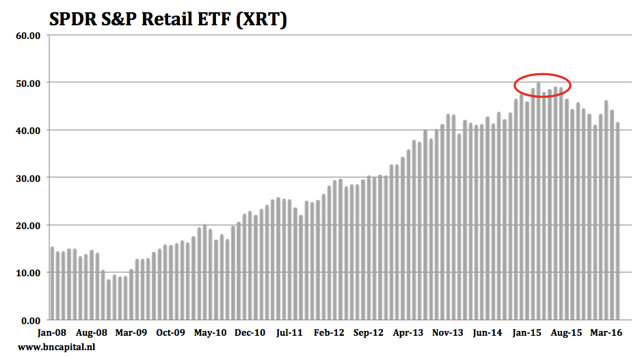 A comparison between retail stocks and retail sentiment gives an even clearer picture.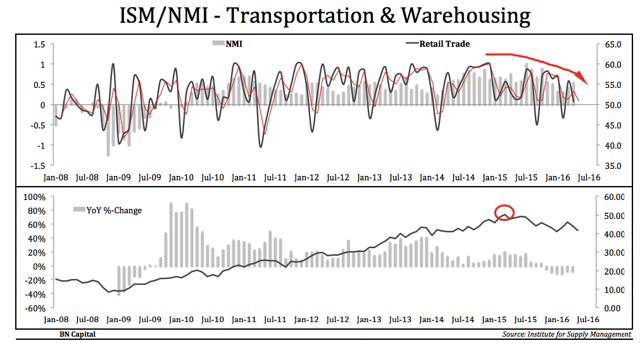 Retail stocks will return to growth if sales break the downtrend. Sentiment will give clear signals. However, at this point, I expect a lot more trouble for retail stocks. Sell them or at least don't take too much risk when you trade them on the short or midterm.
Disclosure: I/we have no positions in any stocks mentioned, and no plans to initiate any positions within the next 72 hours.
I wrote this article myself, and it expresses my own opinions. I am not receiving compensation for it (other than from Seeking Alpha). I have no business relationship with any company whose stock is mentioned in this article.