Shares of The Walt Disney Company (NYSE:DIS) closed down more than 4% on May 11th after the company reported financial results for the second quarter of its 2016 fiscal year. While it is tempting to go through those results and show, based on things have changed, whether or not the firm makes for a great long-term investment, I decided that it would actually be a wise idea to focus on something a little more important right now; the biggest mistake Disney's management team has made in a very long time.
A look at Disney and Disney Interactive
There is no denying that Disney is one of the most successful companies to ever exist. Warren Buffett, Chairman of Berkshire Hathaway (NYSE:BRK.A) (NYSE:BRK.B), back in 1966, bought 5% of the company's shares for just $4 million, valuing the enterprise at $80 million before selling it a year later for $6 million. Today, the entire business is valued at $166.89 billion, implying a return of 16.5% per annum over that time frame (excluding dividends) and Buffett's stake in the business would be worth (excluding dividends) $8.35 billion had he never sold the stock.
The company's success has come from a variety of factors, including innovative leadership, bold decisions (such as when the business acquired Pixar and Star Wars), and from focusing on key growth areas with strong profit margins. As of the end of last year, roughly 44.3% of the company's sales and 53.1% of its segment operating profits came from its Media Networks segment, which consists of its stake in ESPN, ABC, and a wide variety of other assets, and 30.8% of its sales and 20.6% of its segment operating profits came from its Parks and Resorts segment. Collectively, these two operating segments account for the vast majority of what makes Disney the business is today, but the firm also engaged in providing goods and services through its Studio Entertainment, Consumer Products, and Interactive segments.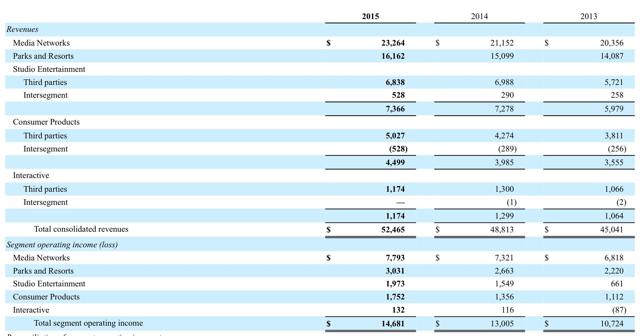 Last year, the firm announced plans to consolidate its Consumer Products segment and its Interactive segment into one in an effort to optimize their operations. This did not take place until the start of this year but the relationship was a short one. This is because, as part of its press release, the firm decided to shutter its Interactive operations despite previously pushing those operations as a good arm for growth for the enterprise. To me, shutting operations down does not make any logical sense.
Interactive was a good business
It's virtually impossible to tell how successful Disney's Interactive segment was so far this year, solely because of its merger with Consumer Products, but if we look back into the past, we can get a good idea of the strong and weak points the segment offered. In the table below, you can see what the picture has looked like from 2010 through 2015 in terms of sales and operating income.

Based on the data provided, Interactive was a true growth engine through 2014. Sales in the segment soared by 71.1% during this time frame, climbing from $760 million to $1.30 billion. What's interesting to note about all of this is that, while the segment did have assets totaling $2.09 billion at the end of last year, required capital expenditures for it were next to nothing. In 2015, this number was just $11 million, up from $5 million in 2014 but down from $13 million a year before that. The conclusion here appears to be that most of the investment needed to grow the operation was incurred in the past as opposed to year-to-year.
In 2015, sales did dip, coming in at only $1.17 billion, and management, in its press release, suggested that sales so far this year have been lower than they were the same time last year. More likely than not, this can be chalked up to weakness in sales associated with the firm's Disney Infinity series of games. Launched in 2013, the original incarnation of the game sold an estimated 5.03 million copies worldwide. In 2014, when Disney Infinity 2.0: Marvel Super Heroes, came out, sales slumped, with total units sold since inception coming in at only 3.67 million. 2015's release of Disney Infinity 3.0 has sold only 2.16 million copies thus far and, while the firm had planned to use DLC (downloadable content) to help these operations out, this never materialized.
In spite of these troubles, however, the segment's profitability has been quite positive. In the aforementioned table, you can also see that the segment suffered from a profitability standpoint until 2014, when it generate a profit of $116 million. Even during a time of declining sales, 2015's profits totaled $132 million. Now, instead of generating profits, management has elected to close the operations down and book a $147 million charge (including severance costs).
This, in my mind, is simply not a logical choice. As opposed to circling back like rivals Activision Blizzard (NASDAQ:ATVI) and Electronic Arts (NASDAQ:EA), and using their resources to create new gaming concepts utilizing their vast library of content, Disney is merely closing the door on a segment that requires practically nothing in terms of reinvestment in capital expenditures and a line of business that is seeing increasing profits (but a temporary slump it would seem) with a segment operating margin of 11.3%. How much of this has been driven by licensing and how much has been driven by internal game development is uncertain at this time but the trend seems to indicate that the increase in internal game development has probably contributed to the company's bottom line.
Takeaway
At this moment, I am disappointed in Disney. I am bullish about the firm in the long run but I do not like to see this kind of move being made by management. It should be mentioned that the company still intends to license out their content to other game developers (many Disney games have not been made by Disney Interactive) and this will almost certainly prove profitable, but the company may be prioritizing profits today (since licensing has high margins compared to actual development) but this comes at the cost of its own independence and its ability to fully express creativity like it did in the case of Disney Infinity.
Disclosure: I/we have no positions in any stocks mentioned, and no plans to initiate any positions within the next 72 hours.
I wrote this article myself, and it expresses my own opinions. I am not receiving compensation for it (other than from Seeking Alpha). I have no business relationship with any company whose stock is mentioned in this article.