US Steel (NYSE:X) caught my attention after a huge run-up in the stock in the past 3 months of 140%+. This was primarily ignited by a strong rally in the commodities and a recent tariff agreement that banned the anti-dumping practices of the Chinese in an effort to limit supply and demand dynamics on pricing for US competitors. This is good news for US steel as they sell a majority of their products to US customers with the exception of the US Steel Europe business. No doubt the shares deserved a pop after this news, but a 140%+ pop? The shares have sold down about 20% and we believe there are huge risks at this levels and investors should remain cautious. We will examine US Steel's recent run-up in price and examine whether or not the fundamentals, in our opinion, agree.
Has the steel picture fundamentally changed?
Steel demand looks to be somewhat improving, at least according to many analysts on the Street. Nevertheless, as a recent author on SA has noted, "the world is awash with steel." We are expecting demand to remain flat to a growth of 0.7% in FY2016. The steel industry peaked in the mid-2000s on the backs of rapid growth in emerging markets and China and has ever since been on a decline due to oversupply. Below is a chart showing the dynamics of the steel market in the past 2 decades as acquired from MS equity research. Please note that all forecasts in this are Morgan Stanley's and are not an expression of our views nor do they constitute as an offering of securities on Morgan Stanley's behalf.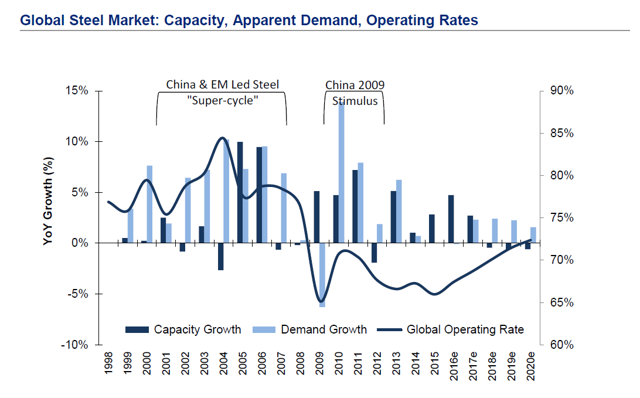 We have added historic prices for steel since 2011 and our estimates for steel prices from 2016 to 2020.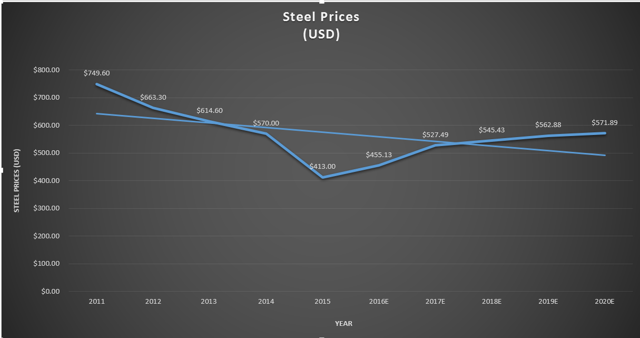 In our base case scenario, We are expecting demand to grow by 100 bps +/- 20 bps annually from 2016. Thus, we are further expecting steel prices to present a slow upward bias from 2016. Steel prices should receive positive tailwinds from China supply cuts and growth in demand from emerging markets such as India and Africa along with a revitalization of developed economies' infrastructure partially offset by a slowdown in demand from China and renewed pickup in capacity. As you can see, 2016 steel prices should improve as in 2017; however, new capacity coming online in 2017 will begin appearing in prices in 2018 slowing the pace of price growth. We expect steel prices will remain under pressure throughout the next 10 years as a continued glut in steel still persists.
Some notable risks heavily affect our forecasts for steel prices, which could include a continued slowdown in global growth and a recessionary environment in developed economies. This could prove disastrous to steel prices and consequently the share price of many steel producers.
What will the tariff do for US Steel?
US Steel will certainly be able to benefit from the tariff on Chinese imports and it will be able to compete more effectively. This should allow it to improve its price differentials and improve gross margins to more historically normal levels. We have provided a price deck for US Steel. For those unfamiliar with the price differential, it is the difference in price relative to spot price steel. US Steel has traditionally charged higher prices for its segments to preserve gross margins and negate volatility in steel prices as the steel is traditionally a high cost, low margin business.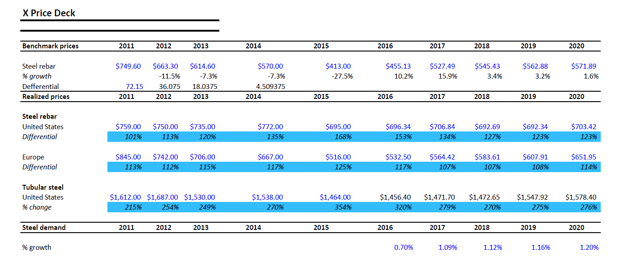 The recent run-up in price has been the result of the recent tariff passed on Chinese exports that should seek to limit dumping practices that create a challenging environment for favorable price competition and by a growing positive view of future steel prices. We have examined this scenario and have forecasted its benefits to US Steel. Our first primary assumption is that US Steel should realize higher prices on its flat rolled and tubular products in the future benefiting sales growth and margins. This increased price realization will be led by a more favorable steel environment in the US due to a more favorable competitive environment and a mildly growing steel demand that should support price growth. Our secondary assumption is that US Steel will also be able to improve current capacity utilization at its current plants as many plants have been idled or operating under normalized capacity. We have adjusted our models to be driven by steel prices and capacity utilization. Below we have provided our forecasts for future capacity. The increases will again be driven by a more favorable steel environment in the United States due to anti-dumping tariffs and mild pickup in steel demand. Capacity utilization should flat line at historical levels of around 70-75% for much of the future.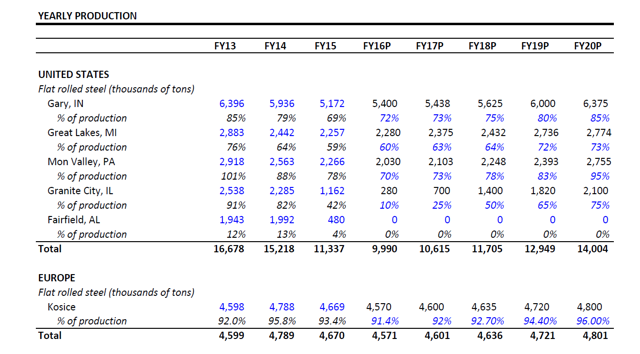 These growing developments should ultimately show up on the income statement. US Steel's gross margins have heavily come under pressure as revenue has slowed and costs have remained high due to unfavorable competitive dynamics in the global steel market. Due to the more favorable competitive environment, a pickup in capacity utilization and an increase in steel prices, US Steel's margins will improve to more historic levels and revenue will show growth.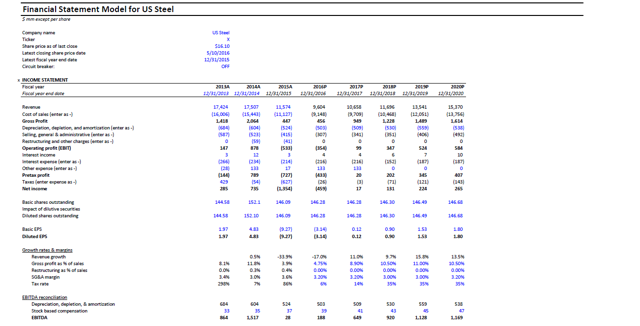 Okay, so you've showed me this. What about the share price?
Despite these positive developments, US Steel's recent run-up in share price is a story of 'too far, too fast.' The price outlook for steel remains dampened as the world still suffers from a supply glut from steel. Using our estimates for steel price and revenue growth, we have arrived at a valuation for US Steel using DCF. Our target share price is $12.57/ share. We have used a 9.1% WACC and a generous 4% perpetual growth rate. This presents downside risks to the current share price. We have been short the stock at the $18 level after its recent run-up and the share price has come down substantially. We believe that at these levels it is best to avoid US Steel altogether.
Conclusion
US Steel remains to be a story of buy now and sell later. The stock has run-up too far too fast and has recently come down heavily as the market has began to realize that the outlook for steel prices fundamentally does not justify such a rampant share price growth. We have conclusively shown that despite the positive developments in government action, price action of steel ultimately determines US Steel's fate. Steel prices will face continued headwinds despite mild appreciation as the market will continue to suffer from a growing supply and demand glut as the story will continue to be lower for longer.
Supporting Documents
Disclosure: I am/we are short X.
I wrote this article myself, and it expresses my own opinions. I am not receiving compensation for it (other than from Seeking Alpha). I have no business relationship with any company whose stock is mentioned in this article.
Additional disclosure: All opinions expressed are those of BlackVault Investments and in no way constitute as an offering of securities. I am receiving compensation from BlackVault Investments.