My previous research focused on how Nvidia (NASDAQ:NVDA) was a relatively cheap stock when factoring in the non-GAAP numbers and the large cash balance. The graphics chip company has mostly avoided the tech wreck of late due to a focus on growing gaming, datacenter and automotive markets.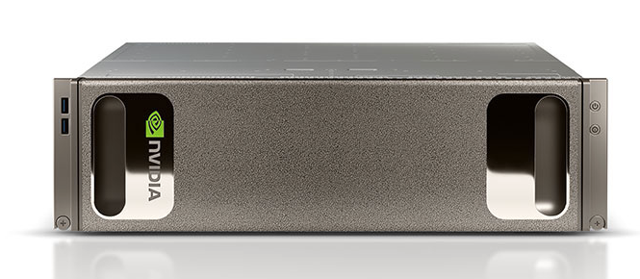 The stock trades at multi-year highs as the company has successfully used decent revenue growth and reduced operating costs combined with the share buybacks to rocket earnings higher. The end result is that FQ1 results sent the stock toward new highs, questioning whether investors missed the opportunity to own this tech gem.
The story for the quarter is that revenue kicked in for the growth areas of datacenter and automotive, combining for over 50% growth. These two growth areas accounted for nearly 20% of the total revenue in the quarter.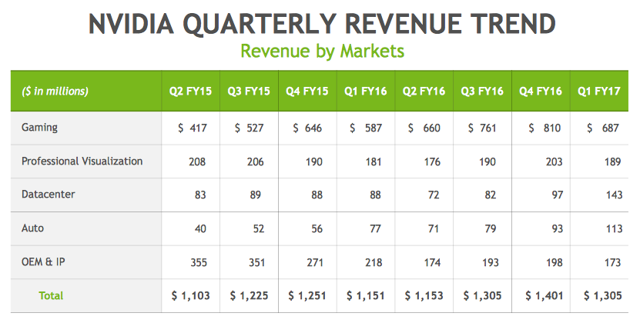 Source: Nvidia revenue trends
The stock surge in early trading is questionable as some media outlets are reporting a huge beat, though Nvidia only beat the GAAP estimates of $0.32 by a $0.01. My last article focused on the bizarre scenario where analysts of this tech stock use GAAP numbers for EPS estimates as opposed to the non-GAAP general focus for tech stocks.
Nvidia is still a gaming story, with over 50% of revenue based on that market. One has to wonder if the growth in esports isn't a huge driver to the company and a long-term growth opportunity. As gaming turns more and more into competitive endeavors, the participants will need to spend increasingly larger amounts on graphics computing power. At the same time, the non-growth areas are quickly becoming immaterial revenue amounts.
The real positive sign is that revenues grew 13% despite the new Pascal processors reaching availability this month. With processing power nearly 3x of its predecessors, the technology should usher in new growth opportunities, including areas like virtual reality and deep learning where increased processing power is a must.
Based in part to the potential of Pascal, Nvidia upped its guidance for FQ2 revenues. The company now forecasts revenues in the $1.35 billion range compared to the $1.28 billion estimate of analysts.
For those who recall, analysts forecast that the company earns $1.47 on a GAAP basis, but 15% growth from last year placed non-GAAP estimates at roughly $1.92 for the year. With the solid FQ2 guidance, Nvidia is clearly on pace to exceed $2.00 in EPS this year.
The $3.5 billion in net cash leaves the stock with an enterprise value of only $18.5 billion. At about $6 in net cash, the stock trades at a reasonable 17x EPS estimates.
The key investor takeaway is that Nvidia is the rare tech stock riding the gaming and automotive trends while generally avoiding the smartphone and PC weakness. At the current valuation, the stock appears relatively cheap even after this rally above $40.
Disclosure: I/we have no positions in any stocks mentioned, and no plans to initiate any positions within the next 72 hours.
I wrote this article myself, and it expresses my own opinions. I am not receiving compensation for it (other than from Seeking Alpha). I have no business relationship with any company whose stock is mentioned in this article.
Additional disclosure: The information contained herein is for informational purposes only. Nothing in this article should be taken as a solicitation to purchase or sell securities. Before buying or selling any stock you should do your own research and reach your own conclusion or consult a financial advisor. Investing includes risks, including loss of principal.