Retail stocks have been hit hard the past week while e-commerce giant Amazon (NASDAQ:AMZN) has hit new highs. Many investors fear that consumers are not spending at or on the traditional retail names that once dominated the market. These retailers include Macy's (NYSE:M), Nordstrom (NYSE:JWN), Dillard's (NYSE:DDS), GAP, Inc. (NYSE:GPS), and Wal-Mart Stores (NYSE:WMT). Although consumer sentiment surprised on Friday (May: 95.8 versus 90 expectation), there are still fears that domestic spending may be slowing, and there are signals that an extended bull market may be ending. If the coupling of slowing in-store retail sales and recession hit, there is the potential for huge outflows in retail stocks, only amplifying an already hurting sector. There are precedence and data, however, to support one retailer outperforming the rest in the case of an e-commerce disruption or recession. TJX Companies (NYSE:TJX), the parent company of T.J. Maxx, Marshalls, Home Goods, and Sierra Trading Post, may be this perfect retail defensive.
Then
During and after the last recession, TJX outperformed other retailers. It also maintained a very low beta along with Wal-Mart.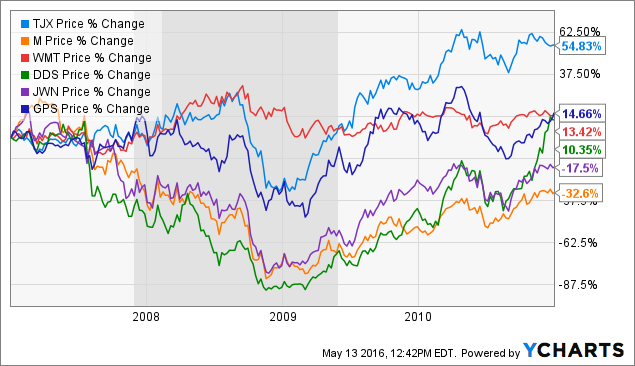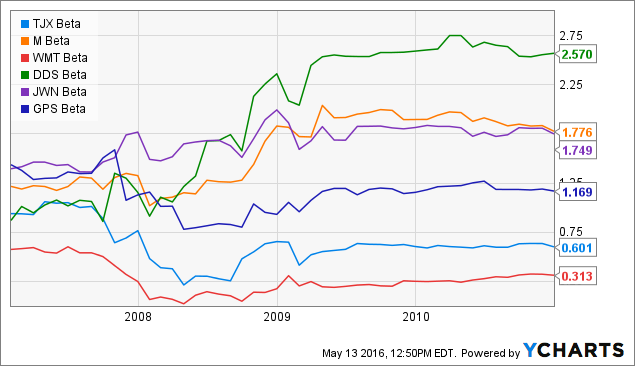 TJX Beta data by YCharts
Its price strength was driven by continual revenue growth and an increasing dividend rate. It also had strong sales growth and increased the number of brands offered in stores.
These strengths helped the company beat comparables through 2010, up over 50% from 2007 to 2011 versus Macy's which was down over 30% during the same period.
| | | | | |
| --- | --- | --- | --- | --- |
| TJX | 2007 | 2008 | 2009 | 2010 |
| Revenues | $17,404 | $18,647 | $18,999 | $20,288 |
| Dividend | 0.14 | 0.18 | 0.22 | 0.24 |
Now
Moving forward, TJX appears set up to once again beat its peers in a retail and consumer slowdown. Although e-commerce offers a new challenge to brick-and-mortar retailers, TJX still appears poised to grow. This is because TJX does not offer the same inventories from store to store. These inventories also turnover very quickly; according to the company, every two weeks. This cuts down on inventory losses. Additionally, it still offers steeper discounts versus its e-commerce peers. TJX's contracts with premium brands mean it can offer discounts that even e-commerce giants and department stores cannot. When spending tightens, consumers look for these savings despite being online or not. This will ensure TJX stays relevant to consumers even in an economic slump.
TJX also has huge economies of scale, especially compared to its retailer peers. At the end of 2015, it operated over 2,700 T.J. Maxx and Marshalls stores. Its sheer size not only drives sales growth, but also reduces cost margins. Additionally, it allows TJX to buy huge quantities of inventories for steep discounts which it then strategically pushes out to its thousands of stores.
TJX data also looks similar to 2007. P/E ratios are both near 20; additionally, consolidated comparable store sales numbers are consistent (Q4 2006: up 4% year over year versus Q4 2015: up 6% year over year). TJX beta is even lower than it was throughout 2007, at only 0.54. Its dividend also continues to increase.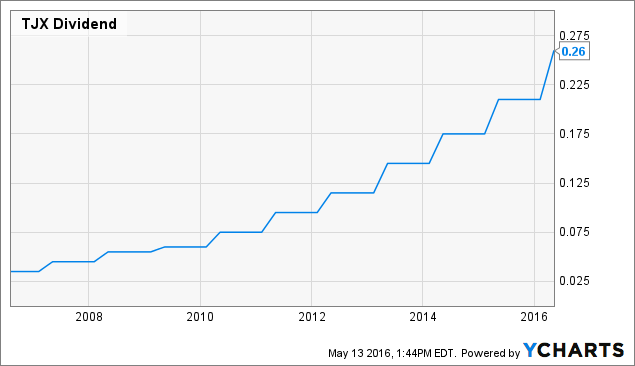 TJX Dividend data by YCharts
All of these indicators not only point to a continued upside in the case of a strong domestic economy, but also a defensive play in case of weak consumer spending or recessionary fears. TJX presents a particularly strong defensive pick among retailers because of its e-commerce and recession-proof business model. Moving forward, the company could provide relative safety and return in the short and long term if the retail sector continues to suffer.
Disclosure: I/we have no positions in any stocks mentioned, but may initiate a long position in TJX over the next 72 hours.
I wrote this article myself, and it expresses my own opinions. I am not receiving compensation for it (other than from Seeking Alpha). I have no business relationship with any company whose stock is mentioned in this article.