MIAMI - (May 8, 2016) ---Just as oil prices showed signs of reverting back toward $40 a barrel, natural and geopolitical events ignited a rally over the weekend.
On Friday, I told a Bloomberg News interviewer that "the price of crude got ahead of itself" as oil fell below $44 a barrel and U.S. government data showed inventories were on the rise.
Then, over the weekend, Saudi Arabia fired its octogenarian oil minister Ali al-Naimi, one of the industry's leading power brokers for more than 20 years. Khalid al-Falih, the chairman of the state oil firm Saudi Aramco, is the new man in charge. His appointment comes with the renaming of the country's oil ministry to the Ministry of Energy, Industry and Mining. This "rebranding" is part of a recently announced national strategy to broaden the country's reliance on non-oil revenue, sell up to 5% of Aramco and expand the Saudi economy.
The move came as the Saudis failed to persuade OPEC and non-OPEC producers to freeze supplies at January 2016 levels and push prices higher. The government refused to cut production.
Oil drives 87% of Saudi Arabia's revenue, and the two-year collapse in world oil prices has forced the government to slash domestic subsidies and balance its budget. According to the U.S. Energy Information Administration, Saudi Arabia has 16% of the world's proved oil reserves and is the world's largest exporter of petroleum liquids. The kingdom is the second-largest petroleum export to the U.S., after Canada.
And Oh, Canada.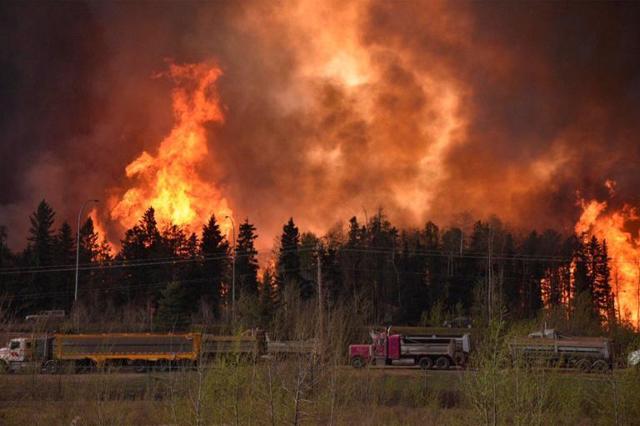 Days of intense wildfires in Alberta, home to the country's vast oil sands industry, has reportedly forced a third of the Canada's production offline as thousands of people evacuate the area.
Sunday, West Texas Intermediate rose 2.6 percent in New York to $45.81 while Brent crude rose 2.2 percent to $46.39.
Nonetheless, Alexander Alternative Capital believes any price rally going forward will be short-lived once the crisis is resolved and significant worldwide stockpiles remain in place. As with Saudi Arabia, Iran is strongly opposed to any output freeze, and Kuwait will seek to catch up on production once it resolve an oil worker strike. Closer to home, Brazil and Mexico are working to reform their respective oil industries to attract foreign investment and boost production.
Looking Ahead: Wither the Fed?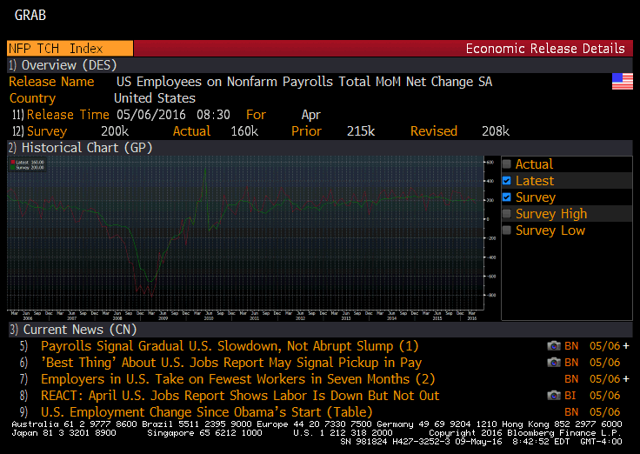 After months of "brisk" hiring by American companies, the U.S. Labor Department said Friday that the pace abated in April as payrolls rose by 160,000 jobs, a decline from the 192,000 monthly job gains registered through the first quarter. The nation's jobless rate remained at 5% while the labor participation rate slipped to slightly below 63%. Large job losses continued in the energy sector due to protracted lower oil prices, but employment in the professional services sector reportedly showed strong gains.
Still, we agree with most of the commentary by economists that the economy will grow at an annual rate of 1.5 to 2.5% over the remainder of 2016. But the Federal Reserve is likely to hold off on any interest rate increases and wait for hiring to pick up again. May's job numbers will have to be very strong before the Federal Reserve can begin acting on interest rates again. There is a less than 2% chance of a rate increase in June when the Fed meets again.
Natural Gas On the Rise
For the week ending Wednesday, May 4, the U.S. Energy Information Administration reported that natural gas spot prices rose at most locations around the country. There were some exception in the Northeast.
From the agency's report:
The Henry Hub spot price rose from $1.88/MMBtu on April 27 to $1.99/MMBtu on May 4.
At the New York Mercantile Exchange (Nymex), the June 2016 contract price declined slightly over the report week, from $2.153/MMBtu to $2.141/MMBtu.
For the week ending April 29, Baker Hughes data showed the natural gas rig count fell by 1 to 87, and oil-directed rigs fell by 11 to 332. The total rig count fell by 11, and now stands at 420.
"Total supply rose by 0.7% for the report period, driven by a 0.3% week-over-week increase in dry production, according to data from Bentek Energy," the EIA said. Imports from Canada rose by 7.9%.
Overall consumption rose by 4.6%, with increases in all major sectors. Consumption for power generation rose by 3.9%, while industrial consumption rose by 0.7%. Exports to Mexico rose by 1.8%, the agency reported.
FLAIA Participating in Consortium Hedge Fund Conference in New York
The Florida Alternative Investment Association is pleased to announce its participation as an "Industry Partner" at the 13 Annual Consortium East hedge fund conference in New York June 8-9. We believe the conference offers a solid round of information and discussions on topics ranging from emerging money managers to the importance of having a diversity of managers on any investment team.
--Michael Corcelli
Disclosure: I/we have no positions in any stocks mentioned, and no plans to initiate any positions within the next 72 hours.
I wrote this article myself, and it expresses my own opinions. I am not receiving compensation for it. I have no business relationship with any company whose stock is mentioned in this article.