The industrial sector has a troubling disconnect that will need to be resolved in one way or another. Either industrial production must reverse course and bounce back or stock prices will have to find their footing back in reality. Given the continuously sluggish performance of the U.S. economy since the calming of the financial crisis so many years ago now, the latter may be the more likely of the two outcomes.
Industrial Production: Falling Since November 2014
Industrial production is a critical reading for the underlying health of the U.S. economy. According to the Board of Governors of the Federal Reserve System, the Industrial Production Index is an economic indicator that measures real output for all facilities located in the United States from the manufacturing, mining and utilities industries. Put more simply, if industrial production is rising, it implies healthy growth for the various companies that are producing this output. Conversely, if industrial production is falling, it suggests that the underlying companies producing this output may be struggling with deteriorating growth.
Industrial production has been falling in the United States since November 2014. What is notable from the chart below is not only the extending nature of the decline, but also the fact that the reversal began effectively at the same levels where the 2007 decline got underway. Also notable is the fact that the industrial production growth cycle from the calming of the financial crisis through November 2014 is almost identical to the phase that followed the technology bubble. Coincidence? Perhaps. But notable nonetheless.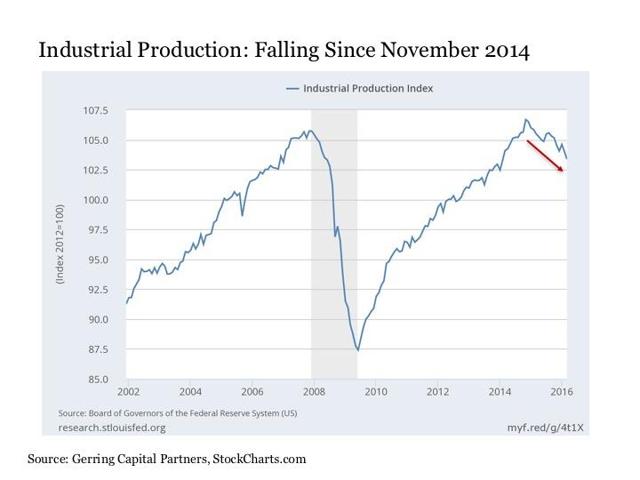 Of course, it was around this very same time that the energy sector started to come under severe pressure. While oil prices had already been steadily declining since June 2014 due to excess supply, it meaningfully accelerated to the downside in November 2014 once it became clear following the OPEC meeting on the day after Thanksgiving that Saudi Arabia would not be cutting production to support higher oil prices. As a result, it is tempting to attribute the decline in overall industrial production to the contraction in the mining sector, whose production has fallen by -16% in the year and a half since.
But when focusing specifically on industrial production from the manufacturing sector, we see two additional troubling facts. First, while it has been more of a flattening trend than a decline at least to this point, manufacturing production through its latest reading in March 2016 is also lower than its November 2014 peak. In other words, real output has been stagnant to deteriorating in the manufacturing sector over this same time period. Also, while the overall Industrial Production Index managed to marginally exceed its 2007 highs, not so for the manufacturing industry in particular, which fell well short of reclaiming its pre-crisis peaks despite the fact that so many manufacturing companies in the U.S. stock market today have blown well past to new all-time highs.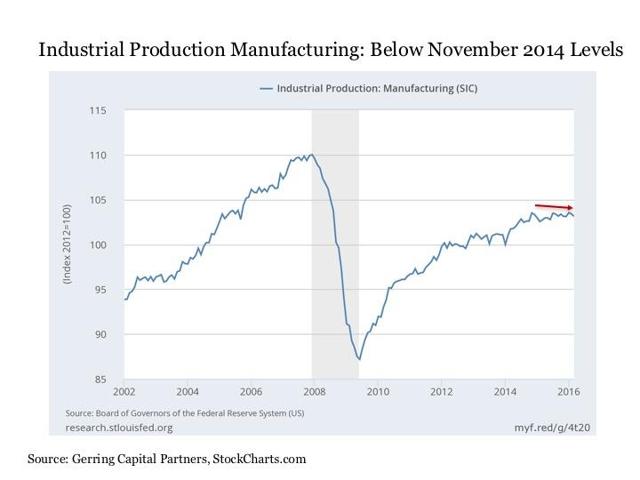 The Importance Of Industrial Production To Industrial Stocks
The importance of industrial production to the performance of industrial stocks cannot be overstated. Dating back to the start of the new millennium, stocks in the industrial sector and the Industrial Production Index have consistently moved with a very high correlation to one another. In short, when industrial production has been rising, so too have industrial stocks and vice versa.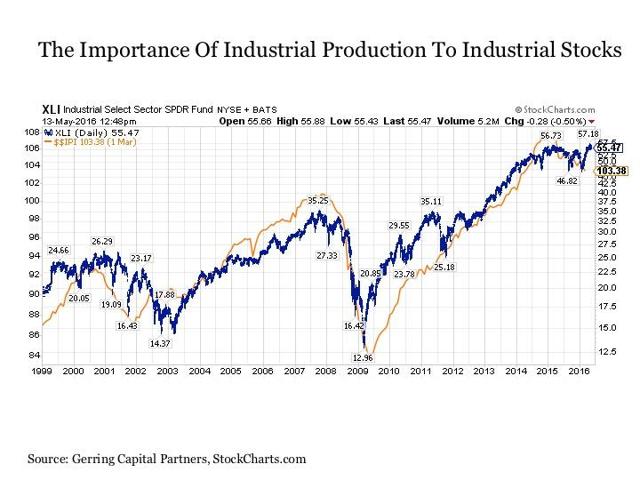 This strong relationship is what has made the recent performance of industrial stocks so notable. For while the Industrial Production Index continues to consistently trend lower from November 2014 through March 2016, industrial stocks (NYSEARCA:XLI) suddenly came back to life and surged sharply higher. As a result, industrial stocks are now running well above trend as implied by the Industrial Production Index.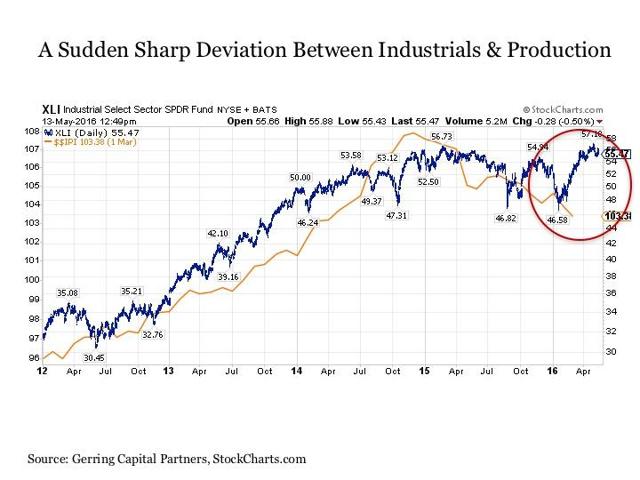 Perhaps industrial production readings will suddenly turn miraculously better starting with the April 2016 reading released next Tuesday to justify this sharp move higher. But it would have to be quite the strong reversal at this point to support the recent move higher in industrial shares, and the various other economic data associated with the U.S. economy are not necessarily supporting such an optimistic outcome. As a result and putting this more directly, industrial stocks are now likely trading well ahead of themselves and are overdue for a potentially meaningful correction. Using XLI as a barometer, this could be as much as a -20% pullback from current levels to get back on the trend implied by industrial production. Of course, the endless question facing investors during the post crisis period is the following - if it does indeed come to pass, exactly when does this reversal start to take place?
Breaking Apart The Machine
In considering downside risk and potential upside opportunities within the industrial space associated with this recent disconnect between industrial stocks and industrial production, it is worthwhile to explore some of the individual segments and components within the sector.
First, the deterioration in industrial production has placed transports (BATS:IYT) in a tough spot. For if you are a railroad or shipping company and your manufacturing and mining customers have less real output to deliver, revenue and earnings growth will suffer accordingly. But since the start of the year, we have seen transportation shares bounce back strongly. But if the current trends in industrial production remain intact, it may prove difficult for transportation shares to maintain their recent rebound.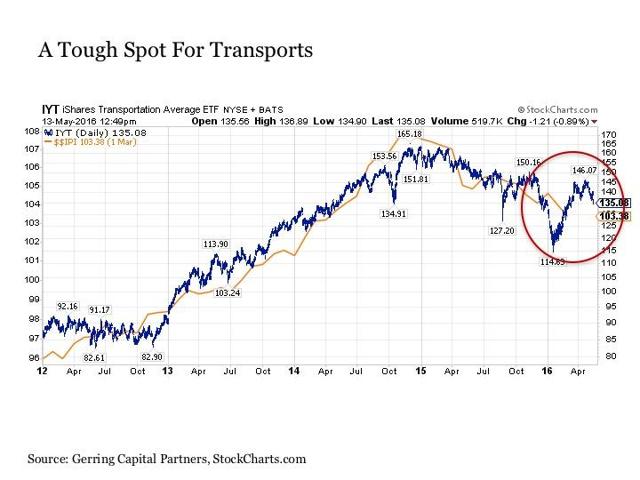 Looking more specifically into the transportation industry, some stocks are seemingly running way ahead of themselves in this regard. For example, FedEx (NYSE:FDX) is now trading well above the implied trend.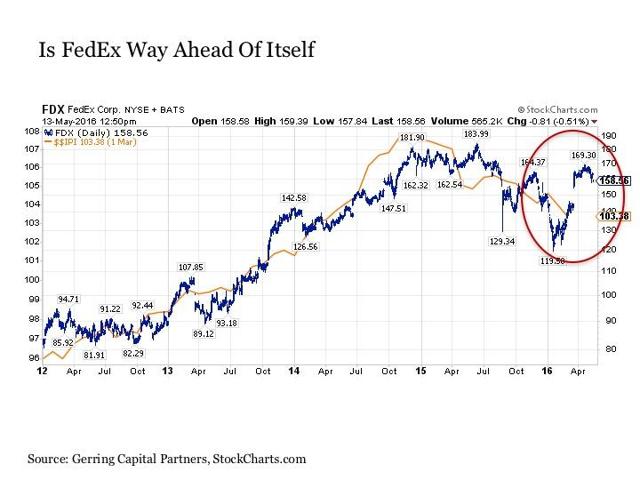 On the flip side, the rails such as Union Pacific (NYSE:UNP) may be, through their share prices, more accurately reflecting the bleak underlying reality facing the transportation business at this time.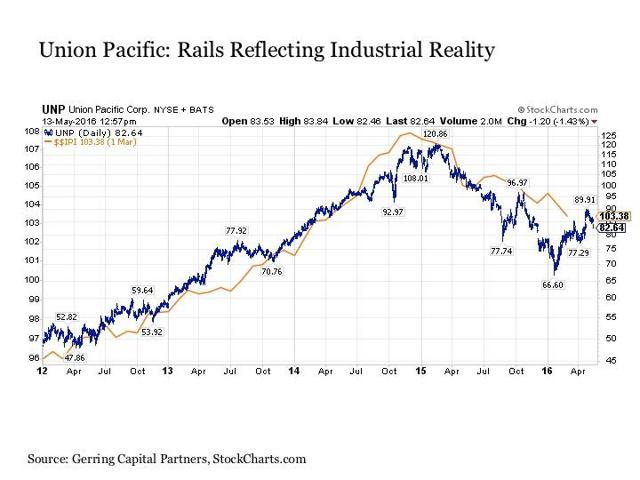 Moving on to the industrials themselves, General Electric (NYSE:GE) has been rewarded by its shareholders for its transformation from a diversified conglomerate with a sizeable finance unit to a purer industrial outfit. But it appears that this transformation may now be more than baked into the current share price given the underlying trends in industrial production.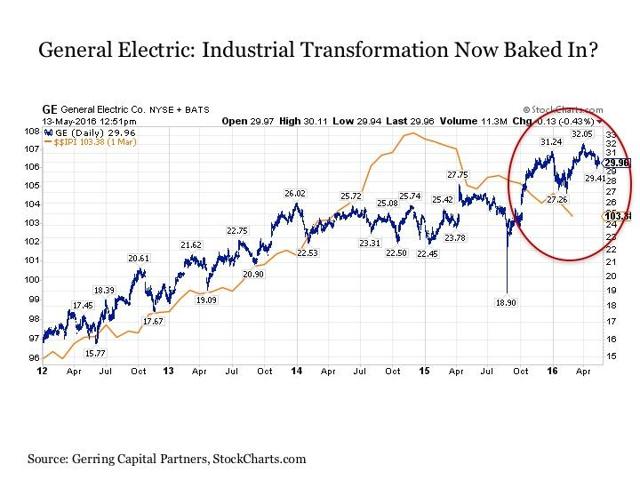 The same could be said for a company like 3M (NYSE:MMM). Formerly known as Minnesota Mining & Manufacturing, 3M's shares have long trended with industrial production. But since the start of the year, the stock has soared well beyond this economic barometer. Perhaps it will be able to maintain this recent spurt, but at nearly 22 times earnings, the stock may have its work cut out for it.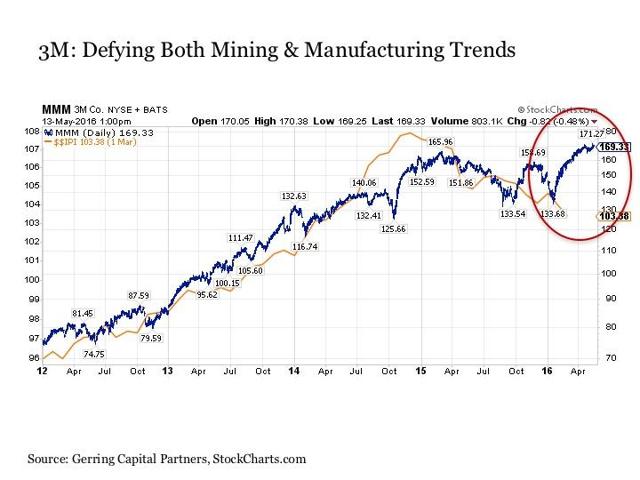 The same question could be asked of Illinois Tool Works (NYSE:ITW). This has been one of my favorite companies to own over the past two decades, but I have not held it for some time now and am not likely to be a buyer any time soon. For while the company was trending along with industrial production through the start of 2016, its recent +36% appears to defy the underlying reality implied by the economic data. And once again, at 20 times earnings, it is now running hot with a current valuation that is about 25% above its historical average.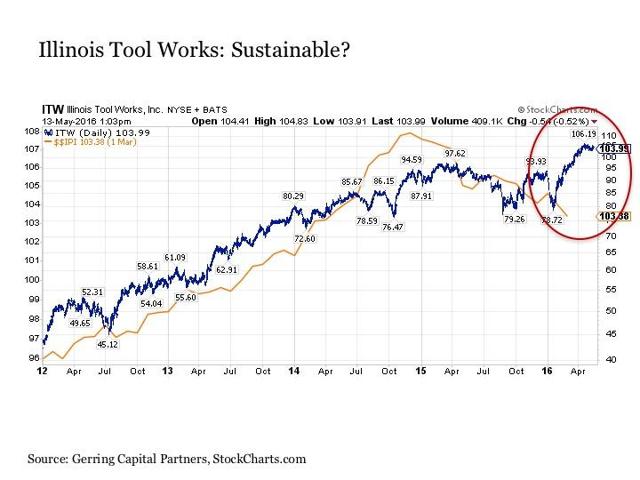 Certainly, not all industrial stocks are defying gravity. For the sector also has had its group of companies whose stocks have fallen much more sharply below the trend implied by industrial production. And while many of these stocks have recovered in value and regressed toward the industrial production mean since the February market lows, the potential exists that high-quality companies such as these could fall back well below trend during any upcoming correction and present attractive short-term trading opportunities as a result.
One such example is Emerson Electric (NYSE:EMR), which saw its share price obliterated over the past year due to its heavy one-two punch exposure to China and the basic materials sector. But it appeared the sell-off in Emerson's shares had gotten ahead of itself as implied by the Industrial Production Index, as these shares have since rebounded sharply to return to this baseline trend.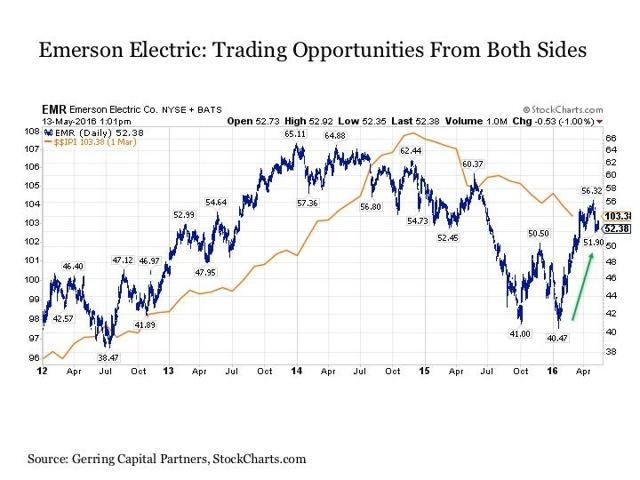 The same could be said for Cummins (NYSE:CMI), which had seen its stock price cut effectively in half from the spring of 2014 to the start of 2016. But much like Emerson, Cummins was trading well below the trend implied by the Industrial Production Index as a result. And since the start of the year, CMI's shares have rebounded impressively. While they are still trading well below previous highs, they are now at least for now seemingly back on the trend implied by the Industrial Production Index.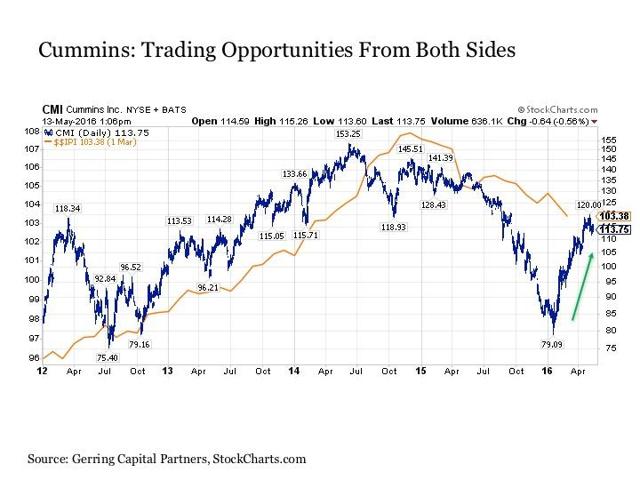 Bottom Line
Industrial stocks have traditionally shown a high correlation to the Industrial Production Index over time. But at present, industrial stocks have surged well above the trend implied by this underlying economic benchmark. This suggests the potential for meaningful downside in industrial shares in the months ahead, as a number of individual stocks appear to be running hot. With that said, it should be noted that not all stocks within the industrial sector are trading above the trend implied by the Industrial Production Index. And looking forward, investors may find short-term trading opportunities among those high-quality companies that end up trading well below this underlying trend at any given point in time. Thus, this is a relationship worth monitoring both across and within the sector in the months ahead.
Before closing, I wanted to share a quick note about The Universal, which is my premium service on Seeking Alpha. I currently offer a two-week free trial for users that would like to explore my service. But I wanted to let readers that are potentially interested in The Universal know that I will be ending this two-week free trial opportunity on Sunday, May 22. As a result, if you have been considering taking a look at The Universal, please sign up sometime before the end of the day on Sunday, May 22, to take advantage of this two-week free trial offer. Questions about The Universal? Please send me a message on Seeking Alpha and I will follow up with a reply as soon as possible.
Disclaimer: This article is for information purposes only. There are risks involved with investing including loss of principal. Gerring Capital Partners makes no explicit or implicit guarantee with respect to performance or the outcome of any investment or projections made. There is no guarantee that the goals of the strategies discussed by Gerring Capital Partners will be met.
Disclosure: I/we have no positions in any stocks mentioned, and no plans to initiate any positions within the next 72 hours. I wrote this article myself, and it expresses my own opinions. I am not receiving compensation for it (other than from Seeking Alpha). I have no business relationship with any company whose stock is mentioned in this article.