The finance industry may not be entirely out of the woods yet, but the software industry, supplying their vertical, has been outperforming. According to TickerSpy's index, the financial software industry has jumped 20.4% over the past month (16.5% higher than the S&P 500) and 37.8% since the start of 2008 (38.7% better than the S&P 500).
Despite this rise, the financial software industry trades with an average price-earnings ratio of 22.1x, which is just below the current S&P 500 P/E ratio of 22.81x, making these stocks a relatively decent bargain. The industry also pays an average dividend yield of 0.5%, which means some of these players may interest some income investors, too.
Here are some of the top performers:
| | | | |
| --- | --- | --- | --- |
| Ticker | 1-Month Gain | Rev/Net Growth | P/E Ratio |
| (NYSEMKT:ELLI) | 59.57% | 28% / 7.6% | 50.96x |
| (NYSE:LPS) | 32.80% | -7.8% / -38% | 13.51x |
| (NASDAQ:YTEC) | 19.72% | 4.1% / 216% | 7.06x |
| (NYSE:FICO) | 11.77% | 2.3% / 11% | 18.13x |
| (NASDAQ:ACIW) | 23.87% | 11% / 69% | 29.17x |
| (NASDAQ:EPAY) | 5.88% | 20% / 808% | 28.04x |
| (NASDAQ:INTU) | 0.42% | 11% / 10.4% | 26.53x |
*Growth figures taken from FY2011 or TTM.
Intuit (NTU) is Great for Income Investors
Intuit Inc, a provider of financial management solutions, including Quickbooks, Quicken and TurboTax, is the largest and most popular stock in the mix. With its 1.04% dividend yield and 0.78 beta coefficient, the stock is a safe and growing pick for income investors looking to add some exposure to the financial software industry to their portfolios.
Last quarter, the company beat analyst expectations with earnings of 51 cents, versus a 45-cent consensus, and revenues of $1.02 billion, versus a $1.01 billion consensus. The firm benefited from an increase in first-time users, improved cross selling and reduced marketing expenses, which are all great signs moving forward - particularly with employers hiring again.
While Intuit is a blue chip company, there are some risks that could send the stock lower. For instance, there has been a rise in free online accounting websites, such as Xero or Outright, that could take market share from its products on the low end. And any further drops in employment could also have a negative impact on its business moving forward.
Yucheng (YTEC) May be a Strong Value Play
Yucheng Technologies Limited, a provider of software solutions to China's banking sector, could be a strong value play in the financial software industry. With a price-earnings ratio of just 7.06x, the company is the cheapest stock in the bunch, while its balance sheet remains extremely strong, with $32.5 million in cash and nearly $150 million in assets.
Last quarter, the company reported better than expected earnings of 20 cents per share, versus 19-cent estimates, and revenues of $29.7 million, versus a $26.85 million consensus. Despite some lackluster projections for the first quarter, the firm expects its software and solutions revenues to grow 20-25% in 2012, which would make its P/E multiple seem a bit low.
Of course, there are several risks associated with this stock, given that it operates in China. In addition to the higher accounting risk, the companies operating in the country which is more generally experiencing higher wage inflation. This could hurt the firm's gross margins in the near-term, but could mitigate over the longer-term.
Growth Investors Should Watch Ellie Mae (ELLI)

Ellie Mae Inc. , a provider of electronic mortgage origination in the U.S., is by far the top performer in the group, jumping nearly 60% over the past month. While the company may now have a high P/E ratio of over 50x, and just moderate growth rates, the stock may be worth watching from a technical prospective over the coming months.
Currently, many technical indicators suggest that the company is overbought at current levels, with an RSI of 91 and rising MACD. Traders should watch for the company to close its recent gap and retrace to the $7.73 per share Fibonacci level and then consider taking a position if the stock shows more signs of strength (such as low volume selling).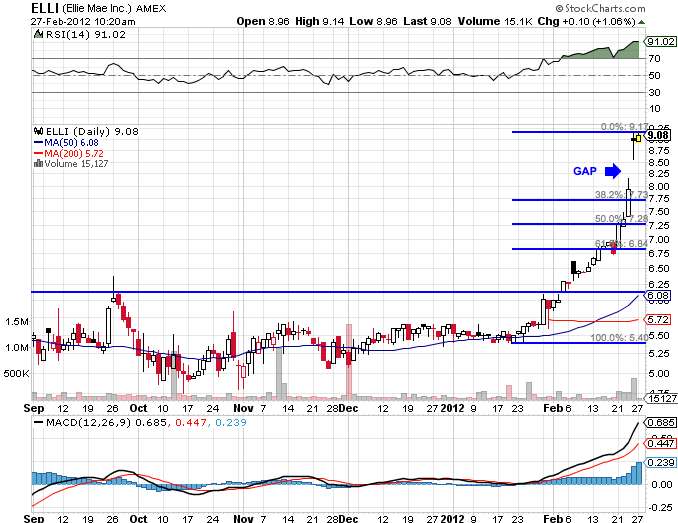 Disclosure: I have no positions in any stocks mentioned, and no plans to initiate any positions within the next 72 hours.