If you've been following the oil markets (NYSEARCA:USO), (NYSEARCA:OIL) closely, you're aware of the situation with drilled but uncompleted wells (DUCs). The consensus view has been that when the price is right, these DUCs will provide ample oil supply to either offset U.S. production declines or reverse it and increase overall U.S production. The DUCpocalypse would arise if the DUCs were completed rapidly and the oil market was flooded with massive amounts of new inexpensive supply, enough to potentially drive the price back into the 30's.
What the DUC?
According to Bloomberg there are approx. 3,200 DUCs in the U.S. Oil wells come to fruition in various stages. A rig may drill a well but the operator has a choice to complete the well at a later date. DUCs are a normal part of inventory, but their number has swelled dramatically due to the crash in the price of crude oil over the last 18 months and the fact that operators had many rigs under contract.
Below is a map of U.S. DUCs from drillinginfo.com: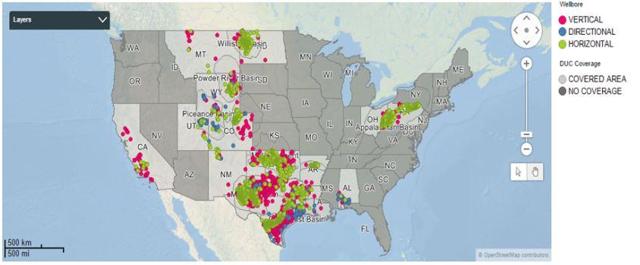 DUC completion costs vary but there is consensus that completing a DUC is significantly cheaper than the entire combined cost of drilling and completing a well. The argument from many oil bears is that the large inventory of DUCs provide a greatly reduced breakeven for U.S. shale operators, incenting them to increase production once oil get's into the 40 dollar range and higher.
Lower for longer or lower forever?
Unconventional oil production is extremely capital intensive. Much of that capital is spent with oil services firms such as Schlumberger (NYSE:SLB). A lot has been said about the improvements in technology that has driven down the costs. Not only have the costs come down, improvements in completion techniques have increased well yields (production). EOG has an inventory of wells that have positive IRR in the $40 range. This is a very bearish number for those hoping for oil to recover back to $75 in 2016 or 2017.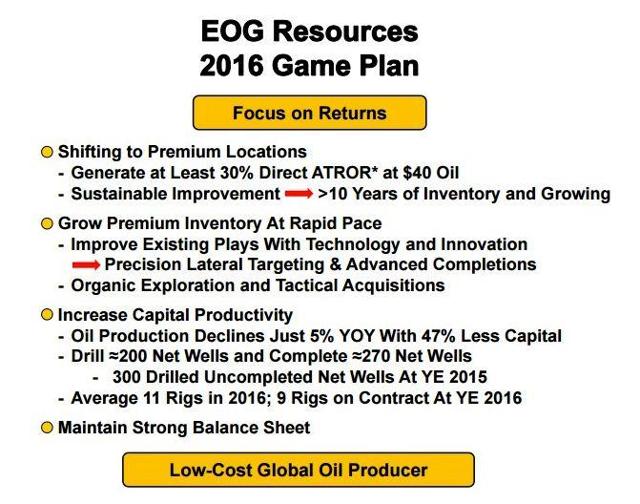 If we believe this to be true along with similar stories from Pioneer Natural Resources (NYSE:PXD) and Continental Resources (NYSE:CLR), it sounds a lot like lower forever is a more appropriate mantra for the current environment.
Don't sell all your USO just yet
The key problem with this whole theory is that the extrapolation is done assuming some data points (oil service costs) stay fixed while others (production, price, demand) change. This results in some flawed conclusions that could scare USO investors into selling and be part of the confused masses when the predictions of the DUCpocalypse fail to come to fruition.
There are two major problems I have with above theory:
DUCs are finite
Oil service costs are not sustainable
What if this were a zombie apocalypse?
Before you stop reading, I promise you I have a relevant point. Imagine a world where there are zombies all over the place in growing numbers. A man has his shotgun ready and is telling his wife not to worry for he has approx. 3,200 boxes of ammunition. This amount of ammunition will no doubt destroy any amount of zombies that come to the house. The man's wife calmly asks, "What will happen when the 3,200 boxes of ammo run out?" He says "No problem! We'll just get more!" The woman says, "Don't you think that by the time we run out of ammunition that new ammunition might be prohibitively expensive because everyone will be wanting some?" The man tells her that while he commends her for attempting to understand the complex economics driving ammunition prices, the reality is that ammunition has been cheap for at least a year now and that will not change. He follows it up by reminding her that he has 3,200 boxes of ammunition.
You can see how everything is going to be just fine, right?
For those not following along, the boxes of ammo are the existing DUCs and to get more ammo (DUCs) will require oil services costs to be low enough for the massive capex required to make financial sense. DUCs are finite and an oversupply of rigs and oil service crews will not be permanent. One can't assume completion costs will be low forever.
The myth of cheap unconventional production
I'm definitely not the first person to question the viability of a limitless supply of inexpensive U.S. oil. Many a great book has been written about it. One cannot deny that U.S. production has been incredibly resilient and the ability of U.S. unconventional producers to raise new capital continues to be impressive. However, I don't believe the story and think the illusion that uncoventional oil production is profitable has just reached it's latest stage.
David Einhorn put together an excellent presentation in 2015 that covers the key reasons why unconventional production is unsustainable. It was a little before its time as the story likely still has a few years to play out, thanks to enormous technological advances in unconventional production. Here is a quote from Schlumberger CEO Paal Kibsgaard that talks about SLB's contribution to the technology improvements:
The apparent cost reductions seen by the operators over the past 18 months are not linked to a general improvement in efficiency in the service industry. They are simply a result of service-pricing concessions as activity levels have dropped by 40-50% and most service companies are now fighting for survival with both negative earnings and cash flow. The unsustainable financial situation of the service industry together with the massive capacity reductions mean that the cost savings from lower service pricing should largely be reversed when activity levels start picking up.
Oops, did I get the wrong quote there? OK, sarcasm is not becoming of me, but the point here is that there are still significant questions about how much of the cost savings are from technology advances, and how much just relate to a temporary supply-demand imbalance in the oil services sector.
Because unconventional production is so capex intensive, a rise in oil services costs will disproportionately negatively impact the costs of unconventional producers. To be clear, I think a return to sustainable oil services costs will mean unconventional costs go up greatly and conventional costs go up a much smaller amount. This will definitely affect the economics over time.
Conclusion: DUCpocalypse at $55 oil?
The question remains as to what happens when the price goes up enough and all the DUCs get unleashed at a rapid-fire pace.
No one really knows at this point, but to assume that it's simple and we'll be flooded with new, low-cost sustainable production is naive. It is not clear whether all the DUCs in inventory can economically offset the declines we are seeing in U.S. production, let alone offset them enough to increase overall production.
Over time we'll have a new supply/demand problem and that'll be in the oilfield services (NYSEARCA:OIH) space. For those with a longer time horizon (12-36 months), I strongly recommend doing some research on names like Schlumberger to see if they are right for your portfolio.
Disclosure: I am/we are long LGCYO, LGCYP, MCEP.
I wrote this article myself, and it expresses my own opinions. I am not receiving compensation for it (other than from Seeking Alpha). I have no business relationship with any company whose stock is mentioned in this article.