"Based on my own personal experience, both as an investor in recent years and an expert witness in years past, rarely do more than three or four variables really count. Everything else is noise." - Martin Whitman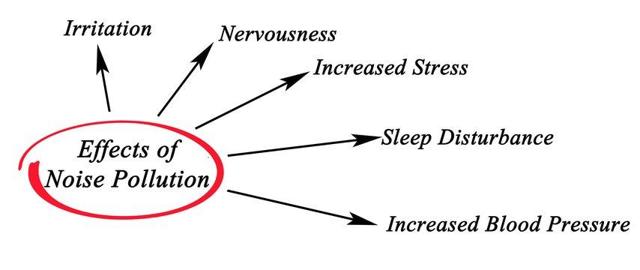 In the world of investing, uncertainty is all around us. Learning to accept uncertainty and understand how important it is when developing an investment strategy is key.
Just about every strategy that has been developed has failed at one time or another in order to succeed. That includes some of the most well known strategies developed by the sharpest investment minds out there.
There is no certainty built into the stock market, but there is always "noise'. Understand that even the very best strategies will let you down at times. If one truly has a diversified portfolio, there will come a time when we look over our holdings and literally hate some of the positions. Accepting those short term failures will assist in dealing with the long term.
The investor that understands and accepts that there will be failures going into any investment plan has a decided edge. They plan for a wide range of outcomes. There is no such thing as the perfect portfolio at any given point in time. It doesn't exist, and those that strive for that perfect optimized portfolio usually underperform.
Of course it's advisable to tweak things now and then once the market trend has been established. I try to make the best decisions based on probabilities, given the data presented. However, over time the market winds will switch from value to momentum to income, then growth. Anyone trying to precisely capture those gyrations will wind up grinding their portfolios into the ground.
One of the uncertainties that investors will face in the coming months is the race for the Presidency. For all intents and purposes, the field has come down to Mr. Trump and Mrs. Clinton. I don't believe the market will voice its opinion just yet. However, be assured there will be plenty of commentary on which sectors, stocks that may or may not benefit. That rhetoric will be ramped up as the candidates solidify their plans.
Suffice to say, ignoring a lot of the coming noise will go a long way in managing a portfolio without distraction.
Another source of ongoing uncertainty has been the state of our economy. It comes as no surprise because this recovery has been the slowest of the post-war era. Indeed, throughout this recovery, U.S. real GDP has stayed in and around the 2% growth line. With that comes the constant fears that another recession is imminent.
Bessemer Trust has put forth their views on where our economy stands in the economic cycle. It is a view that is very similar to how I have assessed the economic situation and stated here on SA. There is large contingent that believe that the U.S. economy is at the end of the cycle and the next move will be into recession. That notion was "the" headline during the August 2015 and the January/February stock market declines that took place.
It is important that investors are aware of these cycles and position their portfolios accordingly. Expansionary periods do come with the typical "ups' and "downs". There are periods of time where the economy isn't actually in a recession but economic activity clearly shows signs of deterioration. This is what some call a mid cycle slowdown.
The cornerstone of the recession argument started with the weak manufacturing data that the sector has experienced. That was immediately extrapolated to an oncoming recession. I took the other side of that argument in data presented here because there have been many periods where a slowdown in manufacturing and poor ISM data have not coincided with a recession.
The chart below is yet another example of that.

There is also evidence that the collapse of the energy sector has played a huge part in this mid cycle slowdown. In addition there were other signals that led me to conclude that a recession wasn't imminent last August.
Because I have subscribed to the theory that this is indeed a mid cycle slowdown, I took the market approach to "stay the course". That was in stark contrast to those who were abandoning ship because of what they viewed as a looming recession.
The markets are of course tied to recessions and mid cycle slowdowns, and each presents vastly different risk/ reward scenarios for investors. An oversimplification would state that equities do quite well during expansions and usually fare poorly during recessions. It is evident how critical it is to correctly identify the environment. It allowed me to avoid overreacting to the market stress and overall bearishness that gripped the markets at various times during the last 9 months.
McKinsey & Company recently published a report suggesting that in their view, investors face the probability of lower returns in the future for equity markets here in the U.S. When I hear anyone say that future market returns might be lower, I wouldn't recommend one to run out and sell all their stocks and invest in a bunker.
The issue I have with anyone trying to put forth a long term forecast is simple, it can't be done. These long term predictions usually involve some sort of extrapolation of past expectations where they constructed future return estimates based on little more than past results.
The McKinsey piece put the long term returns in a nice historical perspective and then constructed a very reasonable set of future return outcomes. The basic conclusion was, temper your expectations as the rolling 10%+ returns from a balanced portfolio experienced in the 1980's and 1990's are unlikely to be repeated.
As much as I do not put a lot of faith into what McKinsey wrote, it can be useful to remind investors to temper their expectations. Market participants need to put forth realistic assumptions when managing their money for retirement. Those who have unrealistic expectations of future returns will very likely end up with a portfolio that perpetually disappoints them. That leads to the likelihood of the many negative behavioral problems, such as excessive activity, high fees, etc.
Instead, be realistic with your assumptions. A smart planner constructs a portfolio plan so they can meet a relatively safe future withdrawal rate in retirement. After all, if you don't plan appropriately for what you need you might not have enough when you need it. Being prudent with future return expectations in the current environment isn't about crystal ball gazing. Construct an appropriate plan, temper your expectations for future financial market returns and don't chase returns when the next "can't miss" theme comes along.
Economy
Individuals are worried that the last two quarters with GDP growth of 1.4% and 0.5%, respectively, and a modest employment gain for April, that the pace of economic activity is slowing down.
The catalyst for the latest concern is the revelation that payroll employment rose 160 thousand in April and has risen 200 thousand per month in the last three months. The average increase in the past year has been 224 thousand. So employment may in fact be slowing down.
Being that the economy is just about at full employment that is exactly what we should expect. At full employment everyone who wants a job has one. The only place firms can find workers is from new entrants into the labor force. With the economy at full employment and the labor force growing by 150 thousand per month, it may just be that we should expect a gradual slowdown in employment to 150 thousand.
I don't believe that in itself means the economy is weak. It simply means that everybody who wants a job already has one, and firms cannot find enough bodies to hire.
Job Openings hit an eight month high, suggesting that the issue is with corporations trying to find qualified workers. The JOLTs report published this week showed openings jumped to 5.7 million versus 5.4 million expected.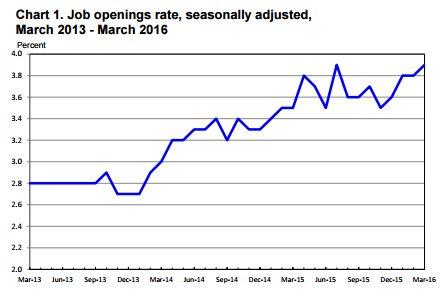 Source: Bureau of Labor Statistics
That's below the all time high for gross job openings set last year but the trend higher in openings after some moderation in the second half of 2015 suggests labor demand continues to climb.
If corporations were getting nervous I would expect to see corroborating evidence elsewhere and that is not happening. For example, we would expect some firms to begin laying off workers. But initial unemployment claims are the lowest they have been in 43 years! That is hardly a sign of impending doom.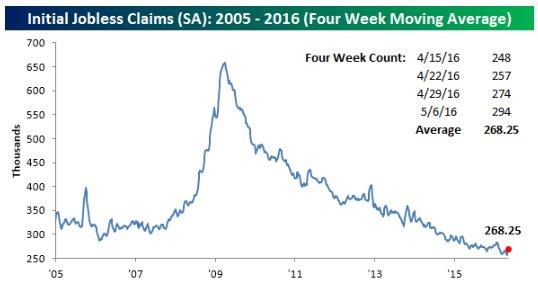 Source: Bespoke
Despite the trend of lower jobless claims, a recent uptick sends investors into a panic. While economists were expecting claims to come in at a level of 270K, the actual reading was 24K higher at 294K.
Placing too much emphasis on this data point may not be the best way to approach the situation.
Without the other corroborating evidence present, the worries over the employment numbers are a bit overdone. That is not to say that the stock market won't react negatively to this situation as it unfolds.
I would be more concerned if there were some indication that the slower pace of hiring reflected a drop off in demand. But demand growth still appears solid. Car sales surged in April to a 17.3 million pace. Car sales rarely surpass that pace.
The same is true for housing which continues to chug along at a relatively rapid rate. These two sectors of the economy are important. Consumers do not buy cars and houses if they are feeling nervous. Because these are the two biggest ticket items in any consumer's budget they are typically the first sectors to turn down when consumers get nervous. Thus, consumer spending should continue to chug along at about a 2.8% pace this year.
That leads the discussion to the consumer and the woeful results from Macy's (NYSE:M) and other retailers this past week. That report started the "retail sales train wreck" commentary. It could have been the catalyst for the reversal the market experienced last Wednesday. Headlines like this one grab our attention, but I'm not convinced they tell the entire story.
Extrapolating to what is happening at Macy's department store sales to the entire retail sector is an overreaction. There is a shift in consumer shopping habits. Mall traffic and brick and mortar are going the way of the dinosaur. It's all about online sales.
This is the early stages of the era of internet shopping. One only has to look at Amazon to get the story correct. The phenomenon that is occurring is starting to catch on, and it is called "death" by Amazon. These legacy retailers simply can't keep up with the 'scale" that Amazon brings to the table. Many investors simply don't understand Amazon and its appeal. So they dismiss the situation in its entirety. One doesn't have to understand the nuances that is AMZN. They just need to read the latest earnings report which shows a 27% increase in retail sales, and look at their extraordinary cash flow.
Wal-Mart (NYSE:WMT) did the same to the neighborhood "mom and pop" stores. Those that can't see this trend will be left by the wayside. As a testament to that, this line in the earnings transcript speaks volumes:
"Macy's digital business was a relative bright spot in the quarter."
Ask yourself the question. When was the last time you were in a mall, or for that matter Macy's? Aging baby boomers don't seem to be interested. The typical Millennial takes the approach if they don't like what they ordered online, they just send it back, and start over again.
Right on cue, retail sales were reported this Friday and showed the largest increase in a year jumping 1.3%. In the details of that report, internet sales jumped 10% year over year. Adding to the positives, March's report was revised higher on both an Ex Autos and Ex Gas basis. Yet investors sold this market because of economic fears.
Bottom line, this isn't a downshift of consumer spending hurting the economy. It is merely "bricks to clicks", a shift in how and where they are spending their money.
Global Economy
Worries over the outcome of next month's vote on whether Britain will stay or exit the European Union are overshadowing a bigger and better story in Europe these days. Namely, the stabilization of their economies and the prospects for improvement in much of the continent. That can lead to favorable valuations in their stock markets and an expected reversal of the recent weaker dollar stronger euro trade.
To be sure, the buildup to the Brexit vote could introduce volatility, which would only worsen if Brits did vote to abandon the EU, a process that could take years to fully accomplish. The odds seem to be that the UK will remain in the EU. While we will know for sure in a few weeks, I believe it best for long term investors be mindful of what's happening now in Europe, but not overreact to this situation.
The headlines read "China's Imports and exports slow more than expected."
Zhou Hao of Commerzbank in Singapore:
"Both exports and imports came in weaker than expected, in line with the soft trade performance across Asia, pointing to another challenging year for emerging markets."
Economists had expected exports in April to fall by just 0.1%, after a surprise 11.5% rise in March. China increased its share of world exports from 12.3% to 13.8% last year, meaning that its export sector remained competitive despite higher costs.
If investors haven't realized it by now, it's apparent that global economies can't be graded on a daily, monthly basis. Similar to what we have seen here in the U.S., Eurozone economic data is also on a roller coaster.
German factory orders rebounded in March. New orders rose by 1.9% and the previous month's report was revised upward from a 1.2% drop to a drop of 0.80%.
Earnings
I will start the discussion on this topic with a chart that is sure to draw the ire of the skeptics. S&P total revenues, ex-energy are at an all time high.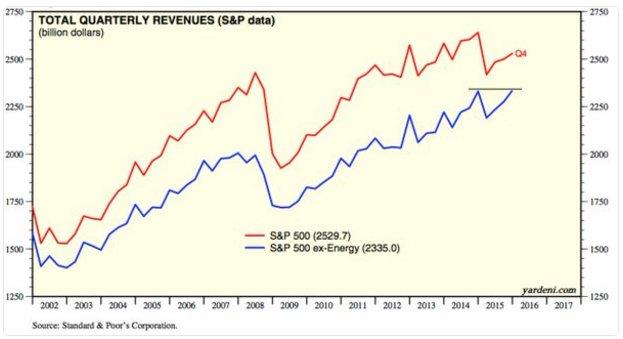 Ok, I can see their point, we can't just ignore the energy complex because it is bad and doesn't fit the narrative. But maybe it is telling us about the overall health of corporate America. I doubt anyone would believe this to be possible given the "revenue" discussions that swirl around the market on a daily basis.
Thus far, data from FactSet Research shows that with 91% of companies in the S&P 500 reporting earnings to date for Q1 2016, 71% have reported earnings above the mean estimate and 53% have reported sales above the mean estimate.
For Q1 2016, the blended (combines actual results for companies that have reported and estimated results for companies yet to report) earnings decline is -7.1%. That is smaller than the expected earnings decline of -8.8% at the end of the quarter (March 31).
The first quarter marked the first time the index has recorded four consecutive quarters of year over year declines in earnings since Q4 2008 through Q3 2009.
From Thomson Reuters:
Forward 4-quarter estimate: $123.01 this week versus last week's $123.17.
PE ratio: 16.7(x)

S&P 500 earnings yield: 5.98%, or 3rd week in a row between 5.96% and 5.98%.

Year-over-year growth of forward estimate: drops to +0.69% versus last week's 2.09% and ends the 4-week string of increases.
The Political Landscape
Guggenheim Partners says:
"This is going to be a race to the very bottom with two of the most polarizing political candidates in American history that we view through a binary prism."
In their view, if the general election is a referendum on Trump, Clinton wins, and if it is a referendum on Clinton, Trump wins. Regardless, it is highly probable the next president will begin office with a disapproval rating well above 50% and will be the oldest or among the oldest ever. Clinton will be 69, Trump 70.
One thing is for sure, it is going to be a wild summer from a political standpoint. At this point, Trump is a complete wild card in the eyes of the market. However, now that he has essentially locked up the nomination, we will see more color regarding his views, policy, and plans. As the picture becomes clearer, the market will be able to factor it into prices. For better or worse, Presidential campaign rancor may actually start to infect the economy.
My view as we look forward to the next few months: Let's stop this talk about transfer of wealth schemes, but rather create wealth by growing the economy. Here is a novel idea. Instead of singling out a company or an industry to score political points, how about the thought of spurring growth in corporate America. That will boost GDP and pay all of the bills.
Sentiment
During this first week in May, Lipper Research notes:
For the week fund investors were net redeemers of fund assets (including those of conventional funds and exchange-traded funds), pulling out a net $2.8 billion for the fund flows week ended Wednesday, May 4.
While investors were net sellers of equity funds (-$11.2 billion, the largest weekly net redemptions since January 6, 2016), they padded the coffers of money market funds (+$6.5 billion), taxable bond funds (+$1.1 billion), and municipal bond funds (+$0.7 billion).
Confirming this broad based bearishness is the CBOE Equity Put/Call ratio reading. The ratio of put volume divided by call volume. Typically, higher put volumes relative to calls tend to signal bearishness and are therefore a bullish contrarian indicator.
The market has a history of making a bottom when the equity put/call ratio is above 1.0. Recently we have had two significant signals from intraday readings on the put/call index. The index broke above 1.5 intraday on Tuesday.
Once again this week, the latest sentiment survey from the American Association of Individual Investors showed that investors want nothing to do with this market. In the latest weeks, where the S&P 500 came within 2-3% from its closing high, bullish sentiment is just barely hanging on to the 20% level.
That is the lowest weekly reading since February 11th when the S&P 500 was over 10% lower. This week's reading also marks the 28th straight week and the 62nd week in the last 63 where bullish sentiment was below 40%.
Unless this time is different, these actions by investors isn't signaling a major top in the equity market.
Crude Oil
Gasoline demand here in the U.S. looks quite resilient, and the recent drawdown in crude oil inventories this past week, may be the start of a trend.
There is nothing suggestive in the technical picture for a slowdown in the recent crude oil trend. Eventually the trend will end, but the domestic U.S. supply/demand picture doesn't look supportive of bearish positioning at the moment.
The International Energy Agency is always a good source for a roller coaster ride. This past week the IEA raised their Global Oil Demand Forecast for Q1. When Crude oil was testing the lows, they added fuel to the global demand recession story by lowering their global demand estimates.
WTI closed at $46.25, up $1.70 for the week.
The Technical Picture
My commentary last week highlighted a technical pattern that has shown to be a good predictor for market turning points.
"At the close of the week, my relative strength indicators flashed an oversold condition similar to what we witnessed in January and February."
A slight rebound ensued before it was snuffed out over the Retail and Employment concerns. The indicators now reside in "neutral". That leaves a much higher probability for a test of the support levels that I follow.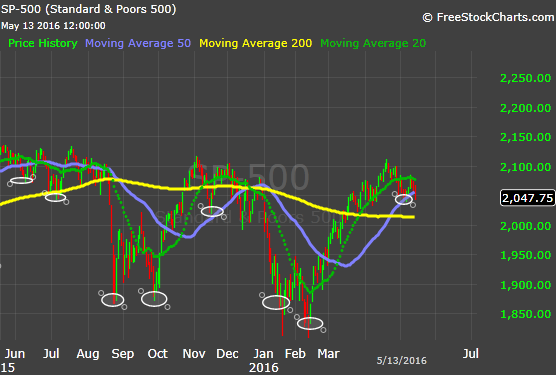 Short term support resides at the 2043 and 2033 levels, with near term resistance at 2070 and 2085. Take your pick on the near term direction, as investors digest the crosscurrents, then decides the next move.
Individual Stocks and Sectors
As we approach the one year anniversary of the S&P 500's all time closing high made last May 21st, it's time to look at how each sector has performed since then. The chart below tells the story. As shown, the S&P 500 as a whole is currently 4% below its all time closing high. Since 5/21, four sectors are positive, while six are down.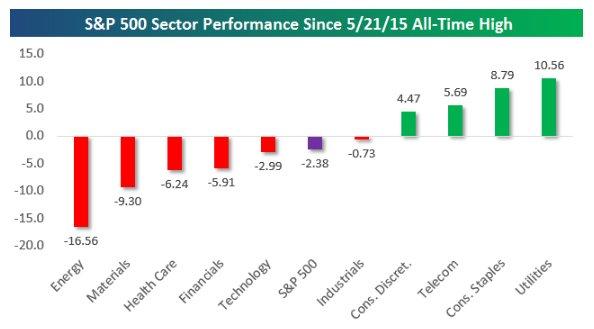 Source: Bespoke
Utilities are up the most with a gain of 10.56%, followed by Consumer Staples at +8.79% and Telecom at 5.69%. All three of these sectors are defensive in nature, which speaks to the type of market we have been in over the last 11.5 months.
The Energy sector is the main reason why the S&P 500 is still below its 5/21/15 all time high. Energy is still down 16.56% since then even though it has rallied back 25% from its lows. Materials are down the second most at -9.3%, followed by Health Care at -6.24% and Financials at -5.91%. The Technology sector is down 2.99%, which is just a bit less than the S&P 500 as a whole.
My focus continues to be the underperforming sector that is showing the most growth, Healthcare. Followed by undervalued stocks in technology and the Financials.
The S&P 500 Energy sector rallied 31% from its January 20th closing low through its 2016 high reached on April 27th. Since hitting its peak in late April, however, the sector has pulled back more than 5%. Coming into the year, I posted that the energy sector was due for a rebound. It was my idea that it could finally outperform the S&P 500 after back to back years in 2014 and 2015 where it underperformed the S&P by 20+ percentage points. So far in 2016 the Energy sector has indeed outperformed the S&P year to date with a gain of 7.39% versus the S&P 500's gain of just 0.90%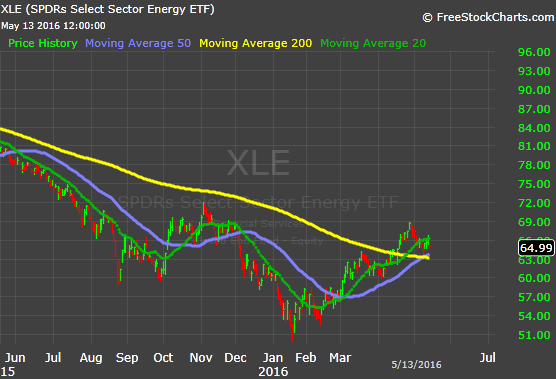 If the sector can hold above the 50 day moving average (63.70) in the next week or so, it will offer up a nice entry point for a move higher back to the top of its channel. If the support level doesn't hold, however, I would expect the sector to move in more of a sideways pattern over the short to intermediate term.
Switching to individual stocks I mentioned recently, it might be worthwhile to keep an eye on two names I thought were positioned at good entry points, Chipotle Mexican Grill (NYSE:CMG) and Apple (NASDAQ:AAPL).
CMG closed at $458 this week, up 9.7% from its recent closing low on April 27th. The stock is worth a look if it pulls back. AAPL is teetering right around its support levels at $90- $92. The stock briefly traded below the $90 level, but bounced to close the week at $90. An entry point here with a stop just below makes for a worthwhile risk/reward situation.
Summary and Conclusion
Market pessimism is fairly high and one outcome that often occurs is the market likes to prove the consensus wrong. The 'sell in May' strategy was not successful in 2012-2014. Just maybe the current high level of market skepticism will be the contrarian sign that keeps the S&P at worst, in a trading range. "Fear" is increasingly evident in the stock market reestablishing the bedrock of this bull market, climbing a perpetual wall of worry.
The equity market is presently facing a malaise from investors. No one is worried about missing upside to the market. I find that most investors in the 50-65 age bracket and are far more worried about losing $1 than missing out on gaining $3. The sentiment data reported earlier clearly confirms that.
Market crosscurrents dominate the scene. Well they never really left, just changed their names. Crude Oil and the USD trends have stabilized as positives. Consumer "retail" concerns and employment data now are viewed as negatives. Words from the opening quote tell the story:
"Rarely do more than three or four variables really count. Everything else is noise."
Readers can conclude from my presentation, that I believe the retail and employment issues are overblown and are "noise". However, when you add in the "Brexit" concerns, what many see as a faltering economy, the noise gets louder and there is no rush to buy stocks. While that may be the present background, I still remain with a posture that this noise is no reason to sell stocks.
Looking at all of the data and reading the economic tea leaves, has me keeping with a strategy that factors in the economy muddling along at 2- 2.5% GDP growth.
As I look out to the near term I can see some of the headwinds that prompted all of the recession fear and anxiety fading further. That is not to say that other "shocks" could come along and upset my apple cart. Barring any jolts to the markets, I believe we are completing this mid cycle slowdown, in the latter stages of an economic expansion.
I certainly can't pinpoint the start of the next recession, however keeping an eye on corporate health and the global macro scene, will allow investors to better manage the end of cycle scene, whenever that may be.
Market participants need to constantly review their present position in life, their plan, along with their present and future needs. Combine that with keeping an open mind to the data, and one can increase their chances of first being successful, and second, making any transition in their holdings in concert with what the market is telling them.
Best of Luck to all!
Disclosure: I am/we are long AAPL, CMG.
I wrote this article myself, and it expresses my own opinions. I am not receiving compensation for it (other than from Seeking Alpha). I have no business relationship with any company whose stock is mentioned in this article.