Brookfield Infrastructure Partners reports in USD. Unless otherwise indicated, all prices quoted are in that currency.
Company Overview
The Bermuda-based Brookfield Infrastructure Partners L.P. (NYSE:BIP) is an infrastructure holding company, part of the Brookfield Asset Management (NYSE:BAM) family, with the parent company holding 30% of BIP.
The term 'infrastructure' can cover much, but in the case of BIP, the company describes 'infrastructure' broadly as "networks over which energy, water, goods, people and data flow." Its various assets fall into four broad categories: transportation (42%), utilities (41%), energy infrastructure (transmission lines, pipelines, storage etc., but not energy itself; 9%), and more recently, communications infrastructure (8%).
Brookfield Infrastructure is clearly global in its footprint. Only about 10% of its holdings are North American. Europe and Australia each constitute 32% of its assets, and South America 26%. It has recently added a small toll-roads acquisition in India.
The company's cash flow is intended to be relatively predictable. Currently, some 46% comes from (usually long-term) contracts, 44% is regulated (which normally includes inflationary increases), and just 10% is categorized as other. The company estimates that about 85% of EBITDA has no volume-related risk.
Brookfield has the goal of achieving total returns in the range of 12-15% per annum, and of growing its distribution annually by between 5 to 9%. Its current distribution is $0.57 per quarter ($2.28 annualized), for a yield of approximately 5.32%. This represents a payout ratio of approximately 65% of FFO, well within BIP's target range of 60-70%.
BIP constantly looks to add high-quality assets with stable income flows. Although the company is an acquirer, and for larger projects can attract partnership capital through its parent company, it basically seeks to grow organically. However, it regularly sells mature assets at profitable returns, to use the proceeds to buy assets that will generate even higher returns.
Q1 Performance
"It appears that the market outlook for 2016 will remain choppy," wrote CEO Sam Pollock in an earlier shareholders' letter. In Brookfield's case, he was reflecting both global economic uncertainties and the strength of the US dollar relative to other currencies (partly hedged), which reduce the effect of BIP's international income.
Still, Brookfield Infrastructure's first quarter results showed a solid 15% gain in Funds From Operations compared to the previous year's first quarter, although net income was down from $132 million to $78 million due to the fact that Q1/15 had benefited from some particular revaluation gains.
Performance was basically steady across all four asset classes. Utilities gained from positive results from the UK regulated distribution operations. Although FFO in the sector was down marginally year-over-year, transportation saw general tariff growth, higher Brazilian rail volumes, and Australian rail cost reductions. In its energy infrastructure sector, BIP gained particularly from its increased ownership of North American gas transmission facilities. The French communications infrastructure business, which had not been acquired in Q1/15, showed returns that were both consistent since its acquisition and ahead of expectations.
Brookfield ended the first quarter with approximately $3 billion in liquidity. In addition, it stood to gain $600 million from the sale of its current Asciano shares, and a further $300 million from the completion of two acquisitions announced in 2015.
During the quarter the company also engaged in two refinancing arrangements. The first was for the €800 million ($914 million) debt incurred by the acquisition of the French communications infrastructure business; this was refinanced at 2.5% for 10 years. The second transaction was a refinancing at maturity of A$350 ($258) million notes for its Australian regulated coal terminal business at 4% for 5 years.
Subsequent to the quarter Brookfield applied $310 million as its own share of a 20% debt reduction for NGPL (Natural Gas Pipe Lines), 50-50 jointly owned with Kinder Morgan (NYSE:KMI). The partners intend still further debt reductions so as to obtain for NGPL an investment grade credit rating. (On April 16, Moody's put its $2.9 billion of debt on review for an upgrade.)
Going forward, BIP is expecting to spend about $500 million on three new projects: its Australian ports acquisition, the buyout of the remaining shares of its Brazilian toll roads, and the closing of its North American Niska gas storage purchase (further details below).
While Barron's recently published an article questioning the valuations of two of Brookfield Infrastructure's holdings (see my SA article, "Brookfield And Barron's: What's Fair?"), this seems to have been seen as weak and completely shrugged off by BIP investors.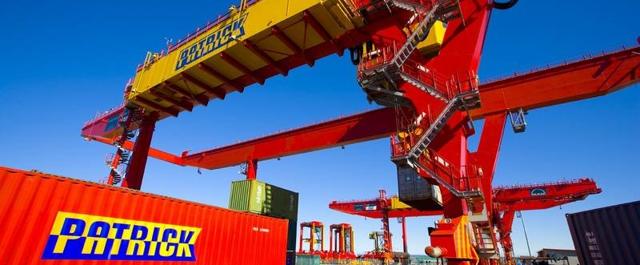 Patrick Ports operations. Source: Asciano Ltd.
The Asciano Acquisition
Brookfield Infrastructure's current priority is the completion of its offer for part of Asciano, which has been accepted by the company. After major revision of an earlier bid to comply with major regulatory problems, the ACCC (Australian Competition and Consumer Commission) is scheduled to rule on the new bid on May 26. Asciano shareholders will vote on it on June 3. In the latest BIP conference call, the CEO described discussion of regulatory factors as "very constructive".
The very complex $A12 billion bid is covered much more fully in my SA recent article on the subject. Under the latest offer, Brookfield Infrastructure and its partners and a Qube Holdings (an Australian ports and rail company) consortium, would each acquire 50% of Asciano's Patrick Container Terminals, and the Brookfield group would get 100% of Asciano's BAPS (Bulk & Automotive Port Services). Asciano itself would be reduced to holding Pacific National Railway and would be owned by Brookfield and Qube's partners, but not by either lead company. The new bid avoids escalating competition between BIP and Qube and regulatory issues for both companies, each of which has other Australian railroad holdings.
As my article points out, Brookfield Infrastructure gets a stake in major Australian ports operations, which it badly wanted. Patrick Container Terminals holds the four largest container ports in Australia: East Swanson Dock in Melbourne, Port Botany in Sydney, Fisherman Islands in Brisbane, and Fremantle in Western Australia. This includes a major integrated logistical services operation that provides an interface between the port operations, freight forwarders and freight owners.
Although BIP downplays this, perhaps out of regulatory concerns, the company probably stands to benefit from synergies with its joint venture with Qube. Although BIP no longer acquires any new rail operations, these are probably the least attractive portion of Asciano. (On news of the deal, Moody's downgraded the rail operations.) The new arrangement also considerably reduces BIP's cost base.
To some extent, the BIP partnership has already benefited from its offer, it will share a break fee of A$88 ($65) million triggered when Asciano rejected its former bid. As mentioned, with a current ownership of about 20% of Asciano, the partnership will also gain from both special dividends and realized gains on the buyout of its shares with the finalization of the new deal. On this, BIP itself will probably profit by about A$95 ($70) million.
Other Near-Term Acquisitions
Brookfield Infrastructure and Abertis Infraestructuras S.A. (OTCPK:ABRTY), a Spanish company jointly (BIP 49%; Abertis 51%) own 69.3% of the Arteris 3,250 km of toll roads in Brazil. They are now seeking to buy out the remainder of the shareholders and take the company private. The partners issued an information circular in April. The offer has since received approval from the Brazilian securities regulator, but still requires acceptance from holders of 2/3 of the remaining shares.
Under currently favorable currency terms, the buyout is worth about 1.1 reais ($319 million), which would be shared by BIP and ABRTY. The tender offer is now scheduled to close on May 17. Brookfield management hope that the buyout will facilitate participation in Brazilian government roads improvement incentives. While, given current economic conditions, heavy traffic there has been down, light traffic is still holding up.
In June 2015, Brookfield participated, with various partners, in the buyout of Niska Gas Storage (NYSE:NKA), with major facilities in Alberta, California and Oklahoma. Closing is now expected to occur in July, subject to regulatory approvals. The total equity investment for the consortium will be $175 million, of which Brookfield Infrastructure will invest approximately $70 million for an effective 40% ownership stake.
Niska debt is about $735 million, which the partnership will also assume. However, the BIP consortium had already acquired at least $250 million of Niska's ($575 million) senior debt (BIP's share ~$100 million) at about $0.75 on the dollar, and apparently has since acquired more, which sets up the transaction for a very favorable return.

Source: Brookfield Infrastructure Partners L.P.
Other Current Opportunities
Brookfield currently sees real opportunities in Brazil, where both economic conditions and currency weakness offer attractive scenarios. At the same time, it does not expect economic improvement to be immediate, but to be a slower process over the next few years.
It has now signed agreements for four separate construction projects that would give it about 3,000 km of electrical transmission lines, a business in which it has had prior experience. For this, it envisages an investment of about $200 million over the next five years. In Chile also, the company is expanding and improving its electrical transmission systems at a cost of $110 million.
BIP is also currently expanding its Brazilian railway operations, a project that should be completed over the next twelve months.
Within the past few days, it was announced that Brookfield Asset Management was in exclusive negotiations to purchase Petrobras' natural gas pipeline unit, Nova Transportadora do Sudeste SA, as part of the oil company's plan to dispose of non-essential assets. It is reported that BAM has offered $5.2 billion for NTS' 2500 km pipeline network. Whether such a purchase would include BIP participation is unknown, but there would be a fit with BIP's energy infrastructure business, which already had been looking to expand into Mexico without concrete progress, and its current involvement in Brazil otherwise.
In the UK, BIP expects to expand significantly its metering business at a total cost of about $220 million, spread over two years. In the US, it is expanding its natural gas transmission business, affecting the Chicago market and the Gulf Coast, at a cost of about $40 million this year. It is also increasing its LNG exposure on the Gulf Cost through 2018, at a further cost of $105 million. This is anchored by a long-term contract with an LNG operator.
The Outlook Ahead
In the most recent conference call, CEO Sam Pollack was positive on the partnership's current outlook. He described BIP's view of global economic conditions as "generally stable and upward trending." This was anchored by steady U.S. progress, and was despite weak economic growth in markets like Brazil, where, despite the political events, it expected the economic slowdown to last for several years.
Pollock noted the company's capacity for organic growth, and expressed the view that in the circumstances
we are very excited that our current backlog of projects, which has never been as large could lead to another period of outperformance.
The CEO thought that BIP could meaningfully grow its FFO per unit "in the next year and beyond."
Brookfield Infrastructure clearly feels that its current unit price, which has a 52-week high of $45.50, is currently undervalued by the market at $43.36 (May 12 close). Its last investor presentation included a slide that suggested that BIP's yield and its values implied a unit price above $50 (see below).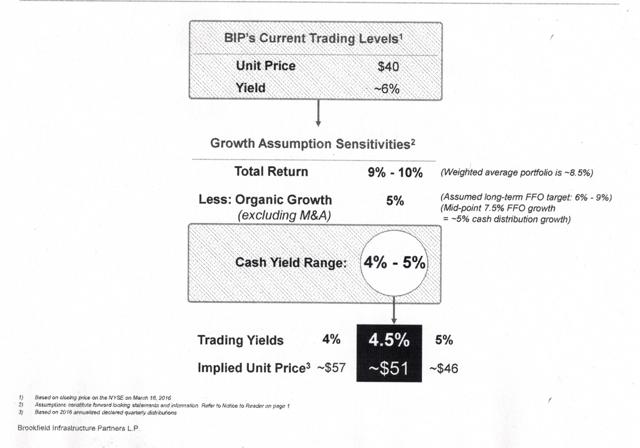 Source: BIP Investor Presentation
Tax Information
For tax information, one should consult the company website.
Risks
Obviously Brookfield Infrastructure, whose holdings are focused on major projects, entails project risks, which include major damage from natural disasters and similar events, environmental damage, and the consequent possible downtimes and liabilities.
With its own development pipeline, there are also risks from unanticipated cost and time overruns on new projects.
Given the fact that BIP operates in a variety of jurisdictions, there is always an element of political risk as well as the risk of serious economic downturns in these countries.
Perhaps the major risk to its unit price would come from large rate hikes by central banks, including the U.S. Fed. To some extent, infrastructure investment, with its quite dependable returns, competes for investment with sovereign bonds; it would be adversely affected if returns on these approached the returns on infrastructure investments.
Investment Thesis
Brookfield Infrastructure sees itself as being involved for the long haul. Investors who would think of buying into it should probably have the same outlook, and not be deterred unduly by short-term fluctuations.
Given current macro-economic conditions globally, BIP seems to present an attractive opportunity for those who would like to participate in an eventual global recovery.
At the same time, BIP's holdings are anchored in the kinds of infrastructure that are necessary in all economic conditions and generate relatively stable revenues, even if weaker during economic downturns. Its track record has been good, both in terms of its ability to generate return on equity and in its distribution growth.
Brookfield Infrastructure possesses an element of safety from the diversity of its holdings and the broad spread of its activities globally.
Through its parent company, BIP has considerable access to funds for growth from both large institutional investors and sovereign wealth funds.
Overall, because of the nature of its infrastructure holdings, BIP offers the opportunity of asset diversity, global exposure, and a reasonable annual yield. It also offers the possibility of eventual returns on the divestiture of the assets held.
Disclaimer: The information provided above is not a recommendation to buy or sell a stock. It intends to increase investor awareness and to assist investors in making smarter decisions. Prospective investors should always do their own further research, and take into account their own current financial holdings, their risk levels and their shorter or longer-term outlooks.
Disclosure: I am/we are long BIP.
I wrote this article myself, and it expresses my own opinions. I am not receiving compensation for it (other than from Seeking Alpha). I have no business relationship with any company whose stock is mentioned in this article.