Belmond (NYSE:BEL) recently released results that exceeded expectations thanks to a strong performance in the company's European segment. In Europe, BEL delivered constant currency RevPAR growth of 30%, which reflected a six-percentage point increase in occupancy and 6.7% growth in pricing (average daily rate). BEL also reported a solid performance in Rest of the World, but a stronger dollar more than offset constant currency RevPAR growth of 16%. Overall organic RevPAR grew 9% year over year.
While occupancy has remained flat at roughly 60% over the past three years, BEL has been able to raise prices significantly in all of its markets, leading to constant currency RevPAR growth of 4% in 2014 and 11% in 2015. BEL's pricing power is the product of a narrow economic moat and the firm's strategy of appealing to high-end travelers who are less price-sensitive. Belmond differentiates itself by providing unique luxury experiences in settings with a distinct local character, making replication difficult. Zoning restrictions in many of these areas create additional barriers to entry. Going forward, the firm's pricing power should remain intact, thanks to favorable long-term trends impacting the global hotel, travel, and leisure industries. Ageing populations in developed markets will increase the size of BEL's target market, while rising incomes in emerging economies will grow travel and leisure spending in less developed regions, particularly in the Asia-Pacific. Despite the recent strength and positive long-term outlook, we think the margin of safety is too narrow to recommend a long position. At the time of writing, BEL traded at a forward P/E of 40. For investors seeking exposure to the global travel and leisure renaissance, there are better options available selling for less.
The issue with Belmond is that, for all of the firm's pricing power, the company is not very profitable. BEL has a 5-year median operating margin of 7.6% compared to a peer group average of 14.6% (Figure 1). This is mainly due to a lack of scale. Belmond owns and/or operates a total of just 44 properties, which means there are fewer efficiencies to be gained from spreading volumes across the firm's fixed cost base. BEL's reported operating margin has improved in recent years, from 2.31% in 2013 to 11.16% in 2015. But these figures are misleading as they reflect gains from the sale of PP&E and equity investments rather than productivity enhancements. In 2014 BEL recorded a gain of $4.1 million, and last year's sale of Hotel Ritz by Belmond resulted in a gain $20.3, both of which were classified as operating items (Figure 2). Adjusting for these non-recurring gains, operating margin would have been 8.6% and 7.5% in 2014 and 2015 respectively (compared to 9.3% and 11.16%). Weak operating profits create a low margin of safety for the firm's sizeable interest payments, which account for 5-6% of revenues on average. Net profits have been negative for each of the past eight years, except for last year when net margin was only 2.9%.
Figure 1: Operating Profitability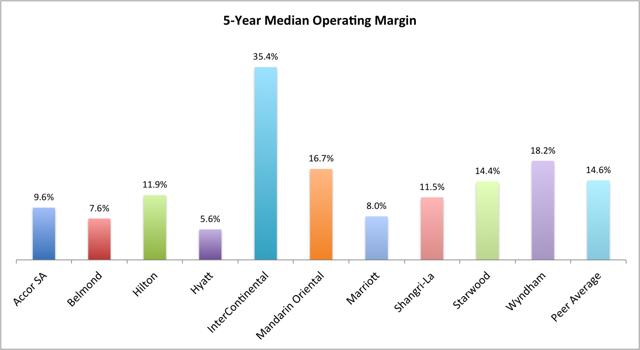 Figure 2: Gain on Sale of Assets

The combination of poor profitability and high capital requirements (capex averages more than 10% of sales) means that BEL converts a small portion of revenues into cash flow, and reinvests it at rates of return far below the firm's cost of capital. ROIC has averaged 0.5% over the past three years, and we estimate BEL's WACC at 7.5% Rather than return cash to shareholders, management insists on retaining earnings and plugging cash back into the business. A core pillar of the firm's growth strategy involves the continued investment in existing properties (expansions and renovations), but these projects are not paying off. The 10-K reads, "the company emphasizes increasing revenue and earnings at its properties, including by increasing occupancy and ADR while controlling costs, investing in capital improvements, and expanding where land or space is available, when potential investment returns are relatively high and operating costs are low". Management's decision to reinvest in a low-return business has hurt shareholder value.
Figure 3: ROIC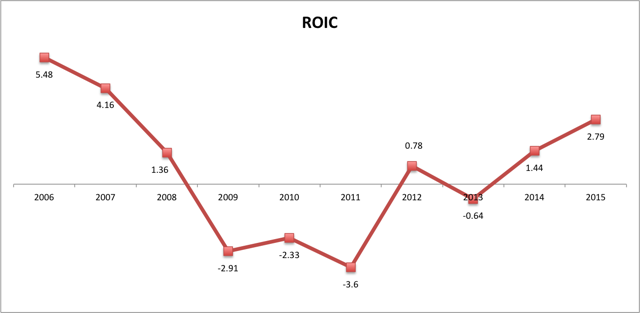 For Belmond's valuation to be justified, the company would have to display outstanding growth prospects, strong profitability, and low risk. Belmond has none of these. We expect BEL will achieve organic RevPAR growth in the mid single-digits on average over the next five years, the majority of which will come from pricing. Operating margins will contract back to the firm's five-year median of 7.6%, assuming BEL doesn't sell any more properties to free up cash for its debt burden. With a D/E of 0.87, BEL's debt load is nothing to sneeze at, and until Belmond finds a way to become much more profitable, the company will always rely on debt to finance capex. This exposes the firm to a rise in interest rates, which currently sit a rock bottom levels. If they were to increase, interest payments could swallow up any profits from operations.
Disclosure: I/we have no positions in any stocks mentioned, and no plans to initiate any positions within the next 72 hours.
I wrote this article myself, and it expresses my own opinions. I am not receiving compensation for it (other than from Seeking Alpha). I have no business relationship with any company whose stock is mentioned in this article.