Introduction
Boskalis recently posted a new trading update. Although its negative outlook was largely in line with expectations, revenues are likely to come in quite a bit lower than last year. The decreasing earnings are primarily caused by the company's exposure to the oil and gas market (and its related products). However, Boskalis has been in the process of diversifying its business and becoming a major offshore service player. In addition, there is an interesting ownership structure that could potentially lead to the formation of an even stronger conglomerate. If investors buy at current prices, this real option can be captured without having to pay for it.
Boskalis
Boskalis ((OTC:KKWFF), ADR (OTC:RBWNY)) is a Dutch offshore servicing company that is best known for its dredging activities. Although still one of the biggest global dredging firms, the company also operates in towing & salvage projects as well as offshore energy work. Panel A gives a breakdown of FY 2015 revenues for these activities. Geographically, the biggest chunk of revenues is obtained in the home country, but further diversification is quite strong, as panel B illustrates.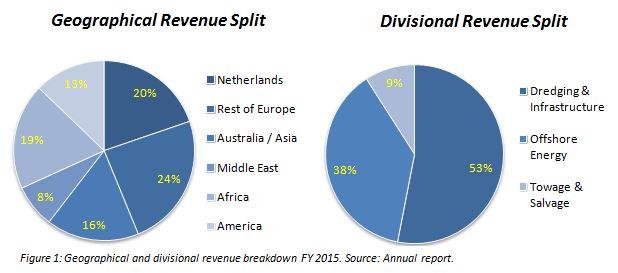 The geographical breakdown over 2015 is a lot more balanced than it was a year before. The Australia / Asia segment was the largest in 2014 (due to a large LNG project) but declined to 16%, while revenue obtained in Africa increased significantly. This same pattern is, though somewhat less clearly, visible in the divisional revenue split. After the acquisition of Smit in 2010, the towage & salvage division has increased gradually and is closing in on the 10% mark. By incrementally continuing these two types of diversification, Boskalis is changing from a pure dredger to a more balanced and all-round offshore service company.
Short term setback
After two great years of record earnings, Boskalis is expected to experience a strong setback this year. CEO Peter Berdowski warned for a drop of at least 10%; analyst consensus expects a 25% decrease. In anticipation of this freefall, shares have fallen close to 30% over the last 12 months.
The root cause of the forthcoming earnings decline has much (if not all) to do with lower oil prices. Because of the limited gains to be captured from new oil and gas projects, capital expenditure in that market has diminished greatly. Being a servicer for the industry means Boskalis faces much lower demand for activities like the servicing of drilling platforms, LNG infrastructure and pipeline development.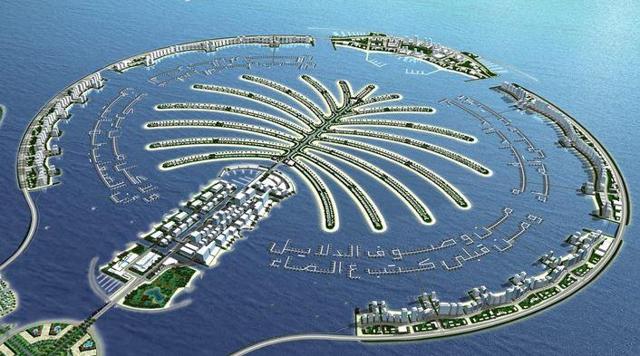 To make matters worse, a good portion of demand for land development comes from the Middle East. It is precisely this area that has been hit most heavily by the decline in oil prices. A reduction in the spending on area development thus lowers demand in this division too. Finally, global economic slowdown has caused governments to lower expenditure on harbor infrastructure projects. Combined, these short (perhaps even middle) term forces can put serious pressure on the number of orders. In addition, the projects that are left face stronger competition, putting pressure on margins.
A second cause more specifically related to the dredging industry is the large fleet expansions that several companies (most importantly Jan de Nul and DEME) have realized. At the same time, Boskalis has used its capital on mere renewal of the existing fleet and an M&A strategy that caused its broader portfolio of activities. However, on an industry level, total capacity of all major dredging companies has increased greatly. This has caused additional pressure on margins. These weaker short term prospects for several key markets have had their impact on the order backlog, which has declined by 24%. To conclude briefly: the short term outlook is not good at al.
Softening factors
Enough news to stay far away, one might think at this point. However, there are a couple of softening factors that have the ability to cushion the results somewhat.
The first factor is the result of the aforementioned diversification strategy. Boskalis traditionally specializes in more technically difficult projects. These are also the higher margin projects. More importantly, dredging only makes up for a third of all revenues now, leaving space for other sources of revenue to compensate for bad dredging performance. For example, towing activities are related to global trading (and thus shipping) volumes, and may underperform in times of economic slowdown. Salvage operations however, are a lot less cyclical. The same dynamics are present in the offshore energy division. On the one hand, investment in oil related projects are drastically lowered. However, Boskalis has broadened the application of its capacities in the field of infrastructure and water management, by co-building an enormous windmill park. By leveraging its economies of scope to create additional sources of demand, Boskalis' exposure to concentrated industry setbacks is slowly but steadily diminishing.
The second softening factor is the company's active M&A strategy. Boskalis has around €800 million in cash, and lots of borrowing space within its existent covenants. As the troubles described in the last paragraph progress, the firm may be able to scoop up a few companies at better values. As counterintuitive as this may sound, the best deals can be captured in times like these. Boskalis has both the means and the strategy to profit from this.
The third factor is a more general one, but nevertheless the most important: long term potential for Boskalis and most of its core industries is very bright. With an increasing world population, long term global trading is going up. Harbors are getting bigger and so are ships, causing an increased need for deeper waterways, even if trade volumes stagnate. Renewable energy projects are also likely to increase, and windmill parks, especially at sea, contain an increasing portion of them. Environmental change and a rising sea level will cause increased global demand for water management and dredging activities.
Although the short term outlook remains fragile, these factors can prevent earnings from taking a full nosedive. The most recent trading update confirmed this. This update is qualitative of nature, so it remains hard to get an exact view, but the company stated a slight increase in the order backlog. Though likely caused by acquisitive growth, this offers some insight that a recovery can materialize sooner rather than later.
A real option on the side: the buy-and-build scenario
The biggest owner of Boskalis is HALtrust, a Dutch investment company that is known for its ability to perform large buy-and-build acquisition strategies. Just last year, HAL brought a part of Grandvision, a multi-billion dollar optical retail giant, to the Amsterdam stock exchange, after building it from just a few local optical chains. Figure 2 gives an overview of the ownership structure regarding Boskalis at present.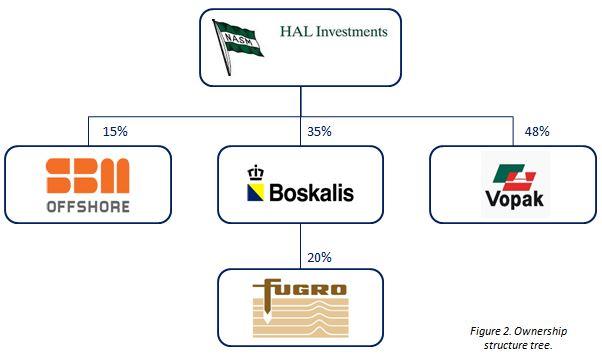 Hal owns 35% of Boskalis, meaning it can largely influence decision-making within the firm. Meanwhile, Boskalis has gradually increased its interest in geo-technical servicer Furgo (OTCPK:FURGF) to almost 29%. Dutch law requires that a full bid must be made once the 30% point is crossed. Although Fugro management has expressed its desire to continue independently, this doesn't mean much in practice. Boskalis has experience with unwilling target management, and has not let that stop its acquisition strategy before. Next direct steps could be terminal and oil storage servicer Vopak (OTCPK:VOPKF), in which Hal has a 48% interest, and SBM Offshore (OTCPK:SBFFF), a service company for mooring systems, in which HAL owns 35%. Not only are there a lot of overlaps among these four companies in terms of capabilities, they would also fit very well in the strategic diversification Boskalis currently embarks on. Even though all parties deny the strategy depicted in this paragraph, minority interests have only increased ever since.
Conclusion
Boskalis faces a couple of challenges in the short- and midterm. As a result, the company's shares have diminished more than proportionally over the last year. I believe this to be an excellent opportunity to acquire a world renowned dredging company that is slowly but steadily diversifying into an offshore servicing conglomerate, with all economies of scope and scale that accompany such a change. The coexistence of the softening factors will likely support demand in the middle term. Long term demand will be even higher. With its rich experience, technical knowledge and calculated strategy, Boskalis is a leading candidate to profit. The potential buy-and-build scenario is an embedded real option that is not priced in, but offers even more upside potential if it were to unfold. For investors with a middle to long term horizon, I therefore believe Boskalis is a great investment.
Disclosure: I/we have no positions in any stocks mentioned, and no plans to initiate any positions within the next 72 hours. I wrote this article myself, and it expresses my own opinions. I am not receiving compensation for it (other than from Seeking Alpha). I have no business relationship with any company whose stock is mentioned in this article.
Editor's Note: This article discusses one or more securities that do not trade on a major U.S. exchange. Please be aware of the risks associated with these stocks.