Note: Our goal is to be Seeking Alpha's top source of investment ideas from the world's hedge fund stars of today. Click the follow button at the top of this article so that we can keep these ideas from the best in the business flowing to you.
Druckenmiller's Warning
Few investors can get our attention like Stan Druckenmiller. At the recent Ira Sohn investment conference Druckenmiller issued a warning that we think investors should pay attention to.
As a reminder as to why we feel Druckenmiller's opinion carries such a heavyweight, remember two facts about his long term investment performance:
- For a 25-year period from 1986 through 2010, Stan Druckenmiller achieved an annualized rate of return of 30%.
- Even more incredible, in fact downright unbelievable is that over that period of time he did not have a single down year.
Also important to remember is that Druckenmiller didn't achieve this level of performance by using a bottom's up stock picking process. He did this by making investments around his macro views.
His last big macro call was a warning about the housing bubble in 2005. Investors should have paid attention to that. At this recent Ira Sohn he basically told investors to get out of equities for the following reasons:
- Interest rates are at all-time lows
- Those rates have been a wind at the sails of the stock market for 35 years with a non-top rate decline
- Stocks already have very high multiples on a historical basis
- Everyone and everything is leveraged to the neck
The slide below sums up Druckenmiller's view. Equities are not the place to be today.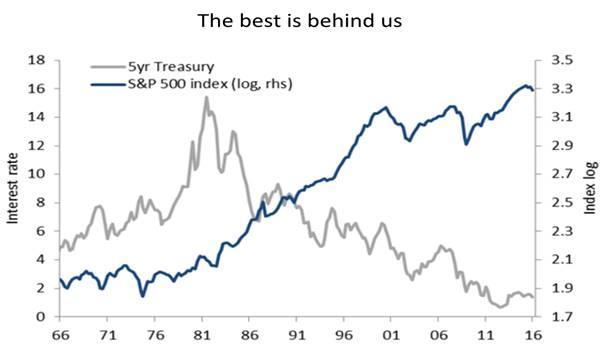 Source: Stan Druckenmiller Ira Sohn Presentation
What Is An Investor To Do - Buy Gold Now
As we reported in our last article that while pounding the table on investors reducing equity exposure, Druckenmiller gave us his favorite alternative.
It is shiny, sits in a vault and doesn't do anything.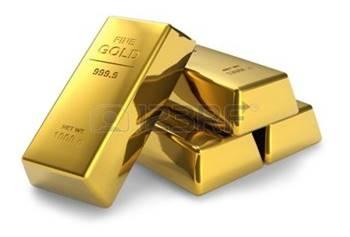 Royalty Free
As of December 31, 2015 gold in the form of the SPDR Gold Trust (NYSEARCA:GLD) is the largest position in Druckenmiller's portfolio. Following him into that security is one option for investors looking for exposure to gold.
Another option would be to buy gold mining stocks. The VanEck Vectors Gold Miners ETF (NYSEARCA:GDX) has certainly had a fabulous run since the start of the year having almost double. Despite that it remains barely over a third of the level it was five years ago.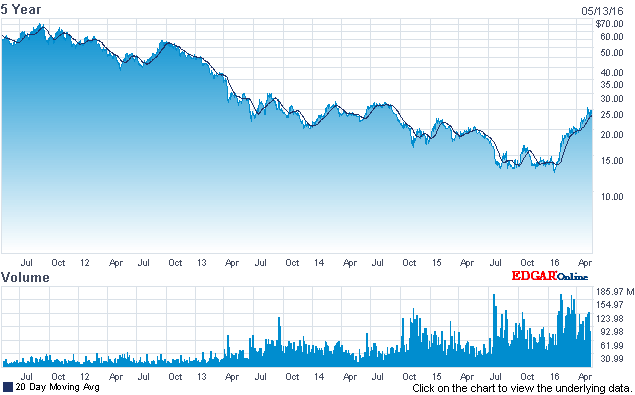 Nasdaq.com
But to be perfectly honest we don't really care for the mining business. We are very much open to looking at something that one of the great investors we follow owns, but over time this has proven to be a terrible business (especially outside of the really big miners).
Lots of money spent, very little (usually negative) returns. For every success story there are 50 failures.
A more interesting (and perhaps less well-known) option for obtaining gold exposure in our opinion is to own a royalty stream company.
So what is a royalty stream company and what is appealing about one?
They exist because raising capital in the development stage gold space is often difficult. Many of the more traditional financing methods are closed off to junior miners as a result of their risk profile.
This isn't just gold, it's the case across the entire commodities space. Commodities-based ventures are often riskier and more drawn out than those in other areas, and capital is more readily allocated to the low-risk ventures (like shale production…tongue in cheek) - especially at the volume required to fund things like gold exploration.
Royalty stream companies provide capital to junior miners in various stages of development in return for a royalty on production. Because capital is difficult to come by for the juniors, royalty stream companies can demand high levels of return on their allocated capital. This return makes these types of companies attractive as both an exposure to the gold sector and as a risk-mitigated alternative (they don't carry the traditional junior miner risks such as permitting, exploration, etc.) to junior development.
This isn't a risk free business, but once mines are up and generating cash flow these royalty companies are beautiful cash flow machines with no capital expenditure requirements. These companies also get all of the exposure to exploration upside that comes with the properties on which the royalties reside.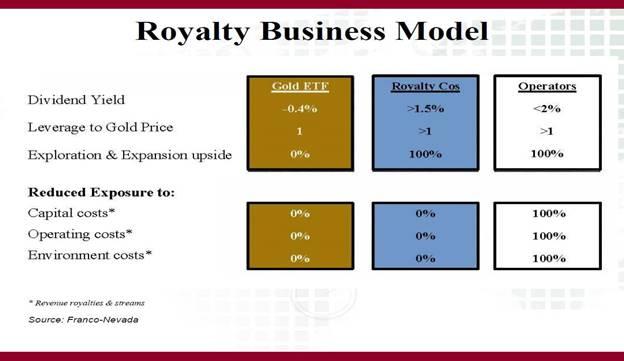 Franco Nevada
These royalty streaming companies offer opportunity for both large and small cap investors. We have compiled a list of royalty companies below for information purposes but in no way recommend any of these specific companies (especially the smaller ones). There just aren't that many of these companies that are mostly gold focused so the list isn't a long one.
Franco-Nevada Corp. (NYSE:FNV)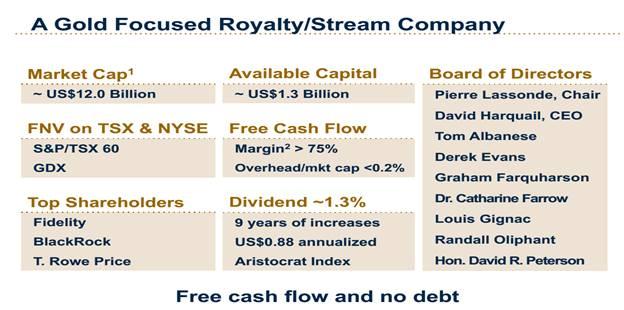 Royal Gold (NASDAQ:RGLD)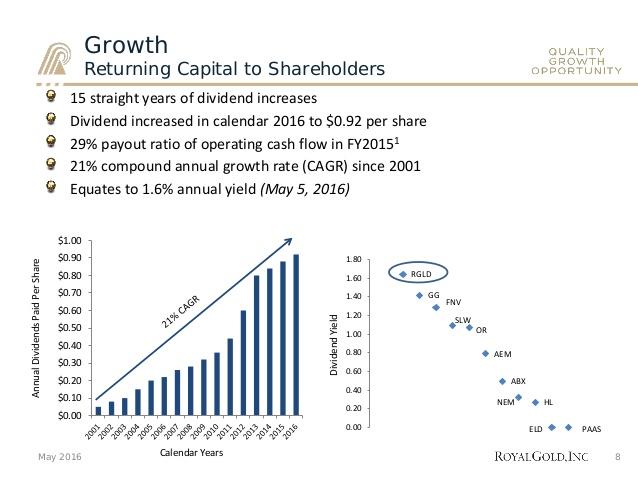 Osisko Gold Royalties (OTC:OKSKF)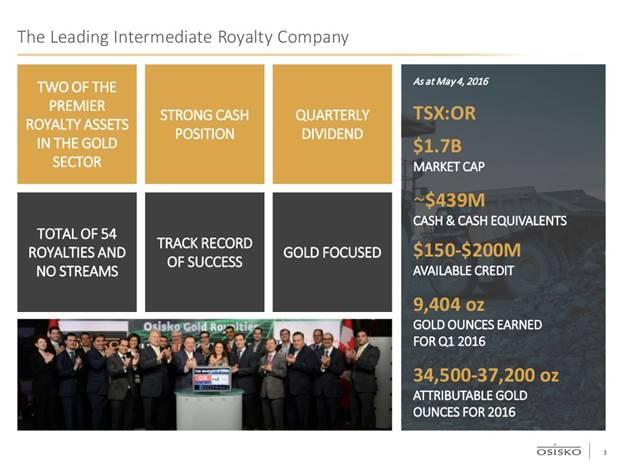 Preston Corp (OTCPK:PSNP)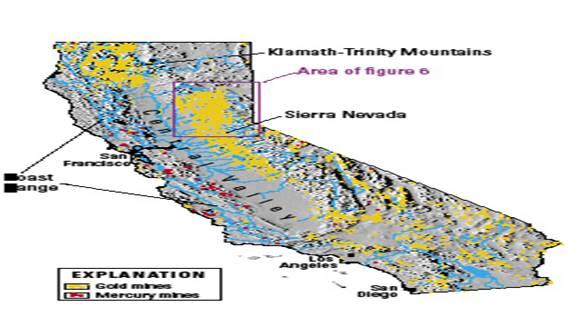 Sandstorm Gold (NYSEMKT:SAND)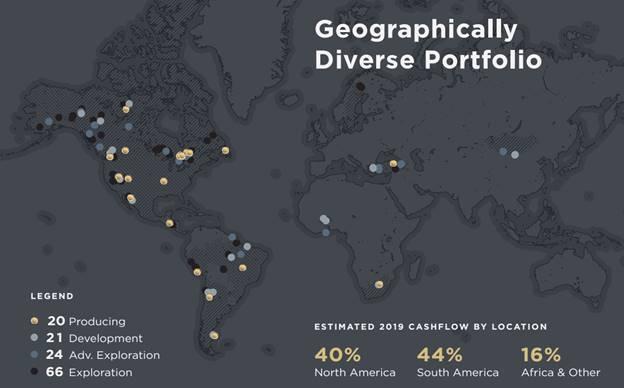 What We Do Next - Scour The Portfolios
Druckenmiller has convinced us that at least some exposure to gold is a very good idea. His SPDR Gold Trust is interesting to be sure, but we like the idea of these royalty companies.
If you are now a follower of our articles you will know that we don't invest in anything that hasn't made it into the portfolio of at least one of the world class investors that we follow.
Our belief is that if a company has made it through the screening process of a Warren Buffett, Monish Pabrai or Seth Klarman, then it has added a significant layer of risk protection for us.
After all the best investors make the best and safest investments.
What we are going to do now is look through all of these portfolios and see if any of these investors have made a sizable commitment to a gold royalty streaming company.
Click the follow button at the top of the article so that you can find out what (if anything) we find.
Disclosure: I/we have no positions in any stocks mentioned, and no plans to initiate any positions within the next 72 hours.
I wrote this article myself, and it expresses my own opinions. I am not receiving compensation for it (other than from Seeking Alpha). I have no business relationship with any company whose stock is mentioned in this article.
Editor's Note: This article covers one or more stocks trading at less than $1 per share and/or with less than a $100 million market cap. Please be aware of the risks associated with these stocks.