Company Overview
Crocs Inc. (NASDAQ: CROX) is primarily a footwear company that designs, manufactures, and markets a distinct brand of casual lifestyle brand of shoes called Crocs. Crocs Inc. is well known for using foam clog designs, which they first acquired from a Canadian company called Foam Creations in 2004.
The material used by Crocs Inc. to manufacture the unique line of shoes called Croslite, which is a closed cell resin that forms itself to the shape of the wearer's feet. Crocs Inc. claims that it offers various medical benefits to the wearer.
Crocs Inc. also markets a range of other lifestyle products using a range of materials, which they sell in over 60 countries via a large chain of international distributors around the globe. They also operate a large number of company owned retail stores and kiosks.
As of May 13, Crocs Inc.'s market capitalization was at $684.78 million and the company was trading with a forward P/E of 18.21.
Review of Q1 2016 Financial Results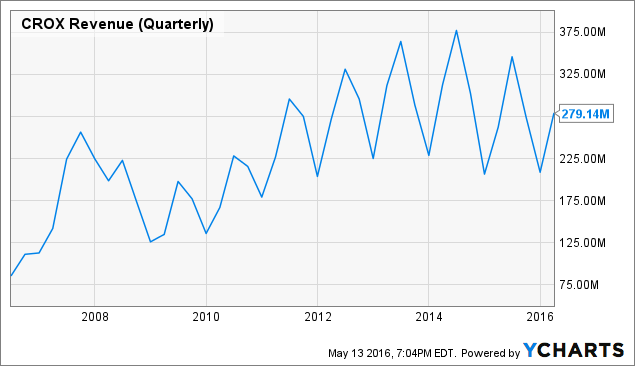 Figure 1: Crocs Inc.'s Quarterly Revenue Shows Signs of Seasonality
On May 10, Crocs Inc. released its Q1 2016 earnings, which showed that the quarterly revenue has gone up to $279.14 million in the first three months of the year. This represents a 33.76% increase in revenue compared to the previous quarter, Q4 2015. However, compared to the same quarter last year, Q1 2015's $262.19 million, this year's first quarter revenues only grew by 6.47%.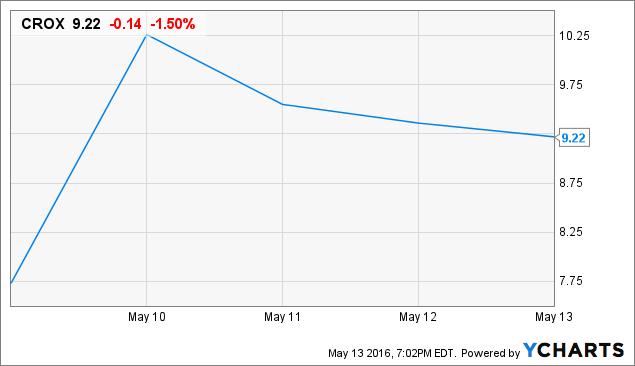 Figure 2: Crocs Inc.'s Stock Price Jumped Around 39% Since the Release of Q1 2016 Earnings
Despite the unimpressive top line growth compared to the same quarter last year, as soon as the Q1 2016 earnings were released, the stock price of Crocs Inc. jumped from $7.64 per share on May 9 to $10.64 per share on May 10, representing a 39.27% increase within a day. However, since then the stock price has come down a bit and closing price on Friday was $9.22 per share, which still represented a sizable 20.68% increase since the earnings were released.
While there were obvious improvements in the top line, we believe the primary reason why investors were enthusiastic to push the stock price higher was the massive improvement in net earnings, which came out at $10.15 million, a huge improvement compared to the $70.17 million loss in Q4 2015. In fact, after consecutively losing $24.02 million and $70.17 million in Q3 and Q4 of 2015, any positive net earnings would have been much appreciated by the market.
While there are one-time items that heavily contributed to the overall improved figures, Capital Cube identified that earnings growth from operating margin also played a significant role in the net earnings to go up. Meanwhile, the gross margins for Crocs Inc. in Q1 2016 has increased to 46.34% compared to 45.63% in Q1 2015. It is also worth noting that the total operating expenses have come down to only $115 million in Q1, which is a sharp decline compared to $138 million from Q4 2015.
Takeaway from the Q1 2016 Earnings Call
While a lot of analysts have considered the closing of Crocs Inc.'s retail outlets in the recent past as a defeat for the company, we believe taking actions in the face of declining revenue was a better strategic move compared to not doing anything about the problem.
In the Q1 2016 earnings call, Andrew Rees, the President and Principal Executive Officer of Crocs Inc., mentioned that during the first quarter, they have closed 15 poorly performing stores but also opened six new stores. It makes a lot of sense that five of those new stores were in Asia, where Crocs Inc. would likely see growth in the coming years. With this latest round of closing stores have reduced the total operating store count to 550 across the globe.
However, Mr. Rees was prompt to mention that the "net change in store count did not have a meaningful impact on our consolidated financial performance during the quarter."
The Asia focused expansion strategy will see new lights as Crocs Inc. management has worked out a deal to replace a number of retail locations managed by distributors with new company-owned retail operations. These changes will take place in the next few months and should be visible on the balance sheet by the end of Q2 2016.
The CFO, Carrie Teffner, mentioned that the strong dollar impact during Q1 2016 was a sizable $7.1 million, and like most American businesses, this would likely remain an issue for Crocs Inc. in the coming quarters as long as Donald Trump ends up defaulting on the US debt, it seems!
He also mentioned that the expected second quarter 2016 revenue of Crocs Inc. would be between $340 million and $350 million. If we take a look at Crocs Inc.'s quarterly revenue cycle (figure 1), it appears that the second quarter typically brings the strongest sales in the year and based on that seasonal boost, we expect the CFO's estimate to be a reachable one.
Conclusion
Besides turning Q1 2016 into a profitable quarter, basically the top line of Crocs Inc. did not change very much. Sure there are minor improvements compared to Q1 2015, but that's not the reason investors turned bullish this week.
We believe the latest uptick, well a lot of it, was actually a vote of confidence in the new management and the optimism has some valid ground because they have managed to turn the table for the time being.
According to Financial Times, Crocs Inc.'s highest price target in the next four quarters is currently at $13.00, which we believe is a bit too optimistic. Given the fact that we are living in uncertain times with the focus being shifted to the Asian market, we believe the median estimate of $10.50 per share would likely remain a valid price target for Crocs Inc. in the remaining three quarters of 2016, which still offers a 14% upside potential to secondary investors.
Disclosure: I/we have no positions in any stocks mentioned, and no plans to initiate any positions within the next 72 hours.
I wrote this article myself, and it expresses my own opinions. I am not receiving compensation for it. I have no business relationship with any company whose stock is mentioned in this article.