Wal-Mart Stores, Inc. (NYSE:WMT) faces a similar perception to McDonald's (NYSE:MCD) last summer. At the time McDonald's was trading at relatively cheap valuations, or strong dividend yields, on the basis of concern about their lack of same store growth. For Wal-Mart the issue is fear that they won't be able to grow sales due to the competition from Amazon (NASDAQ:AMZN). While I do see Amazon as a very formidable company, I don't believe that Amazon should be seen as a company on the verge of slaying Wal-Mart.
What Wal-Mart Does Right
Wal-Mart made the choice to raise wages for employees. In my opinion, this was going to be a necessary change to deal with competition as unemployment rates declined. The last companies to raise wages are the ones that get stuck with very limited choices. This isn't about an agenda for higher wages, this is simply a large company seeing the prudence of moving before many smaller competitors so they can retain or acquire superior talent.
I believe this decision is often misunderstood on Wall Street. It is common to think of jobs like running a cash register as a "low skill" position, but check with Wal-Mart for the difference in the average number of items checked by an associate and you may see a material difference. Workers are expected to work for the company that employs them, but the amount of effort they give is not a fixed value. This is a point the CFO understands.

Attractive Pricing
Wal-Mart's share price is quite low relative to the valuation multiples seen throughout the rest of the economy. The price/earnings ratio is running 14.63. The dividend yield is ever so slightly under 3% despite the dividend being more than covered by earnings. Even with pressure on earnings for the first or year two while labor issues get sorted out I don't expect Wal-Mart to have a hard time maintaining the dividend.
The fairly low share price on Wal-Mart also provides the company with an attractive opportunity to repurchase shares and grow their earnings and cash flow per share by a material amount. Companies often struggle with repurchasing shares at precisely the wrong time, but Wal-Mart is using cash to repurchase shares when the traditional valuation multiples are cheap.
The Consumer Staples of Retail
If there was a retail company that deserved to be labeled as "Consumer Staples" it would be Wal-Mart. The company isn't focused on selling discretionary items; they are selling items that people regularly need. Specifically, I'm talking about Wal-Mart's strong presence in the selling groceries. Because Wal-Mart excels at selling groceries they have a solid way to continue bringing customers into the store. While Wal-Mart is still working on developing a huge online presence, their huge volume of physical stores shouldn't be taken for granted. If customers are shifting to buying products online, the physical stores of Wal-Mart still provide a great distribution facility.
When Wal-Mart resembles the Consumer Staples sector, it is worth taking at least a glance at the price/earnings ratio for that sector. One of the major ETFs tracking it, the Vanguard Consumer Staples ETF (NYSEARCA:VDC) was trading at a hair under 26 times earnings.
Remember that Wal-Mart hasn't been afraid to make significant changes. One of those changes included delivering groceries to the customer at the curbside. This step can be wonderful for parents that want to pick up groceries while towing the kids around. The strategy also offers a material improvement to ensure that all items are picked up when the shopper isn't reliable with the list.
This is innovation by the low cost leader with an enormous infrastructure that few competitors can even come close to matching. Huge companies with exceptional economies of scale and great dividend histories are difficult to find in a relatively expensive market, so I wanted to jump on shares.
Temporary Margin Compressions
The strength of the United States Dollar has been another challenge for Wal-Mart because they were buying goods with dollars and selling the goods in local currencies (often dollars). When the dollar became stronger relative to other currencies it didn't drive down the cost of goods sold, but it did lower the revenue received from stores operating in other markets. That pressure on earnings is already subsiding.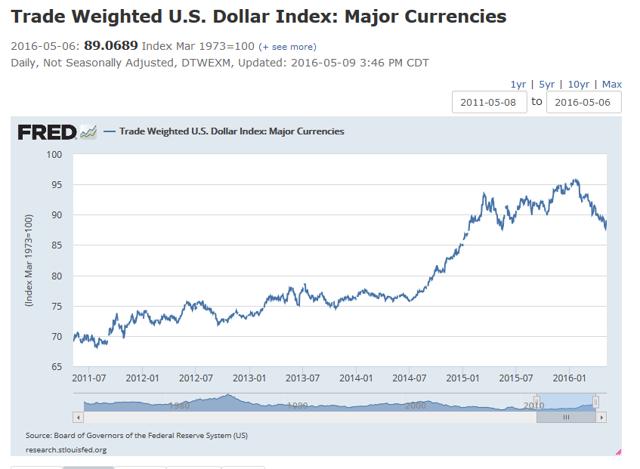 Conclusion
This is a low cost leader trading at a low earnings multiple with temporary pressure on margins from higher wages and a strong domestic currency. The higher wages should pay off within a few years and the strength of the domestic currency is weakening. With a plan to buy back shares at the low multiples and new programs to better serve customers I see a solid company that fell out of favor with Wall Street. Since they bottomed out late last year shares moved up significantly, but they remain at bargain prices. After their recent pull back around $65/share, I decided to put some capital to work and bought some Wal-Mart for my portfolio.
My position is still small. I expect it to do well, but if shares decline further I will look to add to the position.
Disclosure: I am/we are long WMT.
I wrote this article myself, and it expresses my own opinions. I am not receiving compensation for it (other than from Seeking Alpha). I have no business relationship with any company whose stock is mentioned in this article.
Additional disclosure: Information in this article represents the opinion of the analyst. All statements are represented as opinions, rather than facts, and should not be construed as advice to buy or sell a security. This article is prepared solely for publication on Seeking Alpha and any reproduction of it on other sites is unauthorized. Ratings of "outperform" and "underperform" reflect the analyst's estimation of a divergence between the market value for a security and the price that would be appropriate given the potential for risks and returns relative to other securities. The analyst does not know your particular objectives for returns or constraints upon investing. All investors are encouraged to do their own research before making any investment decision. Information is regularly obtained from Yahoo Finance, Google Finance, and SEC Database. If Yahoo, Google, or the SEC database contained faulty or old information it could be incorporated into my analysis.