May 13 at 10:47am

Why does SVVC trade such a large discount of nav with such a large cash $2.51, with NAV of $21.75 per share. With the stock trading around 7.50. I understand most closed end funds trade at a discount but this is massive when compared to the average.

Thanks

Brian
Friday after the close, the Firsthand Technology Value Fund (NASDAQ:SVVC) was trading at $7.41 per share. In a press release dated 5/11/2016, the company said it only holds about $0.71 per share in cash and claims a NAV of $21.85. There is some research suggesting the discount to NAV in CEFs has a relationship to investor sentiment (Journal of Finance 1991) and the average discount of CEFs correlates to the performance of small cap stock prices, which are driven by the sentiment. I've thrown together a graph showing the performance of small- and micro-cap stocks compared to the performance of the S&P: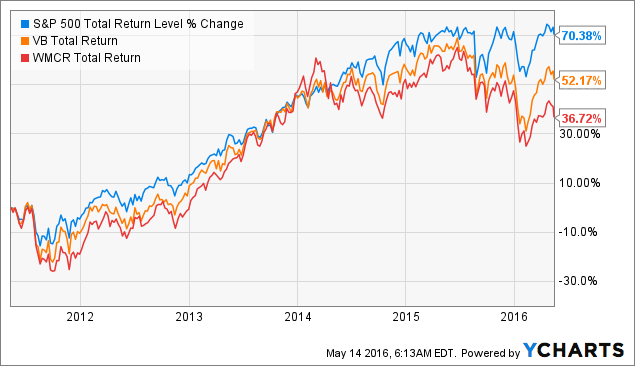 We are in an environment where micro and small-cap stocks are lagging the S&P 500 pretty badly. That doesn't explain why the discount SVVC trades at is so much larger than that of the average CEF.
There are several drivers of the discount to NAV where CEFs trade: agency costs, tax liabilities and illiquidity of securities. In this case, where the CEF invests venture capital, the market may not trust the company's assessment of the net asset value of its investments. Its top 5 holdings make up over 50% of the fund, and none of these is publicly traded. I've no doubt the large allocation to private investments is a major source of the discount here. The management fee is calculated as 2% of the value of gross assets under management, meaning management prefers to see a higher NAV.
I suspect another major cause of the discount here are the fund's operating expenses. I pulled the statement of operations from the company's site and underlined in green a few of the important line items: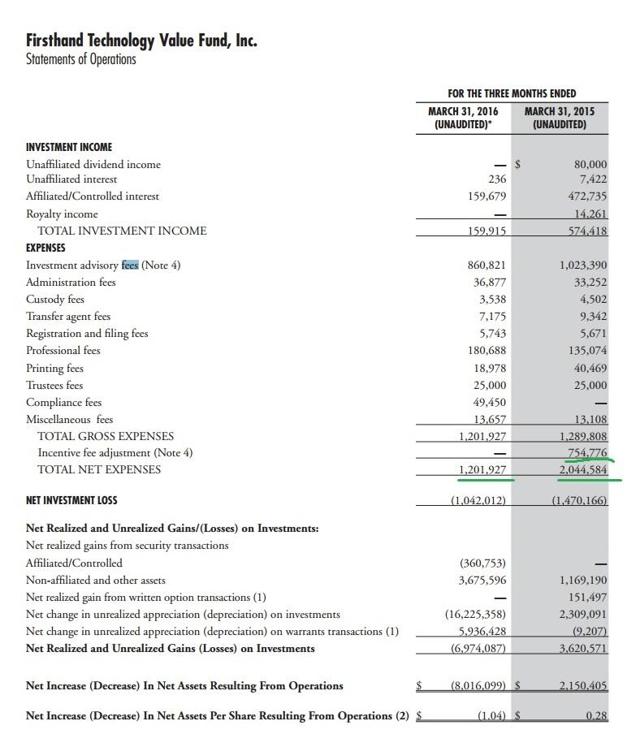 Note that these are quarterly numbers. Even without incentive fees, total net expenses of $1.2 million on estimated net assets of $168 million represent fee pressure of 2.8%. However, incentive fees are steep -- see the formula below -- and in the same quarter last year expenses raced upwards because of them:
Incentive fee = 20% x ( Cumulative realized gains - Cumulative realized losses - Unrealized depreciation ) - Previously paid incentive fees
In reality, the fee pressure is likely much higher. The market assigns the fund a value of just $57 million. If we take the total net expenses (without any incentive fees), the annualized drag on performance amounts to 8.4%.
Did I mention that's before 20% incentive fees?
The true total expense ratio on assets under management is probably a number somewhat closer to 2.8% than 8.4%. Still, in this low interest rate environment, where expected rates of return are low, that's enough to warrant a large discount to NAV. If there were a way to somehow get the expense ratio down, that would help close it, but the infamous CEF activist shop Bulldog Investors has thrown in the towel.
Further, fellow contributor Illuminati Investments wrote an interesting article arguing that the portfolio manager, notwithstanding Facebook (NASDAQ:FB) and Twitter (NYSE:TWTR) investments, hasn't been on his A game in recent years. Given the true pressure of the fee structure, I believe even Waverider* would struggle to come up with great returns.
In summary, the discount to NAV here is the highest I've ever seen on a CEF, but it may also be one of the most deserved. I'd need a way to gauge the value of the private companies much more accurately, or a hard catalyst, before I would be interested in subjecting myself to the all overwhelming expenses here.
* a Marvel super hero who can see people's future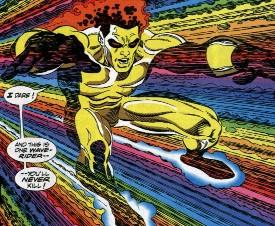 Make sure also to check out my other articles in this series, like How I Approach Position Sizing and Should You Incorporate Technical Analysis?
Disclosure: I/we have no positions in any stocks mentioned, and no plans to initiate any positions within the next 72 hours.
I wrote this article myself, and it expresses my own opinions. I am not receiving compensation for it (other than from Seeking Alpha). I have no business relationship with any company whose stock is mentioned in this article.