Introduction
Over my past three articles, I have analyzed three companies in the industrial sector: Parker Haniffin (NYSE:PH), Honeywell (NYSE:HON) and United Technologies (NYSE:UTX). However, I believe that a thorough analysis should include a comparison to the market and to the sector. Without this comparison, an investor cannot really know if the fundamentals are strong or if the valuation is fair. P/E of 20 might seems expensive, but if the whole sector trades for P/E of over 25, it's a whole different story. The same goes for fundamentals: 10% EPS growth is great, but not that great if the whole sector is growing even faster.
Therefore, in my analysis I have included a comparison among the peers. I have added each company analysis to the comparison in order to provide a clearer and broader picture. In this article I will add into the comparison 3M (NYSE:MMM), another industrial powerhouse, and probably one of the most renowned brands in the whole industrial sector. I will analyze it and compare it to its peers.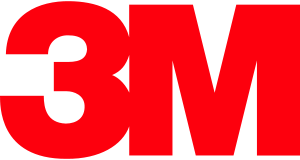 3M Company operates as a diversified industrial and technology company worldwide. The company' has an industrial segment, a safety and graphics segment, a health care segment, an electronics and energy segment and consumer segment. 3M Company serves automotive, electronics and energy, appliance, paper and printing, packaging, food and beverage, construction, clinics and hospitals, pharmaceuticals, dental and orthodontic practitioners, health information systems, food manufacturing and testing, consumer and office retail, home improvement, drug and pharmacy retail, and other markets.
Fundamentals
Firstly, I will look at the top line of 3M. As you can see, over the past five years the company has shown some growth, but CAGR shows the growth has been very slow. It is much slower than both UTX and HON. However, it is much faster than the growth shown by PH. What worries me more is that while its two faster growing peers suffered from a weak year in terms of revenue growth, showing an increase in the revenue lately, 3M still cannot find a bottom. The Q1 revenue declined YoY both in 2016 and in 2015.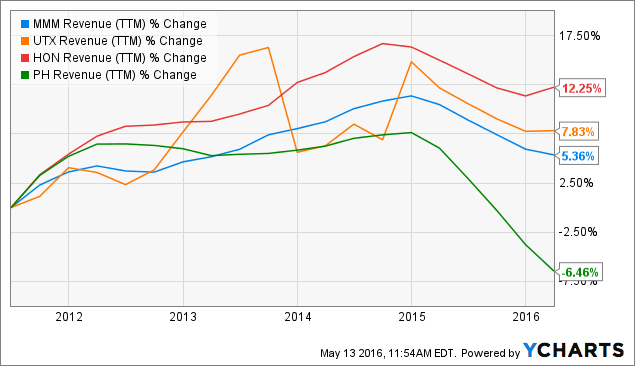 MMM Revenue (TTM) data by YCharts
When I check EPS, the picture seems brighter. Sure, 3M didn't grow as fast as UTX and HON did, but what I like is the steady growth of the EPS. Due to its consumer and health care segments, the company depends less on the cyclical industrial sector. It makes its EPS less erratic, and while the growth is slower, it is also more stable. Moreover, the company has a positive outlook, and it predicts that the EPS will grow even more in 2016. Analysts are very positive about EPS growth and they predict that it will grow even more in the medium term. While 3M has slower EPS growth than that of HON and UTX, I really like the stability. PH, on the other hand should really finish its turnaround so it can grow EPS again and actually compete in the sector.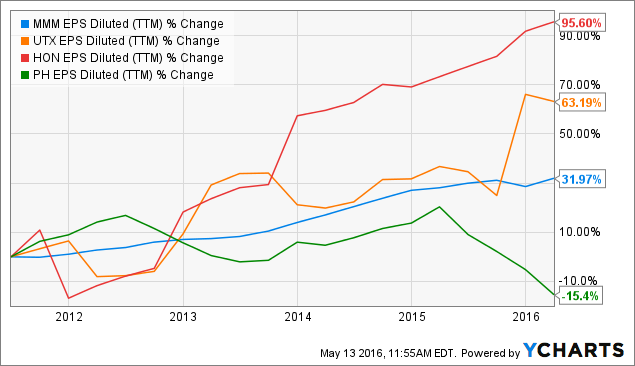 MMM EPS Diluted (TTM) data by YCharts
The dividend policy of the company is interesting. The company is a dividend king that raised its dividends for 58 years in a row. The company is now practicing an extremely generous dividend policy, and over the last several years, the payout ratio has expanded steadily. It is now over 50%. Usually, I wouldn't like it due to the cyclical nature of the industrial sector, but as I mentioned above, its diversification makes the EPS much less erratic, and therefore the current payout ratio is sustainable.
I see here a 2.5% entry yield with high single digits dividend growth, when looking into the future. As the second graph shows, 3M raised the quarterly payment much faster than its faster-growing peers. Still, when I compare the dividends of the peers, I like UTX more. It offers higher yield and a lower payout ratio. I believe that 3M has the second-best dividend among its peers. PH offers a fair yield, but it will be hard for the company to keep raising the dividend, and HON has room to grow the dividend, but the current yield is less attractive.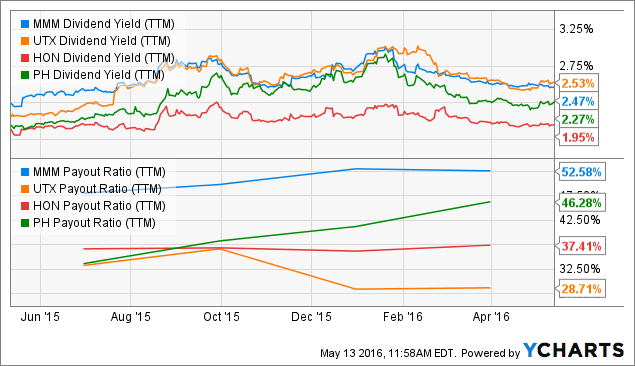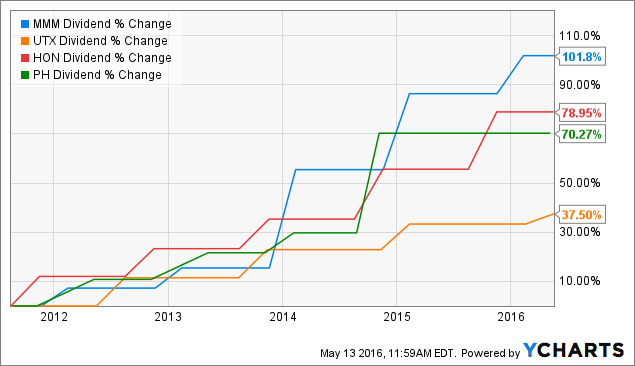 MMM Dividend data by YCharts
The buybacks by 3M have also accelerated. The company actually managed to retire almost 15% of its shares over the past five years, and this was done while raising the dividend payment generously as well. The problem is that the buybacks were done using debt, and issuing debt at the top of an economic cycle might be a bad idea if things go south. As you can see, 3M retired the largest amount of shares, and it still manages to increase the pace. HON is worth noting as the company is putting much more capital towards retiring shares. I hope that UTX does the same, as its shares trade for a pretty low valuation. PH bought shares so its EPS wouldn't drop too sharply, and now cannot allocate as much capital as it used to -- so, together with higher share price, the buybacks will be much less effective.
I believe that UTX has the superior fundamentals, and that HON and 3M are neck and neck for the second place. While I like the dividend of 3M, and its devotion to shareholders, it is hard to ignore the immense growth that HON is experiencing, and the growing pace of the buybacks.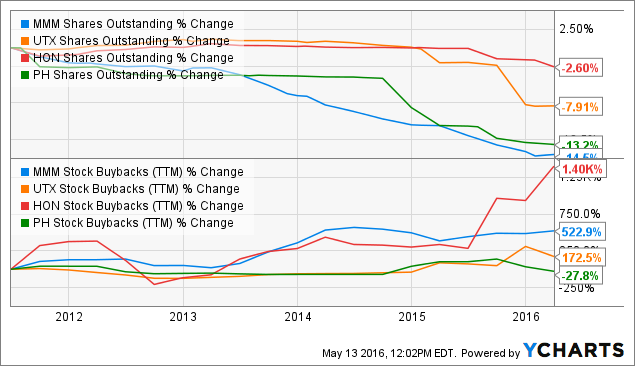 MMM Shares Outstanding data by YCharts
Valuation
After looking at the fundamentals of these four companies, I would expect that PH will have the lowest P/E among the four, HON the highest and UTX and 3M will be in the middle. The P/E ratio should reflect the growth of the companies, and while HON is growing fast and forecasted to growth its EPS by 10% more, PH is still suffering from EPS decline. 3M and UTX are forecasted to show mid to high single digits growth, and therefore the valuation should be somewhere between PH and HON.
The truth is a little bit different. Of course, this doesn't mean that the market is wrong. It just means that investors in some companies have different expectations, and they may be either more or less conservative regarding each company. 3M trades for what I believe is expensive valuation.
It has forward P/E of 20 and P/B ratio of 8.7. In my opinion, this is because the market does not look at the company as a pure industrial company -- it takes into consideration its large consumer segment, and therefore believes there is a premium. In my opinion, while the premium can be understood, it is too big at the moment, especially when several peers trade for much cheaper.
PH is a mystery for me. Its investors are probably 100% certain that the turnaround will end soon and will be successful. They are also sure that, when it ends, the company will achieve at least mid single digit EPS growth. UTX trades cheaply. While it has great fundamentals, the forward P/E is only 15. When I look at the valuation, UTX is the clear winner, as its valuation is attractive compared to its fundamentals. HON is in second place, with fair valuation in my opinion, and 3M is third, as I believe it trades for a too-high valuation.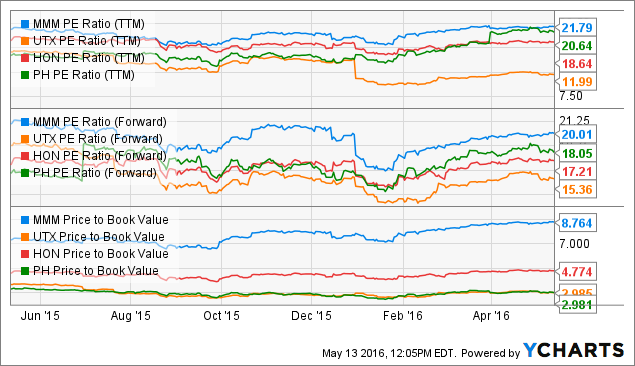 MMM PE Ratio (TTM) data by YCharts
Opportunities
3M offers investors an opportunity to own an industrial powerhouse, with one of the most generous capital-return plans. The plan was enhanced lately, and the management makes it a priority. In addition, you also get a dividend king with some unique characteristics. The most important one is the fact that it is less sensitive to the cycles in the market due to its consumer and health care segment.
The company offers investors the ability to invest in a less volatile industrial powerhouse because it is extremely diversified. Not only that, but it offers investors a large consumer segment, together with other different segments, and it is also diversified globally. 3M offers its products worldwide, and it is working on growing its presence in the emerging markets.
3M's large consumer and healthcare segments allow it to generate a more stable stream of income. In addition, they allow it to return more capital to shareholders, as it requires much less invested capital than its peers. The ability to create income without investing a lot of capital is always an advantage for companies, and this is where 3M excels when compared to its peers
Risks
3M has to deal with several risks as well, and they must be taken into consideration. Firstly, as the company is very diversified, it is harder for it to create growth that's higher than the average growth of the world economy. It is like investing in an ETF -- it has its benefits and disadvantages. Moreover, lately the company has been using more debt, and its balance sheet has been more leveraged.
The global diversification is also turning into a short- or even medium-term risk. As emerging markets economies get weaker, this will have an effect on 3M. Moreover, the devaluation in their currencies and the strong USD will harm the top line provided by the company and pressure its income.
Another difficulty that 3M will have to face is the challenge of finding new growth engines. One of the growth prospects for 3M and its peers, as well, is acquisitions. However, as 3M grows, it will need larger acquisitions in order for them to affect the company's bottom line. Finding good deals will become harder, and the risk will either be lower growth or buying a company for an unattractive price -- which will also have its impact on the bottom line.
Conclusion
3M is a solid company with solid fundamentals. Buying it right now means paying a premium for its superb diversification. An investor should decide whether they agree to pay this premium and have practically no margin of safety. I own shares of 3M that I bought for $138 several months ago. I believe that buying them for $135-$140 is a pretty good deal, and I will consider buying more at this price range.
When I compare 3M to its peers, I still think that UTX is the most attractive among the four. HON and 3M are pretty close, but I still prefer HON due to its valuation and larger margin of safety. 3M comes third. It still offers its unique diversification, but the price is just too high for me right now. PH comes in last, as current fundamentals and valuation investors mean putting all of one's faith in management and its ability to turn the company around. I believe that it is a pretty large risk.
Disclosure: I am/we are long MMM.
I wrote this article myself, and it expresses my own opinions. I am not receiving compensation for it (other than from Seeking Alpha). I have no business relationship with any company whose stock is mentioned in this article.