With a total crude oil production that is nearly 12% of the global oil production, Africa has always been one of the most crucial regions for the oil and gas industry. In Africa, Nigeria has been the largest producer of crude oil in spite of a long history of supply disruptions and unplanned outages ranging up to 0.5 million barrels a day. International Oil and gas companies like Royal Dutch Shell (RDSA), Exxon Mobil (NYSE:XOM), Conoco Phillips (NYSE:COP), Total SA, Eni SPA, Statoil (NYSE:STO) and Chevron (NYSE:CVX) have been operating in Nigeria by primarily focusing on deep water and onshore natural gas projects which are mostly beyond the reach of militants. However, year 2016 has been different as series of planned militant attacks on its oil and gas installations along with other mishaps have pushed Nigeria's oil production to a new 20 -year low. In fact, Nigeria is no longer Africa's top oil producer and the top position has now been taken by another OPEC member- Angola.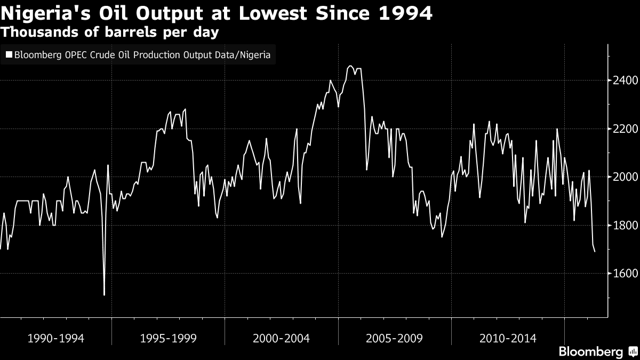 Nigeria's supply disruption are beginning to swell at a steady pace
Although oil prices dipped slightly this Friday, Nigeria's extended supply outages have made traders curious. Major international oil companies like Chevron , Royal Dutch Shell (RDSA) and Exxon Mobil have all reduced their Nigerian supplies in last few days. Chevron reduced its output by around 90,000 barrels per day following an attack on its offshore platform this Wednesday by a group called Niger Delta Avengers. This attack came after Nigeria's crude oil production went below 1.7 million barrels per day, its lowest since the year 1994. Nigeria's oil and gas revenues have sharply fallen in the last few years because of low oil prices. Crude oil represent around 95% of Nigeria's total foreign exchange earnings and the country requires oil prices to be in the range of $90- $100 per barrel to recover its costs. The current oil prices are nowhere near these levels.
In February this year, Royal Dutch Shell had to reduce its Nigerian output by 250,000 barrels per day from its Forcados export terminal because of a militant attack. This Wednesday the company incorporated Force Majeure (a contractual clause that allows any company to stop its contractual activities in the event of an unforeseen even or a natural disaster) and closed its major pipeline carrying bonny light crude. If this was not enough, even Exxon Mobil declared a Force Majeure on Nigeria's crude oil steam - BFO -QUA because of damaged pipeline by a drilling rig that even caused an oil spill.
How is Nigeria's supply outage different from the Canadian wildfire outage?
When compared to Canada's recent wildfires which resulted in loss of around 1million barrels per day of crude oil, the supply outage faced by Nigeria is somewhere close to 500,000 barrels per day. However, Nigeria's problem is much more serious. The supply disruption caused by Canadian wildfires was mostly related to the loss of manpower and evacuation of personnel. This disruption will probably not continue for too long. Looking at Nigeria's case, it can be seen that the country's economy is already struggling because of the slump in oil prices. On the other hand, the country is dealing with militant groups like Boko Haram (in the northern parts) and Niger Delta Avengers because of whom companies like Chevron and Royal Dutch Shell have reduced their supplies. It cannot be said when these supplies will resume, and this makes Nigeria's case even more complicated. Moreover, there can be even more attacks in the days to come, causing more supply outages. "Lower oil prices have meant that the poorer oil-producing countries don't have enough money to pay for social services. If prices remain low, we will see more and more problems including these kinds of sabotage attacks," said a senior oil analyst at KBC Process technology limited. In my opinion, the Nigerian supply outage is more serious than the other recent supply outages. If this outage persists for long, it is surely going to push the oil prices up in the coming time. Investors must note this.
.
Disclosure: I/we have no positions in any stocks mentioned, and no plans to initiate any positions within the next 72 hours.
I wrote this article myself, and it expresses my own opinions. I am not receiving compensation for it (other than from Seeking Alpha). I have no business relationship with any company whose stock is mentioned in this article.