If you are not already aware, the world's mighty reserve currency, the US Dollar (NYSEARCA:USDU), is on the trail of devaluation.
It can be seen across its various key currency pairs, such as the EUR or GBP, but is most easily seen for its broad effect via the USD basket (DXY):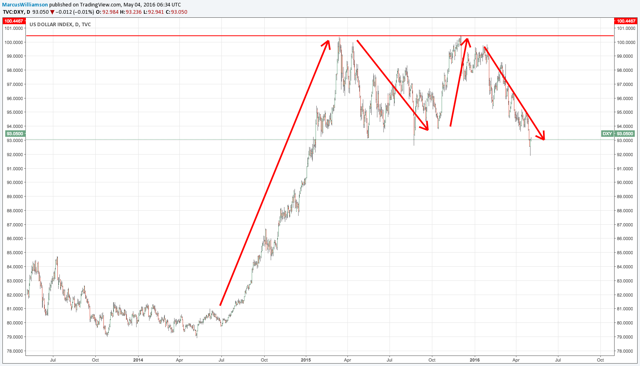 (Source: TradingView)
You can see what exactly the USD Index basket is comprised of here.
I see dollar devaluation as a form of pressure relief valve for US policy normalisation. Whilst the US was fortunate enough to become the world's backing currency since World War II, it now means that almost every commodity in the world is priced in USD.
Looking initially at the USD impact on commodities
When oil tanked in June 2015, energy debt later felt a serious squeeze: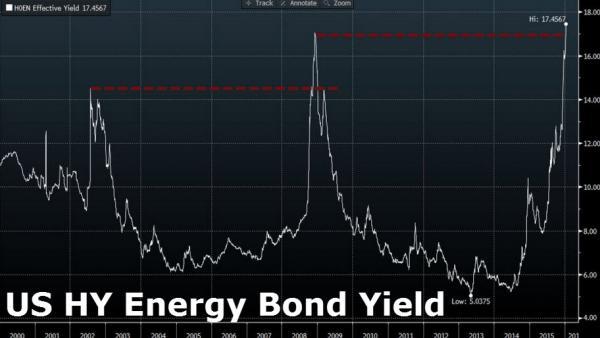 (Source: Zerohedge)
The main issue off the back of this rising risk is the entities which hold a considerable exposure - banks. There is a serious concern that there could be contagion amongst the banks: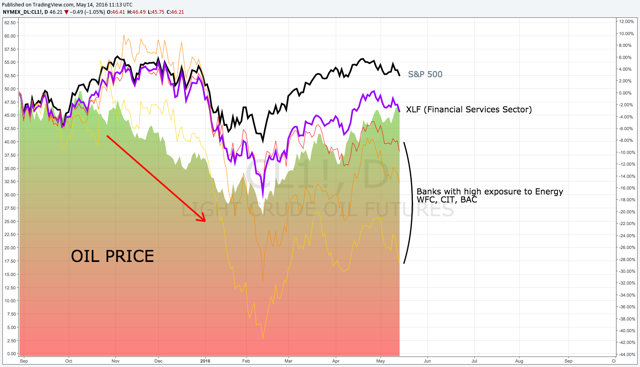 (Source: Trading View)
For oil prices to continue to fall and remain considerably low, the stresses on several countries and countless drilling and supply chain businesses would be immense.
The simple moderate devaluation of the dollar would provide a temporary easing of the situation. This allows oil prices to recover despite the chronic oversupply factors remaining (if not worsening!). See here for more on the oil price recovery factors. The net effect is the noose is loosened slightly around the necks of those most exposed to junk debt, buying them more time to offload and restructure their exposure. The junk debt is still junk debt, but there are less outside worries and pressures being placed, urging them to act.
You can see below the more general recent relationship the USD has shared with gold (NYSEARCA:GLD) and oil (NYSEARCA:OIL):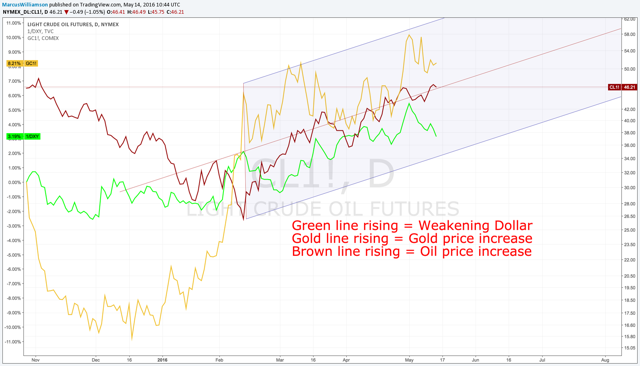 (Source: Trading View)
We see the recent low of Oil at about $27 bbl as the lowest point on the brown line. Since then we have had a recovery up toward the $46 bbl region.
Looking at a devaluing dollar as a policy normalisation relief valve
As the Fed edges toward raising rates, there is an undue stress placed on the rest of the world, especially the emerging markets due to the dollar. To learn more about this effect, see here.
Destabilising emerging markets and associated credit markets add pressure to the US. This can occur directly through its domiciled business's exposure (aka banks) and indirectly through actions taken by other countries (aka China FX pegging).
Either way, the stresses caused by the US being ahead in the recovery cycle are undeniably heightened by a strong dollar.
The markets have become inherently fragile in the recent years, as we approach what appears to be the end of this business cycle, or in other words a recession: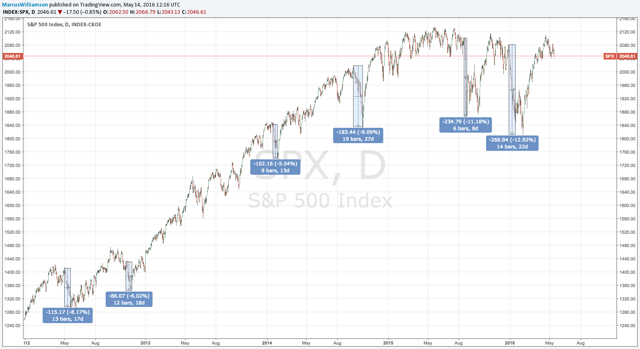 (Source: Trading View)
In the above chart we can see the S&P 500 Index (NYSEARCA:SPY) and its selloff's since the end of 2013. There are a couple of larger drops to note. From this small sample we are able to see a general trend toward more frequent and larger selloffs.
It is clear from many of Janet Yellen's speeches that Fed policy is to avoid market turbulence at all costs. So it can be understood why the Fed has still failed to raise rates this year despite prior guidance.
So what's the importance of what I'm saying here? Well, the actions of the Fed have an impact on the global economy which then feedbacks to the US economy.
In reality it's a very complicated and integrated relationship, but I will give a brief overview of how I see the feedback loop situation:
As the US economy's health picks up, it requires rates to normalise to continue the recovery
As the Fed moves toward this act of normalisation, the USD strengthens as foreign direct investment begins
Emerging market volatility picks up, with debt denominated credit markets becoming stressed
US exposure to market volatility and credit market stress takes its toll
Fed pushes back the hiking cycle and USD dollar weakens
If I was to try visualise this back and forth behaviour in one chart:
(Source: Trading View)
I must say however that there are many other factors at play which lead to this chart's prices. However, I think it's fair to say this range-bound behaviour is showing the unwillingness of the USD to appreciate much further due to the resulting market stresses it causes.
As a natural remedy to this situation, the depreciation of the dollar would make sense. If the dollar was able to depreciate by 20% or so, then it would make room for rate rises to occur.
In terms of trades which investors could consider off the back of the information above:
Short USD exposure through an ETF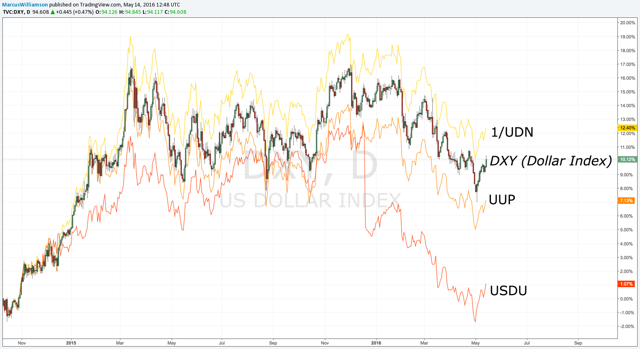 (Source: Trading View)
For short exposure without taking a short position, you would use PowerShares' US Dollar Index Bearish Fund (NYSEARCA:UDN) here. In terms of the other two, I suggest checking out this SeekingAlpha article to learn more about their differences of exposure.
Long gold, short oil (USD hedged)
Whilst gold and oil benefit from a weaker dollar, I would argue that gold has more upside potential vs. oil. The reason I believe this is mainly due to prevalent geopolitical risks and economic instabilities, which naturally lead to the appreciation of gold. Turning to oil, whilst short term price recovery has taken place, the chronic oversupply is still at large, now with Iran joining the party.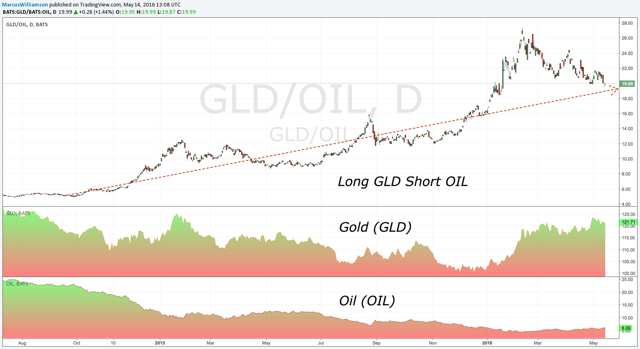 (Source: Trading View)
Please feel free to reverse this trade if your thoughts differ to mine on the economy; however, I am personally bullish on gold!
It is clear to me that volatility cycles are getting sharper and more frequent. These cycles can damage the portfolios of even the most sophisticated investors. You simply have to look at the losses of market neutral hedge funds.
I believe we are in generally quite turbulent times where monetary policy experiments are coming to an end and investors find themselves scrambling to hedge and protect whilst yields are near zero.
Disclosure: I am/we are long GLD.
I wrote this article myself, and it expresses my own opinions. I am not receiving compensation for it (other than from Seeking Alpha). I have no business relationship with any company whose stock is mentioned in this article.