"Pray for us, we can't move."
That rather foreboding message was posted to the WhatsApp account of an Iranian fighter trapped in Khan Touman, a town near Syria's Aleppo last week.
The soldier, along with his compatriots and allied fighters from Hezbollah (the powerful Tehran-backed Lebanese militia), were pinned down by al-Nusra, al-Qaeda's Syrian arm. By the time the smoke cleared, at least 80 Shiite fighters were dead, including 17 Iranians, one of which (Shafie Shafiee) was a commander in the Quds Force, the IRGC's most elite unit.
One Iranian lawmaker called the battle "a disaster." Another called al-Nusra "cowardly terrorists."
"Footage shot from a drone by rebels shows a complex assault on Khan Touman that began with a barrage of rockets or mortars and involved armored vehicles and a tank," Reuters writes, describing the deadly melee. "A mushroom cloud, apparently caused by a car bomb, is seen erupting near a building."
To be sure, it isn't clear who the "terrorists" are in Syria. On one side, you have the Assad regime (widely denounced for myriad human rights violations), Iran (labeled by many in the West as the number one state sponsor of terror), Hezbollah (considered a terrorist group by the US and the EU and the mortal enemy of Israel), and Russia. On the other side there's ISIS, al-Nusra, and any number of other Sunni jihadist groups and their state-level benefactors (which I won't endeavor to name but which are easily discoverable with a quick Google search).
At its heart, this is a religious war. It's Sunnis versus Shiites. Again. It's a historic rift that will likely persist until the end of time, claiming millions of lives along the way. Russia is just along for the ride, as is the US. Each nation touts the "war on terror," but each has its own motivations, ambitions, and ulterior motives. No one is innocent here. There are no heroes. There's just the blood of the 400,000 innocent people who have died since the Arab Spring.
This very same sectarian war is playing out in other arenas. Like Yemen. And Iraq. And, turning now to what's salient for investors, in the oil (NYSEARCA:USO) market.
I take a holistic approach to markets. You can't truly understand supply and demand (i.e. the oil glut) without understanding the geopolitical dynamics that threw the market into disarray in the first place. I've made this point on any number of occasions (here and here, for instance).
In late 2014 the Saudis didn't just decide out of the blue to kill the petrodollar. The system had served them well for decades. And they weren't driven solely by the desire to wipe out competition in the form of US production. The US shale complex was always uneconomic and relied consistently on capital markets to plug funding gaps. It was, for all intents and purposes, a Ponzi scheme.
As Citi wrote last autumn, "capex has consistently exceeded cash flow, causing some prominent critics to argue the business model of shale production is fundamentally unsustainable." Consider the following table which demonstrates this point nicely: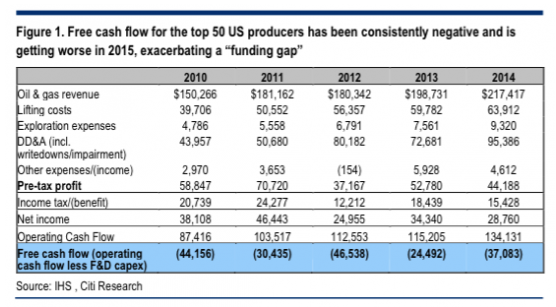 (Table: Citi)
In other words, this wasn't going to work forever anyway. The Saudis could have simply waited around for these businesses to fail. Once the Fed embarked on a tightening cycle and the cost of capital began to rise, the shale charade would have come to an end.
Riyadh, as I'm fond of recounting, had other motives for suppressing prices, not the least of which were: 1) sticking it to the Russians to punish them for their support of the Alawite government in Damascus, and 2) to ensure that should the P5+1 Iran nuclear accord go through, the crude windfall for Tehran would be limited.
Fast forward 18 months and it's readily apparent that the Saudis were right to be concerned. Russia turned the tide in Syria in favor of Assad thus making the effort to rid the Arabian Peninsula of Iranian influence much more difficult, and Iran is rapidly ramping up crude production in an all out effort to get to 4 million b/d in the back half of the year. Now, the sectarian war in Syria, Yemen, and Iraq is being fought in the oil market where the bitter rivalry between the Sunni and Shiite worlds recently found expression in, i) Iran's refusal to join a production freeze and ii) Saudi Arabia's implicit promise to ramp to capacity unless Tehran acquiesces. Russia is right in the thick of things.
It's against this backdrop that Iran had what one might describe as a bittersweet week. On the one hand, the battle at Khan Touman was a catastrophe. As Reuters notes, the death toll was "the highest toll in a battle outside the Islamic Republic's borders since the Iran-Iraq war." And that's not the worst of it. On Friday, Hezbollah announced that Mustafa Badreddine had been killed by Sunni extremists in Damascus. Badreddine was a high ranking commander and the leader of the group's operations in Syria. His death is, to say the least, a blow to Hassan Nasrallah's efforts to rout anti-Assad elements.
On the other hand, Tehran got to revel in an IEA report that made it clear the world had underestimated Iran's ability to bring crude production back up to pre-sanction levels. "Iranian supply rose to 3.56 mb/d, a level last hit in November 2011, before sanctions were tightened," the IEA said, in its closely watched monthly report, adding that "300 kb/d jump in Iranian flows [helped] offset outages in Kuwait and Nigeria." It's also helped to offset capacity temporarily lost to wildfires in Canada. Here are a few graphics from BofAML which illustrate the history and scope of supply disruptions:

(Charts: BofAML)
For what it's worth, BofAML's latest end Q3 forecast is for WTI at $39. Here's the rationale:
After all, Brent crude oil prices peaked on May 6th last year and then followed a downward seasonal path. We see few reasons to think that this year will be any different as summer driving activity eases off into September. If anything, our work suggests that cyclical factors have become less significant relative to seasonal factors in recent years, and thus we are inclined to retain our $39/bbl target for WTI crude oil as refiners go into maintenance at the end of 3Q16.
"Iran has already added 700,000 barrels a day in new output in 2016, [and although] increases are now likely to slow, the country is looking to bring at as much as 300,000 barrels a day of capacity this year on line at fields in the West Karoun region," Bloomberg wrote, following the report. They also showed off the following chart which features a handy red arrow pointing to the hockey stick ramp-up this year (as though there's something else anyone would be looking at on this graphic):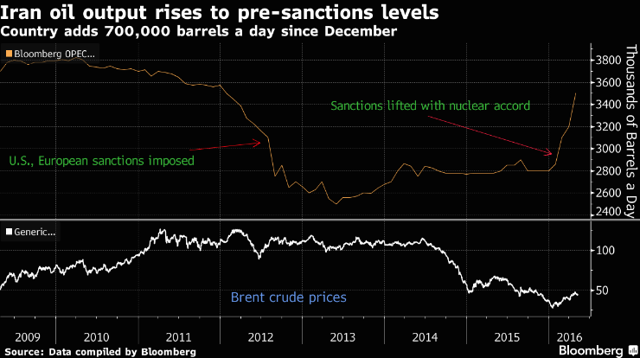 (Chart: Bloomberg)
The question now, of course, is whether this means Iran will be ready to join a production freeze. "There will be some rumors, speculation for a production freeze agreement that could push prices a little bit higher ahead of the OPEC meeting on June 2," ABN Amro energy economist Hans van Cleef said on Thursday.
Perhaps, but there are three important points to consider here.
First, Iranian oil minister Bijan Zanganeh doesn't want to produce 3.56 mb/d. He wants to produce 4 mb/d and until he gets there, he wants nothing to do with any proposed "freeze." He said as much in March. And then he said it again this week. "We will resort to any move to regain Iran's lost share in the oil market and increase the country's production to four million bpd," Tehran mouthpiece PressTV quoted Zanganeh as saying.
Second (and more importantly), Iran isn't going to be talking seriously to anyone from Saudi Arabia about any kind of cooperation on oil while top Hezbollah commanders are getting killed by Sunni rebels in Damascus and while dozens of Iranian troops are being killed by al-Nusra in Aleppo. That's not an attempt to discount the fact that the IRGC and Hezbollah have killed countless Sunnis in their relentless, Kremlin-assisted effort to crush the opposition. It's just to say that since September, things have been rather one-sided in Syria and now that the Russian air presence is diminished, Iranians and Hassan Nasrallah's fighters are going to start dying at a more rapid clip, and that's only going to heighten tensions between Riyadh and Tehran.
Third, it's not clear why Iran would want to freeze production in the first place. As Bloomberg noted earlier this year, Iran will see its monthly oil revenue jump fivefold by the end of the year even if oil prices are $35.
For the Saudis (and the other Sunni Gulf monarchies), the revenue picture looks a bit different. Here's Deutsche Bank:
"The impact [of low prices] is most pronounced on the GCC's fiscal balances. The drop in prices translated in a sharp fall in hydrocarbon revenues. We estimate that in 2016, oil and gas revenues will be 55% lower than in 2014 and even 62% below their peak in 2012."
And visually: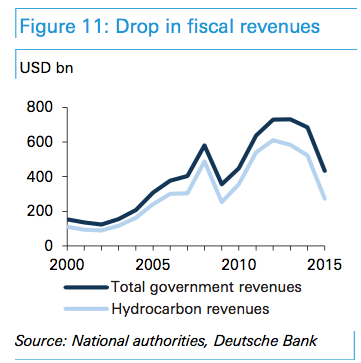 (Chart: Deutsche Bank)
Deutsche goes on to highlight the effect the fiscal deterioration has had on the region's cherished USD pegs. The pressure is readily apparent in forward premiums.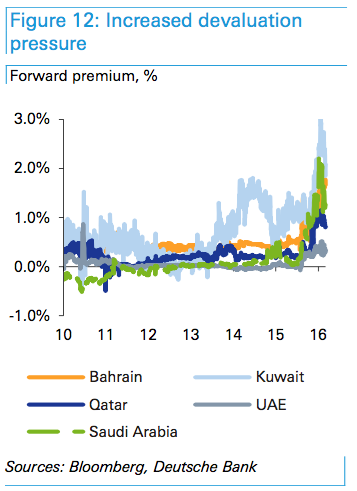 (Chart: Deutsche Bank)
So while Iran is literally raking in the cash, the Sunni monarchies are being bled dry. Tehran knows this and the Iranians also know that the more budget pressure there is in Saudi Arabia, Qatar, and the UAE, the less willing they'll be to finance the war in Yemen and to funnel money to the Sunni rebels in Syria. It's just that simple.
One person who doesn't seem to get it is Kuwait's deputy foreign minister Khaled Jarallah. "There is no choice but to freeze production," Jarallah told Japanese news agency Jiji press. "Iran should learn from the market."
Sorry Mr. Jarallah, but this isn't about the market. This is about religion. And politics.
But make no mistake, there's still a supply and demand element.
Both sides demand blood.
And as the events that unfolded in Khan Touman make abundantly clear, both sides are happy to supply it.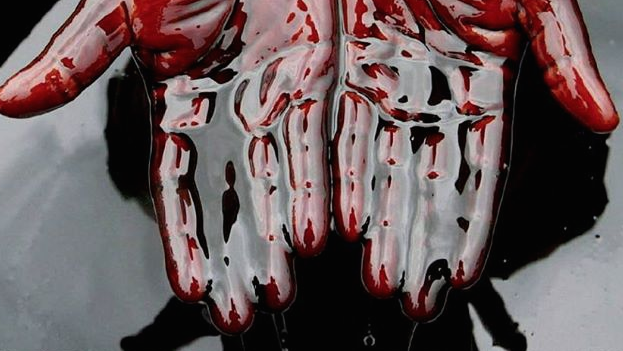 Disclosure: I/we have no positions in any stocks mentioned, and no plans to initiate any positions within the next 72 hours.
I wrote this article myself, and it expresses my own opinions. I am not receiving compensation for it (other than from Seeking Alpha). I have no business relationship with any company whose stock is mentioned in this article.