In an effort to reduce its indebtedness that reached an excessive amount of $20.8B as of March 31, 2016, Freeport-McMoRan Inc (NYSE:FCX) is selling core assets.
The news is that the company agreed to sell its 70% interest in TF Holdings Limited (TF Holdings) which owns 80% of Tenke Fungurume Mining to China Molybdenum Co. Ltd. (CMOC) for $2.65 billion in cash and contingent consideration of up to $120 million. This consists of $60 million if the average copper price exceeds $3.50 per pound and $60 million if the average cobalt price exceeds $20 per pound, both during the 24-month period between 2018 and 2019.
As of today several exploration activities and metallurgical testing took place at the TFM site: from the completion of the second phase expansion project in early 2013, which included increasing mine, mill and processing capacity to the completion of the construction of a second sulphuric acid plant which is expected in 2016. The ores are characterized by sediment-hosted copper and cobalt deposits with oxide, mixed oxide-sulfide and sulfide mineralization.
This is for sure a forced sell for Freeport that must reduce its debts which is giving away a core asset during low copper price. However, this stock looks as an opportunity for investors that can bear a high investment failure risk: buying shares of Freeport will be a good deal if the price of the commodity will soar. But the risk is very high because you may be stuck with shares that will represent a company deprived by some more core assets if the price of the commodity will not increase as expected and today's trade might have been an expensive one at current prices. The risk is high and therefore also the reward.
What's the target price for Freeport?
I want to use Freeport's EV/EBITDA ratio to calculate a target price. Freeport's EV/EBITDA (NYSE:TTM) is 12.06: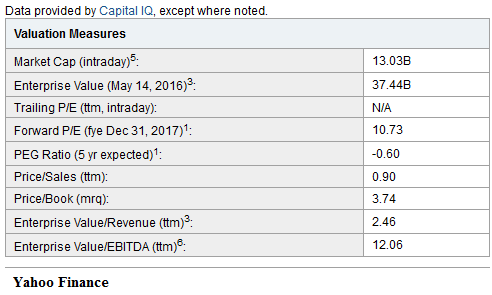 First of all I will use the EV/EBITDA ratio derived from Freeport's direct competitors:
| | |
| --- | --- |
| Ticker | Enterprise Value/EBITDA : |
| NYSE:NEM | 7,36 |
| NYSE:SCCO | 13,82 |
| Average | 10,59 |
I multiply the average EV/EBITDA multiple derived from FCX' competitors by the EBITDA of FCX (the target company), that is 3.10B: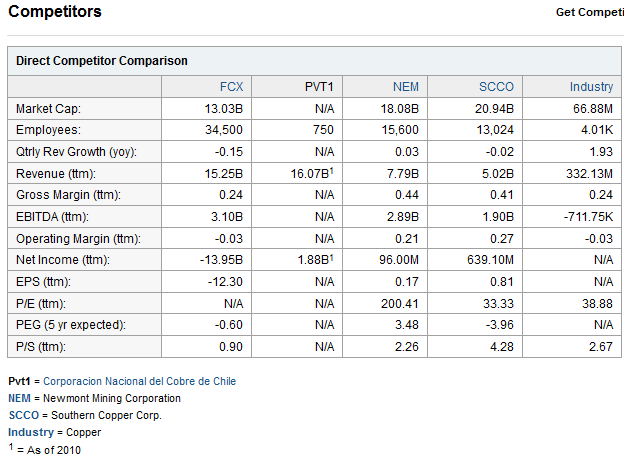 10.59 x $3.10B = $32.83B
1. Subtract Net Debt (of FCX) from Enterprise Value
$32.83B - ($20.78 - $0.33) = $12.38B
2. Divide the resulting value (equity value) by shares outstanding
$12.38B / 1.25B = $9.90 per share.
The stock looks a bit overvalued by the stock market according to my valuation of the target price. But the EV/EBITDA ratio of Freeport doesn't take into consideration the sale of TFM..
I would buy shares of Freeport-McMoRan at the current price (maybe invest only a small percentage of the portfolio in this stock). However, the risk of investment failure is very high, due to the fact that "at this time no meaningful catalyst is seen that will improve the overall market dynamics given weak global growth rates and slowing demand in China," and that the company doesn't have any other choice than disinvesting parts of its assets to improve its liquidity and pay debts. Rating agencies carry a negative outlook on Freeport, which will put more pressure on the possibility of getting more credit. It's a 50-50 chance to either make a considerable capital gain or to lose money.
Wait to see what happens on the demand side of copper. But as the overall situation becomes clearer, the risk-reward ratio may increase and sacrifice your winning percentage.
Disclosure: I/we have no positions in any stocks mentioned, and no plans to initiate any positions within the next 72 hours.
I wrote this article myself, and it expresses my own opinions. I am not receiving compensation for it (other than from Seeking Alpha). I have no business relationship with any company whose stock is mentioned in this article.