By Parke Shall
Retail is a tough sector to invest in here. Even though last week ended with a good retail sales number that exceeded expectations, most of this "beat" was attributed to retail sales that took place online. Separating out department stores, the retail sales number still was unimpressive. WSJ reported:
Retail sales bounced back in April off the depressed March numbers, boosted by car sales and online buying, signaling the economy might not be as weak as it seemed in the winter. The numbers are even more troubling for department stores, which now look to be starkly out of favor with consumers.

Retail sales in April rose 1.3% from March, a number well above the 0.8% consensus estimate. After all the lousy numbers and commentary coming out of department stores this week, it was an indication that in a world of online sales, the health of the department stores is becoming detached from the health of the consumer.
This leads us to believe that if we want to invest in retail, we must do so in a careful manner. We spent the better part of last week looking for a safe play in retail and a way to hedge against our long position in Macy's (NYSE:M).
We have been long Macy's for about six months now, and we will continue to add shares as the price continues to move lower. We think the company's current $16.2 billion EV values the core business at almost zero. Estimates for the company's real estate have come in at anywhere from $10 billion to $20 billion. Best case scenario, this values the core business at less than zero. Worst case scenario and this values the core business at about 5X or 6X net income and between 1X and 3X EBITDA.
With the market valuing Macy's in a conventional manner, we wouldn't be surprised to see it move to $25-$28, or about 8X company issued estimates. We think that's the breaking point before it simply becomes too cheap for someone to come in and make a deal for the company.
We are encouraged by the company's continued buybacks and its backstop in its real estate.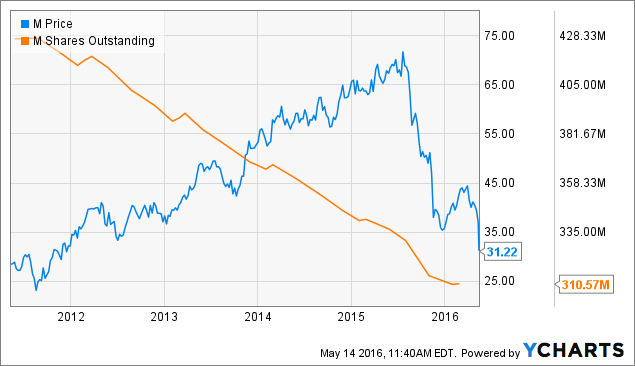 We think that if Macy's can unlock the value of its real estate, either through joint ventures or an outright spin off, you can own the underlying core business for almost nothing at this point. While the company has not been performing well, certainly the underlying business is worth more than zero.
While we saw the sector being knocked down last week, we saw a small bounce in Friday's trading. Despite this, we continue to believe that brick and mortar retail, as a sub-sector, will continue in a downtrend. We do think that at some point, corporations and investors alike will realize that even online retailers need some brick and mortar presence. Amazon (NASDAQ:AMZN), for instance, has been reportedly looking at department store space in order to make distribution or pick up centers. As such, the real estate remains a valuable part of some of the brick-and-mortar asset bases.
We want to increase our holdings in Macy's heading into the next few weeks, and we want to make sure that we have capital to allocate for Macy's if the stock moves lower. We've identified Macy's not only because of its real estate value, but also because of the fact that there are two well-known activist investors involved in the stock. We like the thesis of unlocking value, but we also like the fact that there may actually be a real catalyst for unlocking that value coming up soon.
Unlocked value without a catalyst for getting something done can sometimes be a lesson in hopelessness.
As we've done in previous articles, we still like to compare the price to earnings ratio of numerous retail stocks with that of Nordstrom (NYSE:JWN).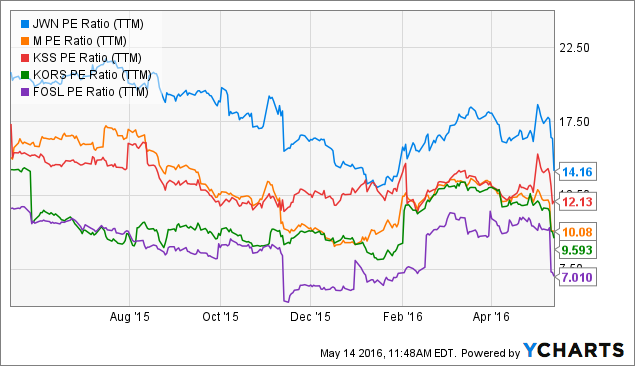 JWN PE Ratio ((TTM)) data by YCharts
Nordstrom continues to receive a higher than average price to earnings ratio because it is considered to be the best in breed of the brick-and-mortar retail businesses. Not only do we disagree that it is necessarily the best in breed, but we also think that the Nordstrom's price-to-earnings ratio should move down to the sector average at some point if things continue to go poorly. This would give it a downside of about 30% from current prices near $39.
Thus, we consider Nordstrom to be a decent short to put on against a long position in a company like Kohl's (NYSE:KSS) or like Macy's.
We think that the application of a pair trade in this instance, especially with Macy's, makes a lot of sense. We think the market is aware of the real estate opportunity in Macy's and we think that the market will not let Macy's get much cheaper than 7-8X earnings, which really puts the business at almost 0 if you back out between $10 and $20 billion of real estate.
Nordstrom, while also owning some real estate, does not have the urgency for unlocking value the way that Macy's does. We also feel that Nordstrom is far more susceptible to a pullback should the whole sector pull back. We would not go out and short the retail ETF or the indices against a company like Macy's, because a lot of these funds and index funds are inclusive of retailers that are primarily online retailers. For all intents and purposes, Nordstrom is the closest model to Macy's that we can find, with the highest multiple assigned to it, meaning there is room for a correction.
The payoff could potentially be large for a pair trade. In essence, you own Macy's and hope the core business turns around. But you also own a call option should the company move to sell itself or try to offload some of its real estate. That's what makes this pair trade have larger than normal potential upside.
We will continue to remain long Macy's. We were in and out of Kohl's last week for a small trade. Macy's is a conviction hold for us, especially with the buyback and the dividend. We will potentially put on a short position in Nordstrom, especially now that it has bounced on Friday, to offset and reduce our risk in our long position in Macy's.
We feel this is the most prudent pair trade possible in the retail sector if you want to be long Macy's.
Disclosure: I am/we are long M.
I wrote this article myself, and it expresses my own opinions. I am not receiving compensation for it (other than from Seeking Alpha). I have no business relationship with any company whose stock is mentioned in this article.
Additional disclosure: May take or modify positions in M and JWN at any time