Nordstom (NYSE:JWN) was the latest of a host of apparel retailers to report a disappointing quarter and lower forward guidance. Revenues came in at $3.25 billion (up 0.9% Y/Y), missing by $30 million, while EPS missed by $0.20, sending shares down 16%. JWN had expected a low-single digit increase for comp sales, but they declined 1.7%. Compared to the prior outlook of a 0-2% increase in same-store-sales for the year, management now expects to deliver comps between -1% and 1%. Over at Macy's (NYSE:M), revenues dropped 7.7% Y/Y during the latest quarter, while Gap (NYSE:GPS) reported April sales that fell 7%, on top of last year's weak comp when sales fell 12%. Other notable decliners include L Brands (NYSE:LB), Francesca's (NASDAQ:FRAN), Stein Mart (NASDAQ:SMRT), Ascena Retail (NASDAQ:ASNA), Express (NYSE:EXPR), Cato (NYSE:CATO), Abercrombie & Fitch (NYSE:ANF), American Eagle (NYSE:AEO), and Urban Outfitters (NASDAQ:URBN). On May 4 th, Aeropostale (OTCPK:AROPQ) filed for bankruptcy. The list of poor performers goes on, and while many analysts blame a shift to online sales and the inability of B&M retailers to compete with Amazon (NASDAQ:AMZN), the weakness in the apparel sector is mostly a product of deteriorating economic fundamentals in the US. At a forward P/E of 11, Nordstrom may now look attractive to investors. But JWN's high price points mean the firm is more exposed than most to the issues plaguing the retail sector.
Online sales have increased at most brick and mortar retailers. The problem is that they have grown at a slower pace than in-store sales have declined, which is significant since store sales constitute the majority of their revenues. Thus total sales are lower, which reflects fewer transactions rather than a shift in how customers purchase clothing. There is plenty of data to support the claim that the US consumer is not as strong as people believe. Labor force participation, currently at 62.8%, is near a 30-year low, and is the main reason why the unemployment rate sits at just 5%. The economy continues to add jobs, but the service sector is responsible for almost all of them. Of the 214,000 net jobs created in February, 208,000 (97%) went to the service sector. These jobs tend to be part-time, low-pay (often minimum wage) jobs that do not allow an individual to support oneself. And most of the jobs have gone to senior workers, as millenials (who will be responsible for driving future growth) have left the workforce at a faster rate than any other demographic. Consequently, a rising share of adults (aged 18-34) still live at home with their parents. On the brink of a recession, employers tend to cut full-time workers and replace them with multiple part-time workers. This is exactly what is happening now, and a key reason why the unemployment rate (which does not distinguish between part-time and full-time jobs) looks as strong as it does.
The data reveals that the US consumer is weak, and we believe disposable income growth will be sluggish at best over the next five years. This spells trouble for Nordstrom, who relies on a differentiation strategy to sell at higher price points than most retailers. JWN's economic moat is not wide enough to allow for sustained price increases during periods of weak demand without sacrificing volumes. Nordstrom's biggest advantage, its brand, stands for quality and carries with it a sense of high-class culture, but it certainly does not make the firm immune to income fluctuations or competition from elsewhere: gross margin in the latest quarter declined almost three full percentage points year-over-year as piling inventories forced the firm to slash prices. A significant portion of JWN's apparel (skirts, suits, dress-shirts, pants, ties, shoes etc.) is geared to the white-collar office worker, but few jobs are being added in industries that would require such clothing. Furthermore, Amazon sells comparable products to Nordstrom, but does so for much less. Pressure on incomes will force customers to trade down and JNW will lose market share. We forecast comp sales for the year will be down 2%, and that gross margin will contract to 35.5%, continuing its downtrend (Figure 1). It is telling that, while department chains and luxury retailers have underperformed recently, discount retailers have done well. The stocks of Five Below (NASDAQ:FIVE), Big Lots (NYSE:BIG), Dollar General (NYSE:DG) are up double-digits since the beginning of the year, and Target (NYSE:TGT) and TJ Maxx (NYSE:TJX) have climbed roughly 5%. This suggests that consumers are switching to cheaper alternatives, and we expect these trends to continue throughout the year.
Figure 1: Gross Margin Over Past Five Years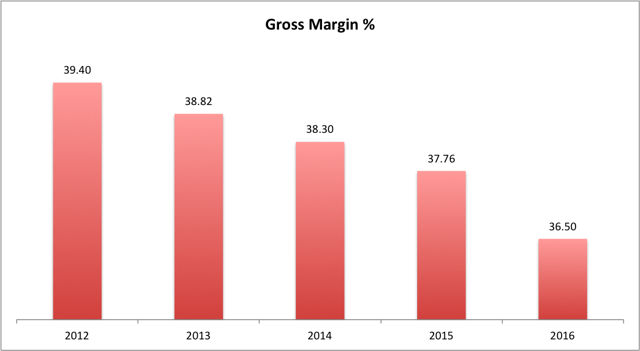 The supposedly strong jobs numbers are one of the few pieces of data that suggest the US economy is healthy. But if you dig beneath the surface the numbers tell a different story, one that is much more consistent with the results that Nordstrom and other apparel retailers are reporting. With economic fundamentals more likely to worsen than improve, NJW's low valuation is justified. The combination of weak demand and competition from Amazon will make it difficult for Nordstrom to cope. NJW's cheap price may induce some buying in the near-term, but we believe the market is just one bad jobs reading from punishing consumer discretionary stocks in a big way.
Disclosure: I/we have no positions in any stocks mentioned, and no plans to initiate any positions within the next 72 hours.
I wrote this article myself, and it expresses my own opinions. I am not receiving compensation for it (other than from Seeking Alpha). I have no business relationship with any company whose stock is mentioned in this article.