If you're wondering where all of Chesapeake Energy Corporation's (NYSE:CHK) cash is that it intends to raise from its divestitures, it hasn't arrived yet. At the end of 2015, roughly $135 million of its $700 million in planned sales at that point in time had closed. During Q1 2016, an additional $71 million worth of proceeds were added to Chesapeake's balance sheet. With $1.2 billion in gross proceeds expected after its latest update, which will be reduced by ~$250 million as Chesapeake repurchases VPPs (volumetric production payments) at favorable prices, Chesapeake has yet to receive the remaining ~$1 billion in cash from its divestitures. By the third quarter of this year, all of its current deals should close.
As these sales are finalized, some of the cash will be deployed to buy back VPPs tied to the assets as I stated above, reducing the complexity of its balance sheet. Currently the company has six VPPs, which will continue to decrease throughout the year.
Chesapeake Energy Corporation's cash balance shrunk from $825 million at the beginning of 2016 down to just $16 million at the end of Q1. Keep in mind this is largely due to the embattled and heavily indebted upstream player paying off its March 2016 maturities and buying back its 2017 maturities on the open market, but some of the reduction was due to its cash flow shortfall.
During Q1 2016, Chesapeake's operating cash flow fell to $263 million versus $386 million in Q4 2015 as energy prices moved lower. When including the effects of hedging, Chesapeake's average realized oil, dry natural gas, and NGLs price dropped from $64.04/barrel, $2.35/Mcf, and $14.07/barrel in Q4 2015 to $37.74/barrel, $2.29/Mcf, and $11.44/barrel, respectively, in Q1 2016.
Higher realized prices during the second quarter and hedging gains will help the company cover a bigger portion of its quarterly capex run rate of ~$400 million, but prices need to move somewhat higher still in order for Chesapeake to achieve cash flow neutrality. The company spent $365 million on capital expenditures in Q1 2016.
Chesapeake Energy Corporation has now drawn $367 million from its $4 billion revolving credit line due in 2019, and has utilized $619 million ($461 million of which is related to the supersedeas bond regarding pending litigation) of its capacity for letters of credit as of the end of March. The company is currently appealing the Second Circuit panel's ruling relating to its redemption of its 2019 notes that were issued out back in February 2012, possibly providing some liquidity relief but keep in mind Chesapeake may end up having to pay.
As Chesapeake doesn't have any debt maturing until the beginning of 2017, it's biggest very near term priority is shoring up its outspend and raising cash through divestitures. Management is guiding for a slight decline (0% - 5%) in Chesapeake's adjusted production streams this year as the company sharply curtails drilling activity. Chesapeake has the flexibility to push its quarterly capex rate closer to $300 million than $400 million, which includes $260 million in annual capitalized interest expenses, if it needs to.
STACK sale
Chesapeake Energy announced that it has sold off 42,000 net acres in the STACK region, primarily centered around the emerging Meramec play, for $470 million. The deal doesn't negatively impact its agreements with its creditors and raised a material amount of cash. While Chesapeake Energy still has 52,000 net acres in the STACK region, most of that located on top of the gassier parts of the Meramec shale. Going forward, management intends to pivot to the emerging liquids-rich Oswego play that initial results point to being just as, if not slightly more so, economical as the Meramec. Management noted;
"[W]e seek upside in the Meramec in the remaining acreage that we have. It's not necessarily all gas, or more gassy-related. And we see other significant opportunities with the Oswego that we've noted before. So when you look at our position, we've got what we believe to be still good upside opportunity."
Replying to a question about whether most of Chesapeake Energy's remaining Meramec acreage lays within the less economical gas-weighted window by saying it's "not necessarily all gas" and then following up with a point about a different emerging play eludes to Chesapeake's future intentions. The company may still own a decent chunk of valuable Meramec acreage, but that remains to be seen and probably will be considered another non-core asset that can be sold off.
This deal does remove a potentially valuable play from Chesapeake's portfolio, but it was a play that Chesapeake had little means to develop. For instance, Chesapeake camped on drilling its first operated Meramec well until the end of 2015 to conserve cash, even as other operators charged ahead and posted solid results. Chesapeake Energy received a good price for its assets that yielded little cash flow, putting the company is a much better position financially. It still has a vast portfolio of valuable assets to develop and monetize, plus it retains a modest stake in the region, making this a major net positive.
Debt
During the first quarter of this year Chesapeake repurchased $282 million of its 2017 maturities at an average discount of 39%. No additional debt was repurchased from the last time Chesapeake updated investors to the end of Q1 2016, with the Euro gaining against the dollar representing the slight increase from March 16 to March 31. However, Chesapeake Energy plans to get back up on the debt repurchasing horse this quarter, as management commented (in regards to a question on debt repurchases);
"[A]s we (Chesapeake Energy) completed our bank amendment and got through earnings and look forward to being more active in the weeks to come."
With the additional liquidity/access to liquidity through asset sales and its revolving credit line, Chesapeake Energy has a reasonably good chance of limping past 2017. That being said, it isn't going to be easy or pretty. $1.6 billion in debt maturities next year, even if a decent chunk is repurchased at below par, will take a major toll on Chesapeake's available liquidity. Asset sales remain the easiest if not the only way for Chesapeake to raise cash in the short term that doesn't involve it racking up debt in the process (such as tapping its credit line).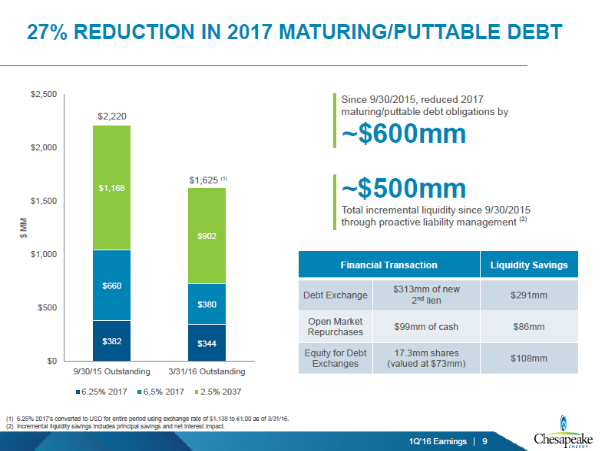 Source: Chesapeake Energy Corporation Earnings Presentation
Management intends to keep selling off small bits and pieces of Chesapeake's portfolio to raise another ~$500 million this year;
"At this point in time, it's really more non-core that we're looking at. And just highlight that in February, Neal, we said $500 million to $1 billion for the remainder of the year. Having accomplished the lower end of that range, we'll continue to look for those incremental non-core sales that are not going to materially impact our production or our EBITDA position."
This strategy will enable Chesapeake to keep raising cash in the short term while keeping in line with its credit agreements, and won't materially impact its cash flow generation. With $3 billion left on its revolving credit line and roughly $1 billion - $1.5 billion in cash expected to roll into its offers, Chesapeake Energy should be able to cover its outspend and its debt maturities through the end of 2017. Beyond that, Chesapeake needs a recovery to start by the end of this year or early next year to stay solvent. The biggest thing Chesapeake Energy's recent maneuvers have done is give the embattled upstream player a chance to reach the point of a macro pricing recovery.
Final thoughts
It was hard to see Chesapeake Energy Corporation raising a material amount of cash through asset sales that didn't include one of its major producing operations. Turns out that it was able to do so by forgoing a chance at developing one of America's next big shale plays in favor of focusing on what it can. The Meramec is an interesting play, but one that Chesapeake Energy can do without if that means surviving. Plus, there still is the Oswego horizon, which could yield another lucrative development/divestment opportunity for Chesapeake Energy Corporation if well production results hold up.
Going forward, investors should still be incredibly cautious around this name. Chesapeake Energy Corporation hasn't escaped bankruptcy or a continued lackluster environment, it merely has pushed off the worst case scenario for now.
For those who didn't read my previous article: after buying a stake in Chesapeake Energy back when it traded around $12, I doubled down around $3/share, and then cashed out around $6 at a tiny gain. Recently, I decided to make another small investment around $5.70/share. The market thanked be by pushing the name down to $4/share, but I'm still confident Chesapeake Energy Corporation can ride a pricing recovery out of its current situation. Its upcoming shareholders meeting could yield some additional positive updates, especially on the operational front, and could act as a catalyst for its stock price.
Disclosure: I am/we are long CHK.
I wrote this article myself, and it expresses my own opinions. I am not receiving compensation for it (other than from Seeking Alpha). I have no business relationship with any company whose stock is mentioned in this article.