Prices
Prior year - NYMEX light sweet crude oil front month futures settlement prices

Source: Chart Quandl, raw data from CME
Prior week price table - NYMEX light sweet crude oil front month futures settlement prices

Source: Table Author, Data from Quandl and CME
Last week's price review
Crude oil prices settled at $46.21 on Friday, May 13, up $1.55 or 3.5% on the week.
Prices fell Monday as market intelligence provider Genscape reported that crude oil inventories at Cushing had risen by 1.4 million barrels. On Tuesday prices rose on reports of more Nigerian production outages. After the settlement, the American Petroleum Institute ('API') reported a build in crude oil inventories of 3.45 million barrels. On Wednesday prices rose further as the Energy Information Administration ('EIA') released statistics, contradicting that of the API, showing a draw of 3.5 million barrels. Gains continued on Thursday due to more concern about Nigerian production outages and the release of the International Energy Agency's (NASDAQ:IEA) Oil Market Report which was viewed as supportive of prices. On Friday prices gave back a small part of the week's gains as the dollar strengthened and OPEC issued their Monthly Oil Market Report that was less supportive than that of the IEA's.
Crude Oil Futures Curve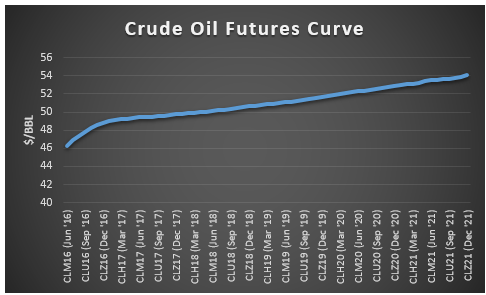 Source: Chart Author, Data from Quandl and CME
The crude oil futures curve remains in contango. The December 2021 contract settled at $54.08 (down $0.87) while the June 2016 contract settled at $46.21 (up $1.55) decreasing the contango over this period to $7.87 (from $10.29 last week).
Weekly Petroleum Status Report - Key figures and charts from the report released May 11, 2016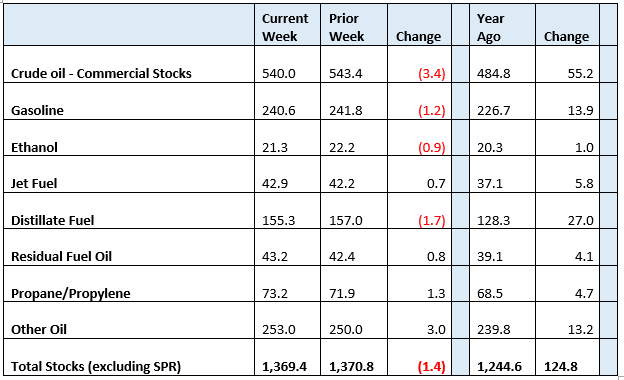 All figures millions of barrels
Source: Table Author, Data from EIA Weekly Petroleum Status Report
Total US petroleum stocks were down 1.4 million barrels on the week, with a build in jet fuel, residual fuel, propane and other oil, more than offset by draws in crude oil, gasoline, ethanol and distillate.
The 3.4 million crude oil draw, after the API had reported a 3.5 million barrel build the day before, surprised the market and the market responded by jumping approximately $2.00 per barrel when the report was released.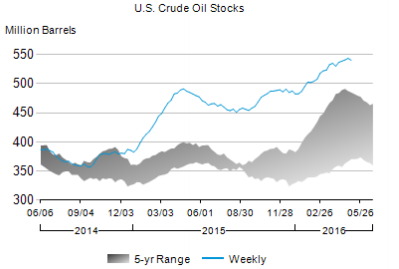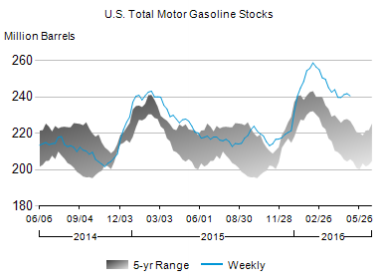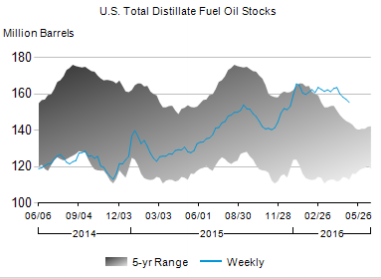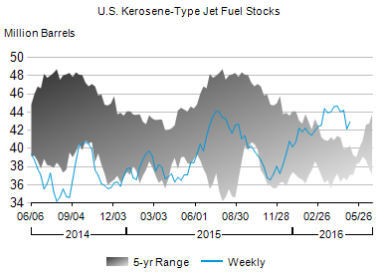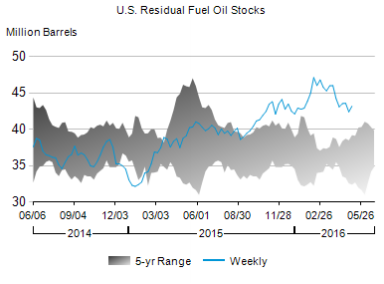 Source: EIA Weekly Petroleum Status Report
As the charts above show, crude oil and the main refined petroleum product inventories all remain far above their 5 year range.
Baker Hughes Rig Report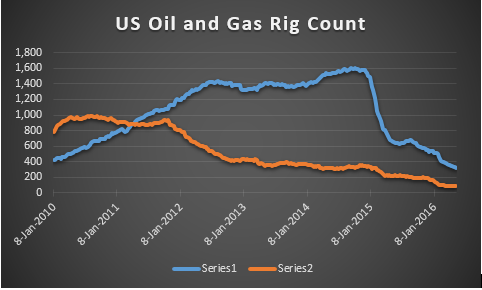 Source: Chart and table Author, Data from Baker Hughes website
Low oil prices continue to cause drilling rig counts to fall in the US and internationally, although they were up this week in Canada. The EIA projects that oil rig counts will start to increase in mid-2016 but not enough to stop the decline in the Lower 48 states crude oil production. Other prognosticators are also forecasting oil rig counts to bottom in the near future. With fewer active drilling rigs, the US oil production is in decline, helping to move the oil markets back towards a supply and demand balance.
OECD and worldwide inventories, supply and demand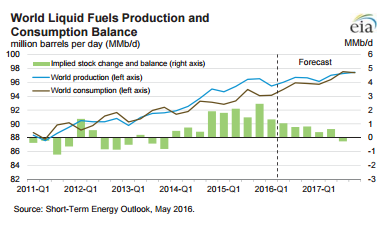 The IEA, OPEC and the EIA all released their monthly reports last week. The IEA and EIA reports show the market tightening and getting closer to balance but as the updated chart above shows, supply is still projected by the EIA to exceed demand until the third quarter of 2017.
This chart from the EIA's Short Term Energy Outlook for May 2016 show the main reason for crude oil prices falling starting in mid-2014, the reason that crude oil prices will be pressured to the downside in the near term and the reason prices will recover longer term. Crude oil production ramped up sharply in 2014 and 2015, causing large builds in worldwide stocks. The forecast is for worldwide production to level off with demand catching up to production in mid-2017.
Crude oil news last week and outlook for fundamental factors for the next year
Conclusion - What to Expect
Crude oil prices continued their run up from the low of $26.05 per barrel on 11 February 2016. The majority of news continued to be bullish this week more than offsetting the longer term negatives.
The focus of the market has been on disruptions in Canada, Nigeria, Libya and the possibility of the market coming back into balance earlier than previously forecast. The market may trade higher as long as these and other disruptions stay in the news. As these factors are resolved, look for the market to re-focus on the supply surplus and high inventories.
Addendum
Sectors and stocks impacted
The United States Oil Fund (NYSEARCA:USO), iPath S&P GSCI Crude Oil TR ETN (NYSEARCA:OIL)
Major oil companies - Exxon Mobile (NYSE:XOM), Chevron Corp. (NYSE:CVX), ConocoPhillips (NYSE:COP), Royal Dutch Shell (RDS-A), Total (NYSE:TOT), BP (NYSE:BP)
Oil service companies - Schlumberger (NYSE:SLB), Halliburton (NYSE:HAL), Baker Hughes (NYSE:BHI), Fluor (NYSE:FLR), Weatherford International (NYSE:WFT)
US shale oil producers - Marathon Oil Corporation (NYSE:MRO), Continental Resources (NYSE:CLR), EOG Resources Inc. (NYSE:EOG)
A look back at previous crude oil price forecasts
Longer term crude oil price analyses links are provided below. These analyses have been consistently bearish.
Oil Prices - What Happened, What To Expect, And Why- 11 February 2015
Crude Oil Prices - Don't Bet On A Quick Rebound- 30 September 2015
Crude Oil Buyers Beware- 16 February 2016
Crude Oil - Don't Buy The Hype- 14 April 2016
Disclosure: I/we have no positions in any stocks mentioned, and no plans to initiate any positions within the next 72 hours.
I wrote this article myself, and it expresses my own opinions. I am not receiving compensation for it (other than from Seeking Alpha). I have no business relationship with any company whose stock is mentioned in this article.