Since March 2009, stocks have had a terrific run.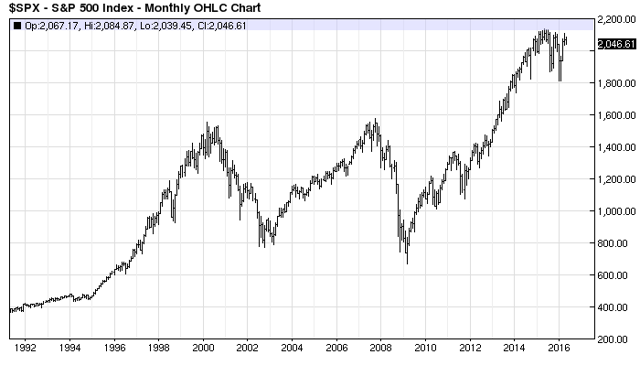 But we think the future looks considerably less bright, and there are several reasons for this:
Earnings have topped and we're in an earnings recession.
Bond yields are at multi-century lows and cannot go that much lower.
The Fed could increase interest rates.
We are running into 'orange' valuation territory.
We haven't had a recession since the financial crisis.
There are considerable risks in the world economy.
The whole model behind the stock market gains has not only been bad for the economy, it has entered the territory of diminishing, perhaps even declining marginal returns on its own terms.
Let us briefly discuss some of these elements.
Valuation
Earnings, the most have declined for several quarters, mostly because of the dramatic declines in the energy sector. Here is Profit Confidential:
The S&P 500 is in an earnings recession and Wall Street doesn't seem too worried. The blended earnings decline in the first quarter was -7.1% and marks the first time the S&P 500 has seen four consecutive quarters of year-over-year declines in earnings since 2008. Analysts expect earnings growth to return in the second half of 2016, but they said something really similar last year at this time. The U.S. economy is fragile, consumer sentiment is tumbling, and the earnings recession shows no signs of slowing down.
They don't expect a revival of earnings growth anytime soon, although others, like Deutsche Bank are a bit more optimistic:
But in a note to clients out Thursday, Deutsche Bank's Binky Chadha argues that the worst is over and earnings growth is coming back. Like, right now. "Time for a significant inflection," Chadha writes. "The 5 drivers imply a combined boost of 8.2% to Q2 S&P 500 earnings; after -6.3% in Q1 to slightly positive growth of +1.9%. The bottom-up consensus presently sees only a modest turn, to -4.7%. Adding: "The differential between our top-down arithmetic and the bottom-up consensus suggests downgrades should stop and indeed they have paused recently and eventually lead to upgrades or positive surprises."
They added the following optimistic figure to their analysis: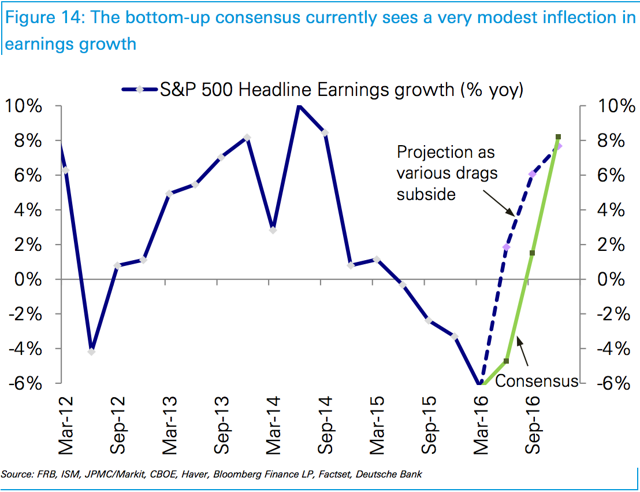 But this remains very much to be seen, for instance, in more speculative stocks the downgrades have outpaced upgrades: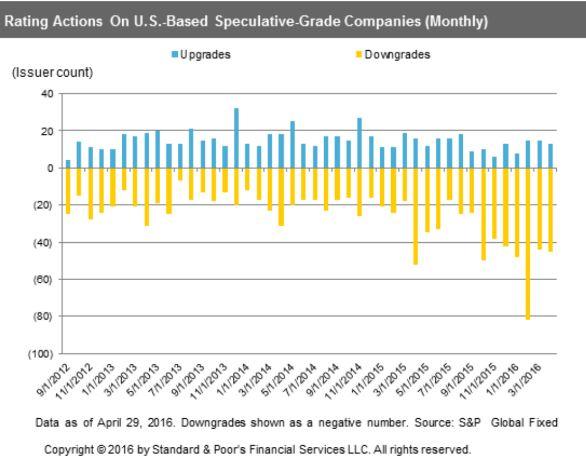 It is difficult to assess which view is right, but as we will argue below, it's difficult to see a really sustained and general earnings recovery that would power stocks considerably higher.
While stocks are not in nosebleed expensive territory, they're also far from cheap. Here is Bloomberg:
The easiest way to see the shift is to look at the market from the bottom up. In 2014, the industry with the lowest P/E was banks, trading at about 18 times earnings -- the highest multiple ever for the S&P 500's cheapest group. Now it's telecom, trading at a price multiple of 14 at the end of April, close to the median since 1990, according to Leuthold Group data compiled on a monthly basis. Even as S&P 500 valuations have spread out, one thing has remained constant: prices are expensive relative to history. Two weeks ago, the P/E ratio for the benchmark index reached 19.53, the highest in more than six years. The S&P 500 fell 0.2 percent to 2,046.44 at 11:44 a.m. in New York, extending a 1.7 percent skid over four days.
That same article also noted that valuation dispersion has resorted back to mean, and "Broadening multiples preceded bull market peaks in 1998 and 2007." We're not there yet, though: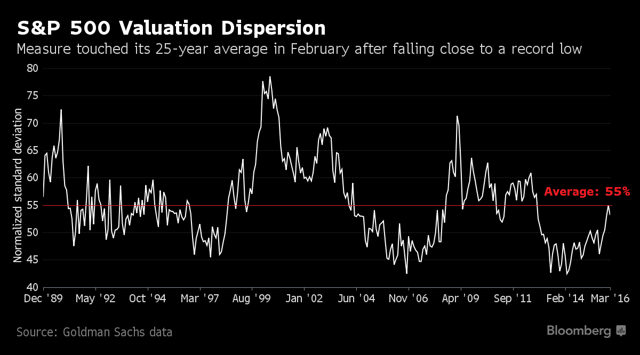 We have other valuation concerns:
There is a wide difference between GAAP and non-GAAP earnings and the main element of that is stock based compensation, which in non-GAAP earnings is added back to earnings. We have already argued how odd this is (here).
The main valuation metric that's holding up stocks is the fact that bonds are very expensive. Bond yields are at multiple century lows, basically. While this could last for some time, there is also considerable risk that bonds will fall as the labor market tightens more and the Fed increases interest rates.
Recession?
We are not going to predict a recession here (that is a bit of a fools game, in our view). However, the US economy hasn't experienced a recession since the financial crisis, that eight years without one, a considerable amount of time already.
What's more, world economic growth is really sputtering. China is decelerating, Japan seems unable to escape it's deflationary trap, many emerging markets are in serious trouble due to the oil and commodity downturn, exports and industrial production are declining in many places.
Check for instance figures from big trading nations like Korea and China. Korean exports declined another 11.2% in April. Exports (and imports) have fallen for 16 consecutive months. Chinese exports fare little better, falling 1,.8% in April, but note the following:
April imports dropped 10.9 percent from a year earlier, falling for the 18th consecutive month, suggesting domestic demand remains weak despite a pickup in infrastructure spending and record credit growth in the first quarter.
While this doesn't necessarily lead to a world economic recession, or even a US recession, it isn't exactly a healthy backdrop for US economic growth either.
Risks
While there are always risks in the economic environment and the stock markets have a habit of climbing the proverbial wall of worries, the risks seem pretty significant this time around. We're not trying to be exhaustive, just to give some flavor here:
Brexit. The British referendum on EU membership could, if the no vote wins, jolt the markets as the consequences are, at the minimum, uncertain. The IMF is particularly worried. In the worst case, it could lead to a destabilization of the whole EU, which is basically the last thing we need.
An Italian financial crisis. We warned about this two years ago, and whilst Italian economic growth has picked up a notch since, this hasn't materially decreased the public debt/GDP ratio and on top of this a serious Italian problem with bad loans in the banking system has emerged.
A further slowdown in the world economy.
A Chinese devaluation . A Chinese devaluation would export deflation to the rest of the world which is already struggling with very low inflation, and this could very well trap much of the world into a Japanese style debt-deflationary cycle.
A Chinese debt crisis. Corporate debt stands already at a very high 165% of GDP and the Chinese have embarked on yet another round of credit driven expansion, rather than restructuring bad debts and industrial overcapacity. Some argue a day of reckoning is unavoidable, others see the possibility for a more or less orderly state managed rationalization. Jury still out.
What these risks have in common is not that they're extremely likely, but that they could have serious consequences. There is a worst case scenario possible in which one risk materializes and the fall-out triggers some (or even all) of the other risks.
For instance, Brexit could destabilize the whole EU and trigger another round of the eurocrisis. The latter is experiencing a bit of a lull due to a modest upturn in economic growth (due to a lower euro, lower energy prices and ECB policies), but it's far from gone.
Public debt/GDP ratios have stabilized, but these are not declining anywhere near what's necessary during good times. There is now serious talk about outright Greek debt relief, but how long before people start mentioning Portuguese debt relief or Italian debt relief?
In the same vein, a Chinese devaluation, whilst seeming less likely now that capital outflows have declined a bit and the trade surplus is increasing again, but the effects will be serious.
We did see that last September, and at the beginning of this year when markets panicked as this risk came into focus. Indeed, if there is a substantial Chinese devaluation, this could trip the world economy into a recession and make other weak spots keel over.
The model behind stock market gains
Perhaps the most fundamental reason why we're not bullish on the overall markets is that we have serious doubts about the whole underlying model. Basically US wages have been stagnant for four decades. Since wages are an important cost component for companies, this has been good for shareholders.
However, wage stagnation is also responsible for a dearth of topline growth. This has been masked until the financial crisis, first by the influx of women into the labor market boosting household income, and in the last decade by an unprecedented credit boom.
But after the financial crisis, the full force of the stagnant wages have emerged, without much compensatory forces, apart from expansionary monetary policy. But the latter is also reaching the end of the line.
The lack of wage growth has other ramifications. Because of a lack of topline growth, much of the stock gains are the result of cost cutting and a very high pay-out ratio. More than 90% of (near record) profits go to shareholders in the form of dividends and share buybacks. Here is William Lazonick:
Corporate profitability is not translating into widespread economic prosperity. The allocation of corporate profits to stock buybacks deserves much of the blame. Consider the 449 companies in the S&P 500 index that were publicly listed from 2003 through 2012. During that period those companies used 54% of their earnings-a total of $2.4 trillion-to buy back their own stock, almost all through purchases on the open market. Dividends absorbed an additional 37% of their earnings. That left very little for investments in productive capabilities or higher incomes for employees.
This tends to actually reinforce the lack of topline growth, as the spoils of this end up disproportionably on the top of the income and wealth pyramid, and these save much more than the bottom 90%.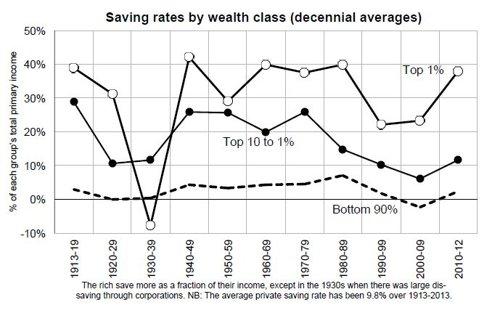 But it could very well be that this model has run its course. Not only is cost cutting ever more difficult, witness the significant productivity slowdown the US is experiencing.
The productivity slowdown is mainly the result of low growth of investment in new production capacity, itself the result of a lack of topline growth. But this contains the seeds of its own destruction.
Now that spare capacity is declining and the labor market is becoming tight, this could lead to an undermining of much of the underlying rationale of the stock market gains.
Wages could very well start to rise, reflecting the tight labor market. Any sign of that, and the Fed will start raising interest rates again trying to keep inflation in check.
Higher wages, higher inflation and Fed hikes are also likely to lead to a rising dollar and rising bond yield. All of this is undermining profit margins and valuation basis for stocks.
There could be some compensation as with wages finally rising, it might be easier to grow the top line, depending on how much economic damage rising interest rates and a rising dollar does to the economy.
The simple truth is that without topline growth it's difficult to grow earnings on a sustained basis, and topline growth can only be accompanied by higher wages, higher interest rates, higher inflation, which will likely result in a higher dollar. All of which undermines stocks.
Shareholders could try squeeze some more out of the present model without much topline growth, depending on cost cutting and buybacks. But this model, in essence, isn't a growth model but more of a redistribution model and it is hitting its limits.
To grow again, we ultimately need to grow the size of markets, and this crucially depends on wage growth. While for investors this is probably not good news, especially in the short to medium term, it could lead to a more sustainable model for economic growth.
Disclosure: I/we have no positions in any stocks mentioned, and no plans to initiate any positions within the next 72 hours.
I wrote this article myself, and it expresses my own opinions. I am not receiving compensation for it (other than from Seeking Alpha). I have no business relationship with any company whose stock is mentioned in this article.