As my portfolio grows and now sits at 26 companies (for the list click my profile), I have found it incredibly valuable to locate and purchase my own piece of very well-run and altogether boring companies. In my first two articles in this series I covered AT&T (NYSE:T) and Altria (NYSE:MO). As the title implies, I grant these companies a very long-leash. The dog on the end of this leash is trusted and has proven its loyalty over a long enough period of time to allow the owner some peace of mind. Now I'll cover what is far and away the most boring company I currently own.
Old Republic International (NYSE:ORI) is a thinly covered company here on Seeking Alpha. There have been 14 articles (now 15 with this) published here going all the way back to 2008, and of those 14 I wrote two of them (now three out of 15). Being an insurance company they don't sell anything to get the blood pumping and I highly doubt a celebrity will ever capture an endorsement deal unless Alex Trebek gets the boot from Colonial Penn Life Insurance. They have what I want though which is to pay a healthy dividend, not have wild price swings, have a healthy balance sheet and offer steady growth.
The Dividend
It came as a shock to me that the yield had fallen under 4%. When the company announced their next dividend it was pointed out to me that the company had been pressing up against their 52 week highs. With a share price of $18.89 and paying $.75 annually they yield a respectable 3.97% S&P 500 yields 2.11%. For 35 years, through thick and thin, they have raised the dividend every year like clockwork. Here is also where investors will likely get turned off, their last eight raises have been just a penny a year. In 2008 investors were treated to a $.04 annual raise but since then have only gotten a penny a year more. The growth has been anemic but you are dealing with a very cautious and conservative company in a very slow growing industry.
The dividend is at least well covered. The company paid out $191 million in dividends last year, a figure covered easily by earnings and even income from investments which came in at $389 million for 2015.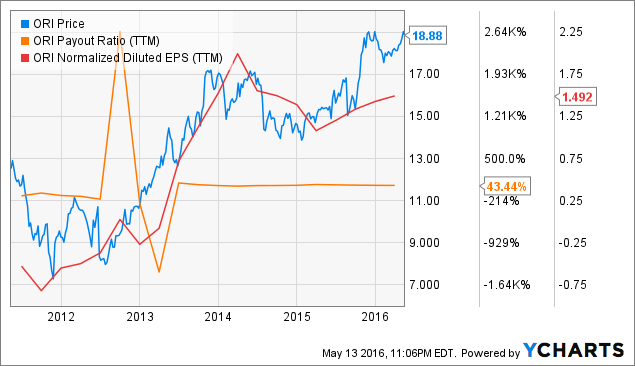 Price History
I like to look at price history for my long-leash companies. I don't check on them often so I appreciate not being too terribly surprised when I do see where they are trading. With a beta of 1.00 it follows the market for the most part. Trading with the broad market I can just assume that it will go up and down in kind. Just keeping my finger on the pulse of the market, which is quite easy thanks to the internet, gives me mostly what I need to know here without looking at the individual company.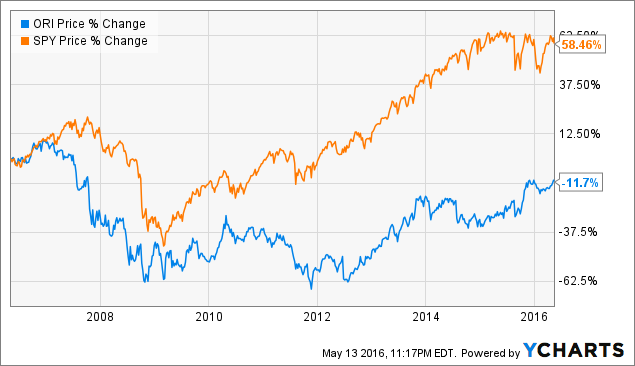 I chose this chart not because of what it shows but because what it tells us. You may be angry to see that over the last ten years the company has grossly underperformed the S&P. That warrants at least a brief mention to present more of the case. Prior to the housing crisis and subsequent recession, the company sold mortgage insurance. When you sell a product that is supposed to pay the mortgage on a house when the home buyer defaults, and then lots and lots of them default, your story isn't going to end well. Old Republic got hammered and that portion of their business has since been placed in run-off while ORI battles Bank Of America (NYSE:BAC) to settle the disputes. Oh yeah, they also sold Consumer Credit Insurance! Anybody care to guess the outcome when you insure horrible mortgages and horrible personal debt, and home values plummet and unemployment goes to ~10%? The above chart will help answer that question.
The good news for investors at this point is that the company no longer dabbles in that realm besides their RFIG run-off business which is quietly dying by design. As we close the gap and shorten the time-frame we see the business improving drastically. The below three-year graph shows ORI beating the market by nearly 10%; in the last twelve months that number grows to nearly 25%.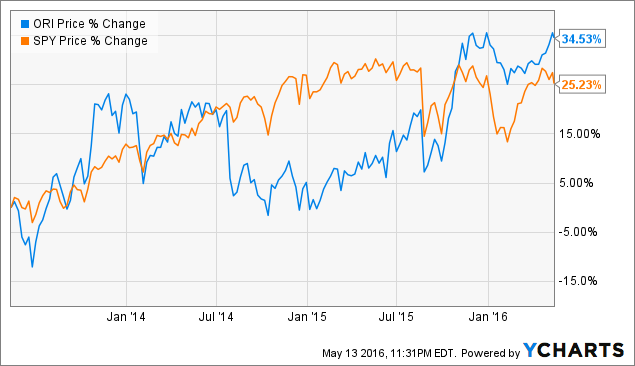 Current Financials
The company had a great first quarter beating EPS and revenue estimates. They even grew revenue 6% YoY. Their balance sheet is also healthy with $137 million in cash, $11.1 billion in investments, and just $982 million in debt. The company maintained a healthy balance between premiums collected and claims paid with $1.2 billion collected and $5574 million paid. Net income on the quarter came out to $122 million and they earned a respectable $.43 per share for a $.07 YoY increase. The company has been getting back into shape and the share price has begun to show it.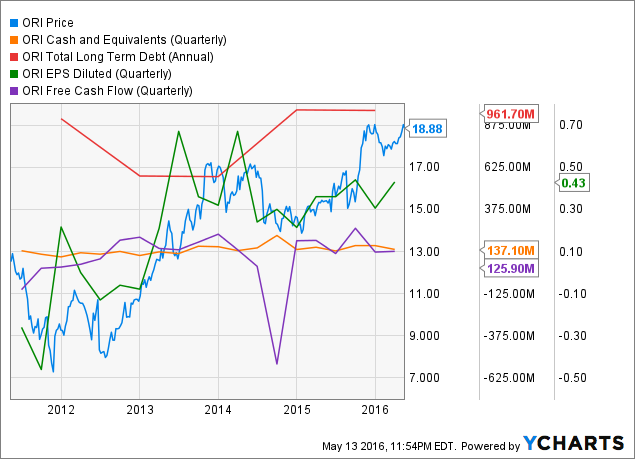 Growth Prospects
As stated above, this company is boring and doesn't grow very fast and admittedly there isn't much to look for in terms of growth. There are no new products, likely no exciting acquisitions, and Jim Cramer probably won't mention the company on his show. However, we are starting to see slow and steady growth in revenue and earnings. The dividend is conservatively grown every year and the share price has been growing steadily as well. As far as total returns go, it isn't half bad.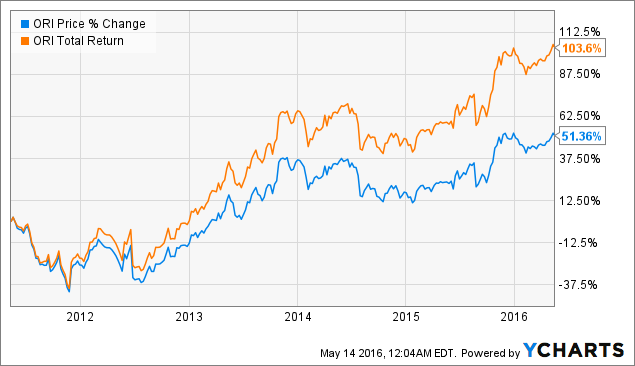 Conclusion
This company isn't for everybody, or maybe it is. It isn't exciting, they aren't really a household name, you won't impress your friends with this name in your portfolio and they aren't even raising the dividend at a high rate. I hold this company pretty much for those reasons. It trades slowly, doesn't get a lot of attention, pays a safe dividend that will compound over time and I don't have to worry about it. When another recession hits they will likely continue to do well since they won't have the heavy exposure to home mortgages and consumer credit and everybody needs insurance. In my growing portfolio this company allows me to spend almost no time at all checking on it so that I can seek out other companies to invest in. As far as long-leash goes, I sometimes forget this is at the end of it.
If you have any other boring, stable companies I am always on the lookout. Please leave your ideas in the comments.
Disclosure: I am/we are long ORI.
I wrote this article myself, and it expresses my own opinions. I am not receiving compensation for it (other than from Seeking Alpha). I have no business relationship with any company whose stock is mentioned in this article.