Introduction
As the gold price rises, we have seen a lot of investor interest in us rehashing the "What it Really Costs" series, and so we have decided to republish the series with some updated metrics. The goal of these analysis pieces is to help investors see what it really costs to mine gold, and to help show the true profitability of gold miners.
Despite the improvement of the industry in their cost transparency, there is a lot to be desired in the current metrics published by many companies (cash costs, AISC, all-in costs) as they still leave many costs out. Things like taxes, interest costs, and current production ounces are all left out of these numbers, which results in the all too common situation where a gold miner producing gold at a supposed AISC of $900 per ounce and yet that miner loses money consistently at $1100 per ounce. Why? Because the "all-in sustaining costs" are not truly the all-in sustaining costs for that particular miner.
We're in the process of completing and publishing a complete full year 2015 all-in costs for the individual producers and industry as we have failed to do that, so if you are interested in receiving it and keeping up-to-date on consider following me (clicking the "Follow" button next to my name).
In this analysis we will calculate the true costs of production of Eldorado Gold (NYSE:EGO), a gold producer that owns operating mines in China, Turkey, and Greece.
How to Use Our All-in Costs Analysis with Your Investments
The best way to use this analysis for individual companies is to compare the different production cost metrics with the company's profits to look for any anomalies (e.g. large net profits but high costs). Also, we provide historic data to allow investors to check out any trends in regards to costs or production totals that may be an early warning to future successes or failures for the company. Ultimately, this analysis is best used as a first step to further investigative work, and that is our purpose with releasing this series.
Definition of Core Costs
We call our costs "Core Costs" as we like to think they remove non-production related costs and focus on the cost per produced ounce. We first use Total Pre-tax Costs (Revenues - pre-tax income) and subtract out derivative gains (or add losses) minus an estimated tax rate (30%), minus Exceptional Items (think write-downs), then add in pre-revenues costs (usually smelter & refining), add in taxes (depending on the core cost metric used), and then subtract non-controlling interests (not due to shareholders). This gives us total costs, which we then divide by gold-equivalent production for that quarter.
Here is how we calculate each one of our core costs categories:
Full Core Costs: Total Costs (Revenues minus Pre-tax Income) + Derivative/Other gains (or subtract losses) at an estimated 30% tax rate - Write-downs/Exceptional items (at an estimated 30% tax rate) + Pre-Revenue Costs + Taxes + Interest charges (at an estimated 30% tax rate). This is the most inclusive cost total as it really gives investors an idea how much margin is left for them after paying for government and financing costs.
Core Costs (with taxes): Same as "Full Core Costs" but we remove finance/interest charges.
Core Costs (without taxes): Same as "Core Costs with taxes" but we remove taxes. These costs are best used to compare mine operations with other companies while removing jurisdiction and financing.
"Full Core Costs" will give us an idea of ALL the costs a miner has when producing an equivalent ounce of gold for the quarter including financing, and thus it is the ultimate profitability of the company (what all-in costs should be). "Core Costs with taxes" gives us an idea of all the costs to produce without including financing, and gives us a good idea of the actual profitability of total district operations. Finally, "Core Costs without taxes" gives us an idea of the actual profitability of mining as it removes finance charges and tax issues.
Core Costs of Production
Let us use this methodology to take a look at the company's results and come up with the true cost figures for each ounce of production. When applying our methodology, we standardized the equivalent ounce conversion to use the average LBMA price for Q1FY16 which results in a silver-to-gold ratio of 80:1, copper-to-gold ratio of 557:1, zinc-to-gold ratio of 1554:1, iron-to-gold ratio of 31, and a lead-to-gold ratio of 1495:1. Since our conversions change with metal prices, this may influence the total equivalent ounces produced for past quarters - which will make current-to-past quarter comparisons much more relevant.
Additionally, Eldorado Gold mines a concentrate mix of lead and zinc at its Stratoni mine in Greece and we converted this mix to gold at a 1.57:1 ratio of tonnes of concentrate to ounces of gold, which was based on the average quarterly price for each sold tonne of concentrate (each tonne sold in Q1FY16 at an average of $753). We like to be precise, but minor changes in these ratios have little impact on the total average price - investors can use whatever ratios they feel most appropriately represent the by-product conversion.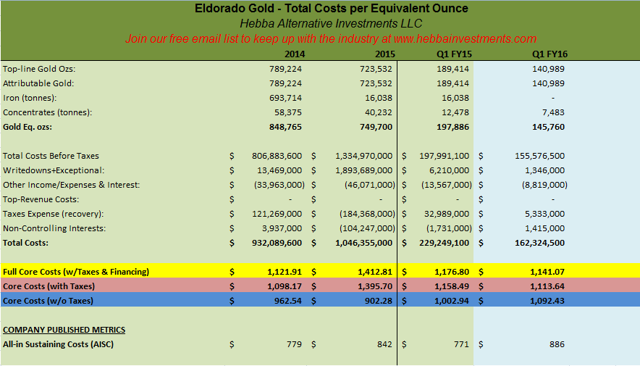 Observations for Investors
Eldorado's first quarter was not as bad as we thought considering the many issues the company is facing as core non-tax costs came in at around $1092 per ounce, higher than shareholders are used to but not too bad compared to other gold producers. The company's core costs when including taxes was $1114 per gold-equivalent ounce, which was an improvement on a YoY basis and over the past few years. Finally, the company's all-in core costs were $1141 per gold-equivalent ounce, which is actually very good compared to the company's previous performance.
What is interesting is that despite the company showing a net loss of slightly less than $4 million dollars on the quarter, if they had sold all the gold they produced in the quarter they probably would have shown a slight gain for the quarter.

Source: Eldorado First Quarter Report
As investors can see, the company actually produced 140,989 ounces of gold, but only sold 133,467 ounces in the quarter, leaving a hefty $7-9 million in revenues unsold. Of course they will sell this gold in future quarters, but if investors simply look at the loss during the quarter they would assume unprofitable operations when that may not be the case.
On a comparative basis, we have only published a few competitor costs so comparisons are going to be limited until we publish other all-in costs - you can join our email list from our website to get costs as they are issued. Also, investors should note that the data in the table below is sorted by core all-in costs.
| | | | |
| --- | --- | --- | --- |
| Company | Q1 Core Non-tax Costs | Q1 Core Costs | Q1 Core All-in Costs |
| Yamana Gold (NYSE:AUY) | Around $1050 per gold-equivalent ounce | Under $1000 per gold-equivalent ounce | |
| Agnico-Eagle (NYSE:AEM) | Under $1100 per gold-equivalent ounce | Under $1100 per gold-equivalent ounce | |
| Goldcorp (NYSE:GG) | Over $1100 per gold-equivalent ounce | Under $1100 per gold-equivalent ounce | |
| Eldorado Gold | Under $1100 per gold-equivalent ounce | Over $1100 per gold-equivalent ounce | Over $1100 per gold-equivalent ounce |
| Newmont (NYSE:NEM) | Under $1000 per gold-equivalent ounce | Under $1200 per gold-equivalent ounce | |
| Iamgold (NYSE:IAG) | Under $1400 per gold-equivalent ounce | Over $1400 per gold-equivalent ounce | |
Eldorado's cost structure seems to be in-line with other gold miners despite the challenges the company has faced over the past year, particularly in Greece.
Also, the company is clearly transitioning away from its Asian assets as it has sold one of its Chinese mines for $300 million (in April) and we are assuming they will sell their other Chinese assets. The big question is how will the development go for the company's Greek projects including the company's Olympias mine, which is very high-grade and contains over 4 million ounces in proven and probable reserves. Recently, it seems that the Greek government is more open to development as there have been more positive developments regarding permitting of the company's mines.
While it's hard to predict if the political climate will continue to improve for the company, right now it seems positive for Eldorado and the fact they were able to keep costs low despite the issues the company has faced is a positive sign for investors.
Disclosure: I/we have no positions in any stocks mentioned, but may initiate a long position in EGO over the next 72 hours.
I wrote this article myself, and it expresses my own opinions. I am not receiving compensation for it (other than from Seeking Alpha). I have no business relationship with any company whose stock is mentioned in this article.