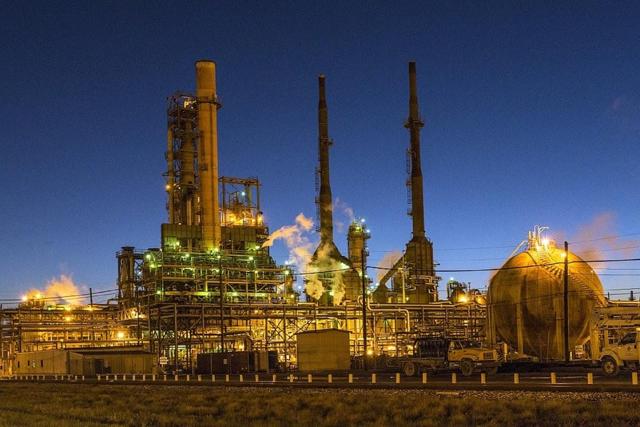 source: Stock Photo
It's evident that financial media are going to maintain a bullish narrative concerning oil, even though there are a lot of things that could easily and likely disrupt the rally. The current spin is we're very close to a rebalancing of the market, even though the data concerning oversupply remain in place.
There are a lot of threats to this weak rally, which is given the appearance of strength by continuing to report how much oil has rebounded from its bottom, which when measured in that manner is up about 75 percent from the low. The current price of oil doesn't look near as good when you start going further back.
The positive reporting will continue, but the reality is there are a lot of things in the market working against the rally, including the weakening demand from China, a stronger U.S. dollar, an increase in supply from some OPEC countries, and the inevitable boost in production from U.S. shale producers if the price continues to climb.
The China factor
There have been several interesting reports concerning China's oil sector recently, as its domestic production fell 5.6 percent in April, its demand for oil in March was down 1.6 percent, a new pipeline will be developed starting in June, and in April it imported oil at the second-highest level in its recorded history.
What needs to be understood about China is when the price of commodities plunge, it has a strategy of buying up large amounts of those commodities to stockpile them for the future. That is now happening with oil, which is starting to strain its storage capacity, one of the major negative catalysts having the most potential to stop the oil rally. China is the second-largest oil consumer behind the U.S., consuming a little over 11 million barrels per day on average. It produces just over 4 million barrels per day domestically.
In response to the growing storage crisis, China made a deal with South Korea to provide 3.5 million barrels to 5 million barrels of crude storage capacity; that is expected to be available in the second half of 2016. That will help a little, but it's a drop in the bucket for China's appetite for cheap oil.
China is silent on much of its oil business, but there can be no doubt it's approaching a capacity issue that will force it to curtail demand. That will have a significant impact on global demand in the near future.
Even now storage is full, and it is projected to take from 2 to 3 months to work through the existing inventory. On top of that teapot facilities are scheduled for maintenance this quarter, which will cut back on Chinese demand for at least several months.
Another problem for China is its lack of pipeline capacity, which will also limit its ability to meet demand. It is ready to lay another pipeline from Russia, with China National Petroleum Corp. ready to begin work in June. It's expected to take a little over a year to complete if it finishes on schedule.
Together this will be a big factor in slowing down the oil rally over at least the next 6 months. It's also why the media is changing its focus to India as a key driver of oil demand. China is obviously not the positive catalyst to look to during this period of time.
There is real demand from China at these prices, but it doesn't have the infrastructure at this time to meet it. That's bearish for oil.
U.S. dollar getting stronger
The U.S. dollar has been strengthening lately, This has started to put pressure on oil prices, and will continue to do so if the dollar remains strong.
The major thing to look to with the dollar is whether or not the economy provides incentive for it to continue going strong. At this time it's a mixed bag, but the market in rewarding the dollar because it apparently believes the economic positives of the U.S. outweigh the negatives.
A stronger dollar makes importing oil using other currencies more expensive, which can push down demand.
There is also the fact there is a dovish outlook by the Fed to raise interest rates, which has also been bolstering the dollar. The Fed is in no hurry to increase rates, so that will be a catalyst for the greenback.
OPEC raising production
It has been interesting to see the clear change in Saudi Arabian and OPEC policy, with a number of cartel members declaring they're going to increase production. This is such an abrupt change it is surprising to not see it being reported as a bearish move. Instead, it's being treated like a positive strategy based upon the idea the demand for oil is soaring at a rapid pace.
I don't believe that's the case at all. Rather, it appears what is happening is the decline in production from the U.S., China, and some others, is the reason behind the boost in output. It defies belief to think just a little while ago most OPEC members were ready to freeze production to prop up the price of oil. To think over a very short period of time this global outlook has suddenly and amazingly changed direction isn't believable.
The problem is there is uncertainty as to how much supply should be brought to the market. As shown, China is reaching capacity, and the U.S., while declining in output, is still doing so at a slower pace than expected. Since production is rising, my thought is it's going increase the spread between supply and demand. India isn't going to suddenly become some key catalyst that drives oil demand. Further out that is likely, but not anytime soon.
With Iran surpassing most expectations concerning how long it would take to increase its supply to the market, the decision by other OPEC members to increase supply could be to counter that quick growth.
Recently the Russian Energy Minister Alexander Novak said Russia will produce about 540 million tons (10.81 million barrels per day) in 2016, up from the 534 tons produced daily in 2015. He added that the global oil surplus is at 1.5 million barrels per day, and doesn't see a rebalancing until the first half of 2017.
Taken together, this doesn't sound like a quick rebalancing of the market, but rather a scenario, when combined with the other factors mentioned, that could quickly blow up in the faces of investors thinking we're on the cusp of a rebalancing taking place.
U.S. shale well completions
The stronger U.S. shale producers are already in the process of completing wells in 2016, and if the price of oil does manage to climb higher, many more will be brought into play. I see this as one of the more underestimated factors associated with the overall global oil picture.
One of the reasons this may be the case is because even with well completions, many of the shale companies remain under duress. The reason for that is many of the more expensive wells are in production, which they'll have to work through before the stronger wells have more of an impact on the performance of the firms.
Even though they may not have the impact desired on individual companies yet, this doesn't change the fact more oil will be brought to market that wasn't before. This leads to another element, which is the number of rigs shut down in the U.S. This has of course taken some supply off the market, which again, masks the impact new wells are having; it would have been worse without them.
More important is what happens when an actual rebalancing does occur. It would definitely drive up the price of oil, but it would also bring a lot more shale production to the market, effectively offsetting the balance once again.
In the short term, if there is more supply coming from other competitors, and shale once again surprises to the upside, it would surpass the pace of demand growth, resulting in the price of oil declining.
Conclusion
I don't view these four catalysts as things that might happen, they're happening right now. As far as the supply and demand issue, there is no doubt supply is already increasing, and will continue to do so into 2017. The question is how accurate some of the projections are for demand, and how much shale oil will be added to the market in 2016 from completed wells.
China is about to impact the market because of capacity issues and maintenance of its teapots, which means for several months the demand the market is accustomed to will fall. We don't know to what degree yet, but it won't be insignificant.
The U.S. dollar, while seemingly on a sustainable upward trajectory, will have its ups and downs as always, but it looks like there will be more ups than downs, and when taken together with the other catalysts, provides a potentially ominous situation through at least the end of the third quarter, and possibly early fourth quarter.
With daily supply still exceeding demand, and the impact of the temporary outage from Canada and the fire that slowed oil production there ready to be brought back to market, I simply can't see how this can be considered a rebalancing scenario through the rest of 2016.
Disclosure: I/we have no positions in any stocks mentioned, and no plans to initiate any positions within the next 72 hours.
I wrote this article myself, and it expresses my own opinions. I am not receiving compensation for it (other than from Seeking Alpha). I have no business relationship with any company whose stock is mentioned in this article.