Between January and April of this year, Alcoa AA shares soared almost 70%. Competitors like AK Steel AKS and US Steel X doubled. The main reason: dollar weakness.
In the last ISM report, steel and metal companies mentioned that higher steel prices were merely supply driven. The economy continues to plunge without any big changes. I completely agree with that. Let's take a look at primary steel industry sentiment. Sentiment has been highly correlated to the US Dollar.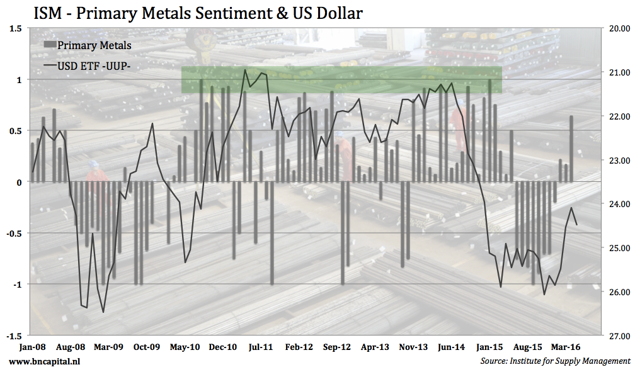 Primary metal sentiment has been great between 2009 and 2014. When the economy started slowing in 2014, sentiment dropped sharply. During 2015, sentiment has soared because the USD got weaker. This confirms the comments made by the companies. Sentiment increased because metal prices went up.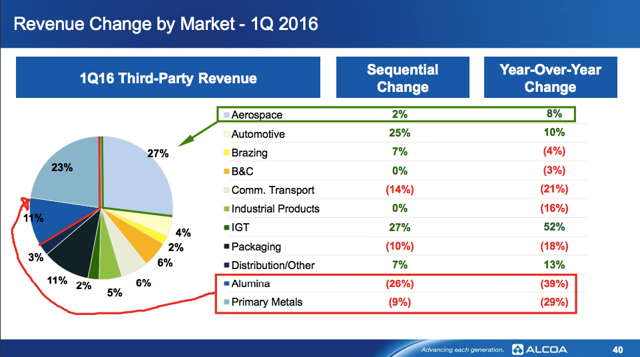 Source: Alcoa Q1 Investor Presentation
Although Alcoa sees growth in both the aerospace and automotive industry, the biggest part of their market is imploding. Alumina and primary metals are down close to a third in comparison to one year earlier.
In addition to that, most of Alcoa's revenue comes from the US and Europe.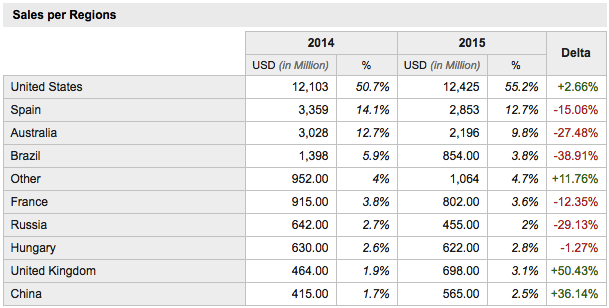 Source: 4-Traders
Europe and North America are the regions with the lowest aluminum demand growth. Markets like China and emerging markets are stronger. Moreover, global steel importers will suffer even more once the USD heads higher.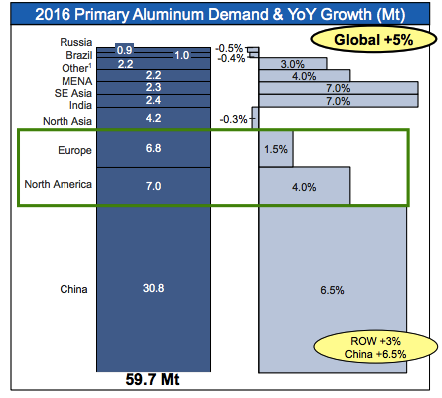 Source: Alcoa Q1 Investor Presentation
Now, let's look at Alcoa's revenues. Revenues are highly correlated to the US Dollar. Since the US Dollar started rallying in 2014, Alcoa's sales have been in a clear downtrend with no end in sight - at the moment. I see a high possibility that sales hit 4.5 billion USD by the end of 2016. Maybe earlier.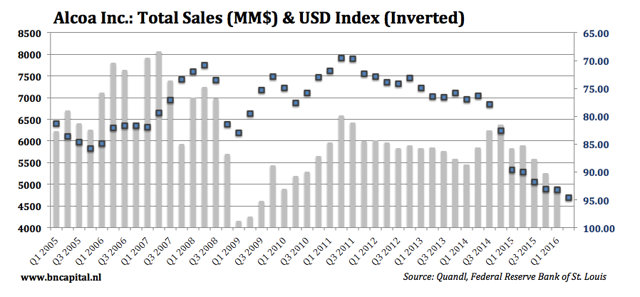 I get that many people advise you to buy AA shares, because Alcoa gives a good outlook for aerospace, automotive, energy turbines etc. However, their main business is suffering and all major factors that play a rolem point towards contraction. Sentiment and the regional sales breakdown, which is highly affected by the USD. Therefore, I don't see the possibility that Alcoa is going to outperform the average basic material stock. I therefore started shorting Alcoa and buying the Materials Select Sector SPDR ETF XLB.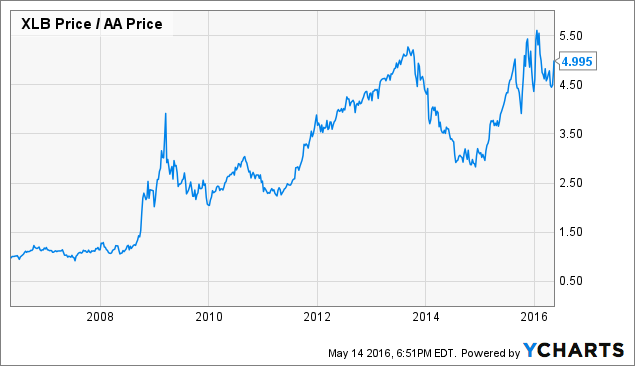 Fundamental Chart data by YCharts
The spread is market neutral since I am 0% net long. The only problems that could push this trade lower are a weaker USD and unexpected positive surprises from Alcoa.
At this point however, I am convinced that the ratio spread is headed higher and advise you to ignore Alcoa in case you are a long only investor. If you hedge positions like I do, you might consider to do the same. Keep in mind that Alcoa is volatile and start building this hedge with a smaller amount of money. Keep increasing the trade as the price increases.
Disclosure: I am/we are short AA.
I wrote this article myself, and it expresses my own opinions. I am not receiving compensation for it (other than from Seeking Alpha). I have no business relationship with any company whose stock is mentioned in this article.
Additional disclosure: My AA shorts are hedged with XLB longs