"Government finances have deteriorated significantly."
That's what Moody's had to say this weekend about the situation in Saudi Arabia, which was downgraded by the ratings agency to A1 from Aa3 on Saturday.
The move comes as no surprise to anyone who follows the region. The kingdom's fiscal situation spiraled out of control last year, after an ill-fated attempt to artificially suppress oil (NYSEARCA:USO) prices ended up blowing a giant hole in Riyadh's budget.
The Saudis thought they had everything all figured out. They would crush prices, drive high-cost US producers out of business, force the Russians to cooperate on Syria, and get a head start on undercutting Iran's windfall profits in the event the nuclear accord ended up getting done. Or, at least, that appears to have been the plan.
It's not 100% clear where exactly things went wrong, but in retrospect, it certainly seems like either: i) the Saudis didn't do the math correctly when assessing how falling prices would affect their fiscal balance, ii) they didn't anticipate just how far prices would fall, or iii) they didn't appreciate how powerful ZIRP and the attendant hunt for yield was when it came to keeping uneconomic production on-line in the US. Perhaps some combination of those three factors was at play.
Whatever the case, the Saudis ended 2015 with a budget deficit in the neighborhood of 16% of GDP. That's a veritable horror show. The number is expected to come in at 13% this year. Meanwhile, the entire debacle has weighed heavily on the kingdom's SAMA reserves and on the riyal's USD peg. Riyadh has moved to tap the debt markets in an effort to offset the burn.
Where things go from here is anyone's guess, but the Moody's downgrade underscores the fact that this isn't as simple as selling a 5% stake in Saudi Aramco and drafting a manifesto that makes amorphous promises about government revenue diversification ("Vision 2030"). Riyadh is in trouble. Real trouble.
I'm going to include a rather lengthy excerpt from Moody's here, because frankly, all of it is important if you want to understand how quickly this situation is deteriorating:
The drop in oil prices from their mid-2014 peaks has materially undermined the Kingdom's credit profile, negatively affecting the economy, the government's finances as well as both external accounts and reserve buffers. While the government has ambitious and comprehensive plans to address the shock by diversifying its economic and fiscal base, those plans are at an early stage of development and their impact remains uncertain.

Nominal GDP has dropped by 13.3% in 2015, and Moody's expects another 5% reduction in 2016. In line with the anticipated gradual recovery of oil prices, nominal GDP should reach its pre-oil price shock level by 2019. Due to fiscal consolidation in the form of streamlined government spending, Moody's expects real GDP growth to drop to 1.2% in 2016 from 3.4% in 2015. Over the coming five years, growth will average 2%, much lower than the 5% annual average recorded in 2011 to 2015.

Government finances have deteriorated significantly. According to Moody's estimates, the general government fiscal balance recorded a deficit of 14.9% of GDP in 2015, following a deficit of 2.3% in 2014, and the rating agency expects a similarly-sized deficit this year. Although the fiscal balance will improve gradually over the coming four years, Moody's expects an average deficit of 9.5% of GDP between 2016 and 2020, requiring cumulative financing of SAR1.2 trillion ($324 billion or almost 50% of estimated nominal GDP in 2015).

It is not yet clear how this cumulative financing need will be met: while Saudi Arabia's low levels of government debt at 5.8% of GDP in 2015 provide fiscal space, no medium-term funding strategy has yet been announced. Under Moody's baseline scenario, which assumes that fiscal deficits will be 100% financed by debt issuance from 2017, general government debt would rise to more than 35% of GDP by 2018, and continue to climb thereafter beyond the Aa3-rated median of less than 30%.

Saudi Arabia's buffers will continue to erode. Following a peak of $731 billion in August 2014, foreign exchange reserves have dropped by almost $155 billion to $576 billion as of March. The oil price shock has led to a marked deterioration in Saudi Arabia's external current account balance, which fell to a deficit of 8.2% of GDP in 2015, from a surplus of 9.8% in 2014. Moody's expects the current account deficit to widen further to almost 12% of GDP this year, before gradually improving in the following years.
That's really, really bad. You'd think that given the gravity of the situation, the Saudis would be doing everything in their power to drive crude prices higher, but it's almost as if Riyadh is in denial. Or maybe they just believe their own fantasies about diversifying the economy away from hydrocarbons quickly enough to avoid a financial meltdown. Or perhaps, as I've suggested on any number of occasions, the kingdom is blinded by political expediency and would rather risk financial armageddon than concede market share and/or allow Iran to benefit from higher prices.
Moody's didn't confine its negativity to Saudi Arabia. Bahrain and Oman also got the axe (to Ba2 from Ba1 and to Baa1 from A3, respectively), and the rest of the usual suspects (Abu Dhabi, Qatar and Kuwait) are all sitting on outlook negative.
I think for many Western investors this is a kind of opaque part of the world compared to, say, Europe or Japan. The mainstream financial media doesn't provide a ton of data on Middle-East economies, so let's take a look at what the situation truly is in the Gulf. First, here's a look at fiscal breakeven crude prices for the region: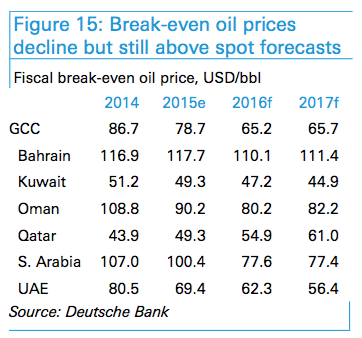 (Table: Deutsche Bank)
As Deutsche Bank writes, "despite the ambitious steps so far, fiscal break-even oil prices for 2016 and 2017 are expected to remain well above oil price forecasts in all GCC countries [and] consequently, we expect all countries to post fiscal deficits over the next two years."
And so, despite the fact that the GCC countries control some $2.5 trillion in reserves collectively (so about $600 billion less than China)...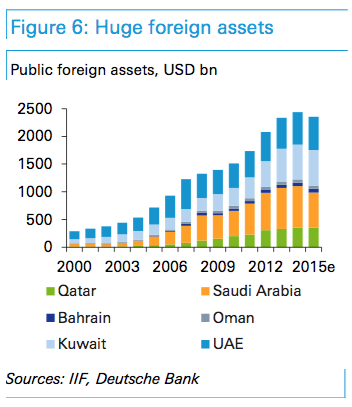 (Chart: Deutsche Bank)
... they'll still need to borrow to finance their deficits lest the situation should become unstable...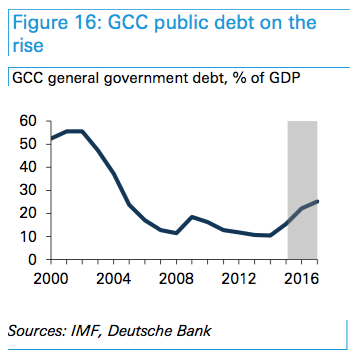 (Chart: Deutsche Bank)
So that's the aggregate data. For a country-by-country breakdown, we go to Credit Suisse (these are debt-to-GDP projections under various oil price scenarios):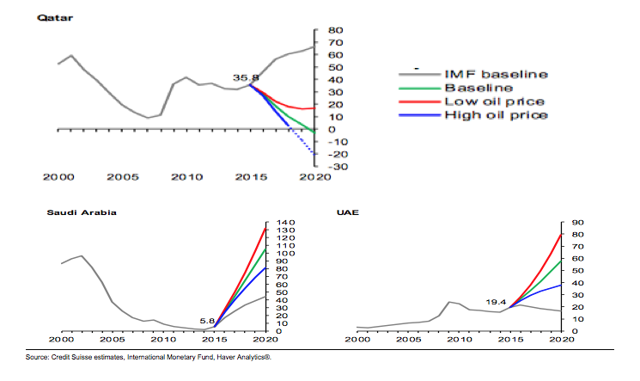 (Charts: Credit Suisse)
Finally, here's Credit Suisse driving home the point by noting how dramatically the region's debt dynamics are likely to change in an environment where low prices become the new normal:
We find that, in the absence of corrective fiscal measures and/or currency depreciation, government debt-to-GDP ratios could rise dramatically in Saudi Arabia (to 105% by 2020 from 6% in 2015) and in the UAE (to 58% by 2020 from 19% in 2015).
This is a rare occasion where I'll refrain from closing with some manner of witty remark, play on words, or pun. The reality here is that if oil prices don't move markedly higher and stay there, there's going to be big budget trouble for GCC countries.
That's just the long and the short of it.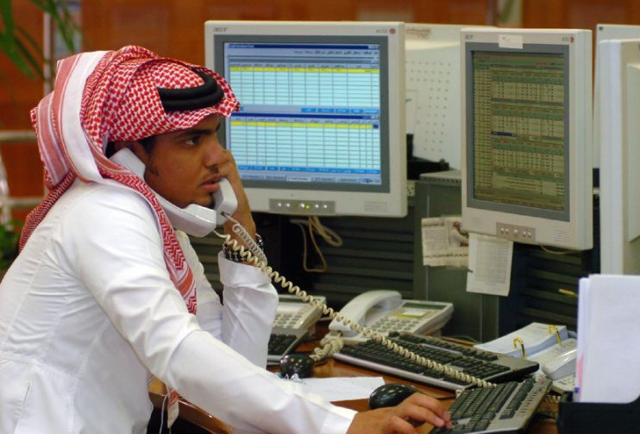 Disclosure: I/we have no positions in any stocks mentioned, and no plans to initiate any positions within the next 72 hours.
I wrote this article myself, and it expresses my own opinions. I am not receiving compensation for it (other than from Seeking Alpha). I have no business relationship with any company whose stock is mentioned in this article.