Data fusion is the process of synthesizing raw data from disparate databases in order to generate more meaningful data than can be extracted from the sum of its parts. In the world of Big Data, data fusion is a small subset that continues to gain increasing interest as additional insight is sought in order to create comparative advantages. No greater is this the case than in marketing, where such insights can lead to meaningful cost savings and improved client acquisition rates on a massive scale.
Yet, not surprisingly, such insight generation has remained costly and limited by outdated platforms that have not been able to keep up with the changing technology environment. IDI, Inc. (IDI) is a company that hopes to make a significant impact in multiple industries through the use of a next-generation data fusion platform built in a cloud-based environment. The company hopes to bring its platform not only to the risk management industry (where it has traditionally been used), but more importantly, into the realm of marketing solutions and custom data analytics.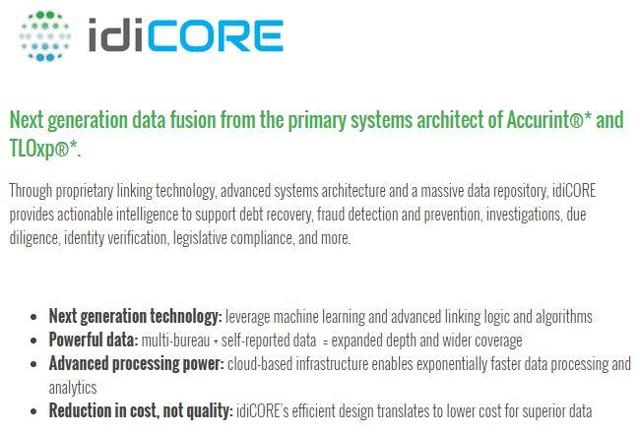 Putting Together The Opportunity
There is no denying that IDI, Inc. is a company that is currently trading well under the radar for most investors. In a short amount of time, it has undergone a transformation so intense that much of the market has overlooked the story that is now underway. Over the last two years, IDI has evolved from being a failing Chinese advertising company (back when it was known as Tiger Media) into the developer of a next-generation data fusion platform paired with a rapidly growing advertising subsidiary. This stealthy entrance into the market has largely been the result of a complex history.
The company known today as IDI, Inc. was essentially pieced together by its wealthy billionaire backer and largest investor, Dr. Philip Frost. Frost serves as the current CEO and chairman of OPKO Health (OPK) and currently resides as IDI's vice chairman. There is reason to believe that Frost and IDI founder, Michael Brauser, have had their eyes on IDI's data fusion platform for some time. In 2013, the two were part of the Data Acquisitions Group, LLC that attempted to buy the assets of TLO, a predecessor platform now owned and operated by TransUnion (TRU).
Yet, when this acquisition attempt fell through, it was clear that significant effort was made to reconstruct the business opportunity. Interactive Data LLC, a data solutions company with key access to regulated data, was combined with The Best One, Inc. (TBO), a company formed with the deep knowledge of how to construct a data fusion platform. The CTO of TBO was Ole Poulsen, who was the primary systems architect for two of the data fusion industry's key platforms found in Accurint and TLOxp. The combined entity, then known as Interactive Data, LLC, was then reverse-merged with Tiger Media, a company in which Frost was already well entrenched.
Taking his influence further, Frost became a key backer as he helped finance the acquisition of Fluent, Inc. through a $40 million investment in preferred stock. Purchased for $100 million in cash and 15 million shares of common stock, the Fluent acquisition was essentially priced at $250 million based on the closing price of November 17, the day of the announcement. Effectively, this acquisition of Fluent helped in reverse-merging the much bigger private advertising company into the public entity already dedicated to building a data fusion platform.
Fluent Accelerates IDI's Market Entrance
Throughout the company's recent transformation based upon growing acquisitions, IDI has very quickly matured into a company capable of growing on its own. In particular, we must first acknowledge that the IDI, Inc. of today is essentially being financially supported through its recent acquisition of Fluent. This is largely due to the lengthy development time that is needed to deploy and scale-up the company's next-generation data analytics platform, idiCORE. In the past, legacy systems had taken up to 4 years to accomplish the feat of rolling out a stable platform. Yet, with the announced commercial release of idiCORE in early May, IDI has managed to accomplish this in less than 2 years.
Nevertheless, prior to scaling up business for idiCORE, IDI has relied upon Fluent to make a meaningful impact to the company's financials. As a profitable company on its own, Fluent has continued to see sales accelerate. At the time of announcement, Fluent was generating $126 million in revenue and almost $20 million in EBITDA over the prior 12 months.
With a full quarter now under its belt since the Fluent acquisition, IDI has seen a corresponding increase to the top line. According to the company's Q1 2016 results, consolidated revenue has increased to $39.4 million from $1.3 million in Q1 2015, a near 3,000% increase. Operating activities also saw positive cash flow, and the company achieved an adjusted EBITDA of $2.4 million. With such results, IDI is now well on its way to meet or exceed its guidance of more than $170 million in revenue in 2016.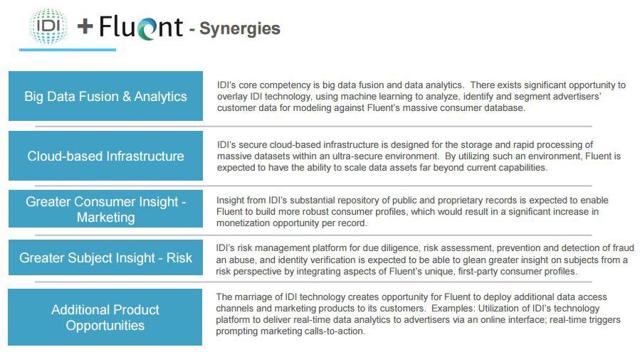 (Image Source: IDI Corporate Presentation, March 2016)
Yet, beyond Fluent's financial impact to IDI, the subsidiary's most valuable contribution to the parent company may ultimately prove to be the massive amount of proprietary data that it is now collecting on a daily basis. Fluent's owned data assets consist of over 100 million comprehensive profiles of US consumers. More importantly, its unique approach to interacting with these consumers on a regular basis provides for significant flexibility and refinement of that self-reported data. Armed with billions of new data points, IDI can now effectively scale in a rapid fashion into the industry of marketing solutions.
On its own, Fluent was already beginning to see accelerated sales traction, as seen in the graph below. The company is compensated by its clients based on a performance-linked model. The strong retention rate and growing revenue per advertiser remains highly suggestive of the company's own performance to improve customer satisfaction. With the rolling out of the new data analytics platform, shareholders can anticipate improved synergies and continued sales growth going forward.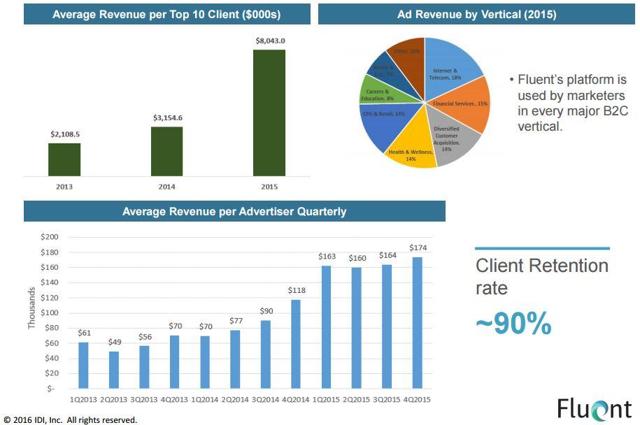 (Image Source: IDI Corporate Presentation, March 2016)
Fluent's unique model of interacting with individuals on a massive scale provides for a differentiated approach to online marketing. Yet, the combination of these accumulating self-reported data points with an advanced data fusion platform provides the opportunity for a meaningful synergistic impact to come. The platforms of both Fluent and IDI are built around infrastructure positioned for today's online interconnectivity. Of particular note is the high emphasis on the part of Fluent to target a mobile audience. Mobile advertising remains a rapidly growing market space witnessing significant funding increases within advertising budgets.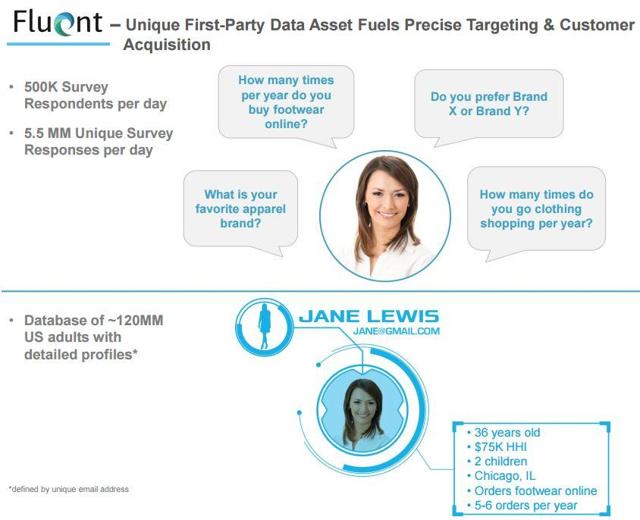 (Image Source: IDI Corporate Presentation, March 2016)
Frost's Insider Purchases Significantly Increase
As it stands now, IDI, Inc. typically trades with an average 3-month trading volume of a mere 92,000 shares per day. This roughly equates to a slim $500,000 worth of shares traded daily. As such, investors should remain very intrigued when their largest shareholder decides to spontaneously invest another $10.5 million in IDI, Inc. As seen in the filed Form 4, Dr. Frost purchased 2.19 million common shares at an average price of $4.80 on May 9. What remains most impressive about this particular purchase is that it largely represents a near 5% stake in the company's total outstanding share count.
Yet, apart from being the largest insider purchase in IDI, this is by no means the first of its kind from the company's vice chairman. Just as he has regularly purchased stock in OPKO Health, Frost continues to demonstrate a similar confidence in IDI, Inc. Yet, while he has purchased shares on numerous occasions, he has typically done so on the much smaller level of 5,000-20,000 share transactions. A quick look at Frost's purchasing history can be seen in the chart below.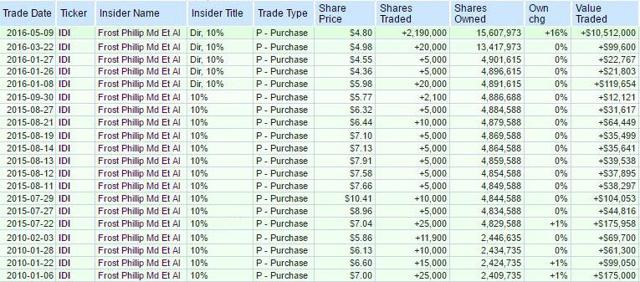 (Image Source: OpenInsider)
It should be noted that his interest in IDI appears to be rapidly growing over the past few months. The majority of these transactions occurred after the acquisition of Interactive Data, LLC announced in December 2014. Yet, of particular interest is the fact that Frost significantly increased the size of his purchases one week after the announcement of idiCORE's commercial release. Such confidence remains a positive sign for investors if we are to believe he has the inside scoop on the platform's early results.
Final Thoughts
IDI, Inc. is a company that is now witnessing accelerated sales growth. The company's stock remains largely unknown by Wall Street due to the stealthy nature of its transformation over the past two years. However, investors would do well to realize that the public company of today largely represents the debut of a rapidly growing private company that has found considerable success in digital advertising. More so, the same public company is just now beginning to see its new data analytics platform come to market after a lengthy amount of time in development.
Yet, the most promising fact of all lies in how well the companies and their platforms should be able to benefit from their integration together. Clients should be able to soon gain more in-depth understanding out of their data, and more comprehensive profiles of individuals should soon emerge. The inevitable result of this is increased market share based on progressively improving performance.
IDI, Inc. now stands on the brink of introducing a cutting-edge data fusion platform to a chaotic online marketplace that is looking to make sense of increasing amounts of disparate data. Given that the internet itself has been sustained on such marketing budgets geared towards advertisements, the opportunity found here appears to be quite large indeed.
Disclosure: I am/we are long IDI, OPK. I wrote this article myself, and it expresses my own opinions. I am not receiving compensation for it (other than from Seeking Alpha). I have no business relationship with any company whose stock is mentioned in this article.
Editor's Note: This article covers one or more microcap stocks. Please be aware of the risks associated with these stocks.