Action: Accumulate
On May 5, 2016, Sprouts Farmers Market (NASDAQ:SFM) announced the company's earnings. As depicted below, this led to a substantial decline in the stock price. What is not illustrated in this figure is the fact that the company traded lower by over 10 percent before closing the day down nearly 8 percent.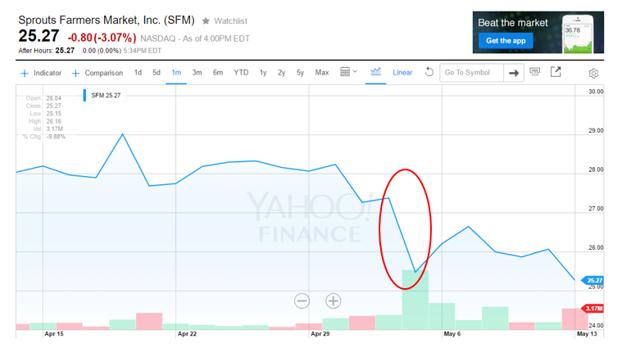 Source: Yahoo! Finance
During these lows, a position was added to Sprouts Farmers Market at total cost of $25.18/share. This appeared to be a great move days later, but with the broader market declines, the stock has come back down to immediate post earnings levels.
The clear catalyst weighing on the company was the revenue miss. Estimates were for just over $1 billion and the company missed these estimates by about $17 million. In essence, instead of meeting growth targets of 17.8 percent, the company grew 15.8 percent, a 200 basis point decline.
From a long-term perspective, the top-line miss was not catastrophic by any means and was actually still strong. With diluted EPS improving by nearly 26 percent and free cash flow growing by nearly 90 percent, this begs the question as to how the market is valuing growth.
Apparently, the market is looking for perfect performance from all angles. As of May 13 th, Sprouts Farmers Market traded with a P/E ratio of 28 times earnings on a trailing twelve-month, TTM basis. The forward P/E is currently at 26 and 22 times 2016 and 2017 diluted EPS estimates.
Comparing companies to peers is important, but most companies are never exactly the same. Whole Foods Market (NASDAQ:WFM) is a good peer to use for this exercise. Whole Foods Market's future P/E ratios for the same years are both fairly close to 20 times earnings. However, it should be noted that the company is expected to grow earnings by negative 2 percent from 2015 levels, whereas Sprouts Farmers Market is estimated to grow earnings by over 30 percent.
Similarly on the revenue side, Whole Foods Market is expected to grow revenue 9 percent through 2017, whereas Sprouts Farmers Market is estimated to grow its revenues by 36 percent for the fiscal year comparison.
Many older consumer staple companies with stronger brands than Sprouts Farmers Market's private label are trading with P/E multiples equal to or higher 2017 levels. Companies include McCormick & Company (NYSE:MKC), Campbell Soup Company (NYSE:CPB), General Mills (NYSE:GIS), among others. While these are not direct peers, it still speaks to the sector's valuation, and more importantly, to Sprouts Farmers Market's substantial outperformance for revenue, diluted EPS and free cash flow growth.
Specifically, while revenues missed estimates, the company improved its profit margin year-over-year, YOY by 30 basis points approaching 5 percent. The growth in profits lately have translated to substantial performance of free cash flow growth driven by operating cash flow growth of nearly 45 percent. Capital budget costs have remained stable so the company took the opportunity to return value to shareholders by stock repurchases.
Valuation measure by EV/EBITDA has greatly declined from nearly 20 times during 2014 to 12 times currently. All of these indicators point to Sprouts Farmers Market growing at a rate much faster than the majority of companies in the consumer staples sector. The valuation during 2017 and 2018 will be approaching equivalent or even lower levels versus many of these peers.
Based on this, I feel comfortable with a premium valuation including a P/E multiple of 25 times diluted EPS for the mid-term. While this suggests a stock price of $24.25/share for 2016, 2017's price target based on this multiple would be $28.50/share, suggesting potential 13 percent upside over the next 12 months. Additionally, the free cash flow yield has improved to nearly 4 percent based upon the current price. In the event this yield grows higher resulting from future earnings beats, the company's stock price could increase or a higher premium could occur.
For those worried about competitor stores increasing, it is not a question of saturation of the market by the number of potential stores. It is rather a question of the Sprouts Farmers Market brand being farmers market focused keeping a higher supply of fresh items versus processed food and snacks, which dominate many other grocers.
Keeping tabs on Sprouts Farmers Market revenue growth will still be very important. But in a sector that has witnessed revenue declines for older companies and slowing growth for newer entrants, Sprouts Farmers Market has the potential to continue being a leader moving forward.
Disclosure: I am/we are long SFM.
I wrote this article myself, and it expresses my own opinions. I am not receiving compensation for it (other than from Seeking Alpha). I have no business relationship with any company whose stock is mentioned in this article.