A large divergence has taken place this year between the Yen (NYSEARCA:YCS) and the S&P 500 (NYSEARCA:SPY). The Yen has been a key signal hinting direction to US markets, but it has decoupled. If the US markets play catch up, there could be downside ahead for US stocks.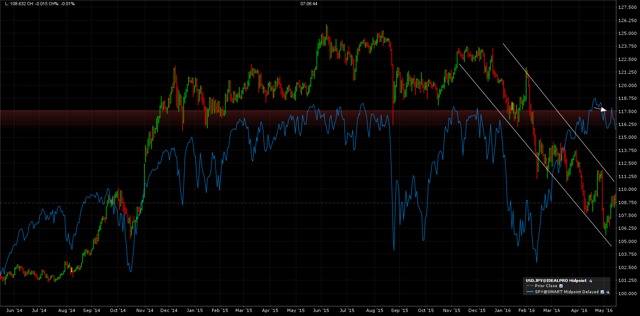 The chart above shows the USD-YEN pair in green and red being sold while the S&P 500 ETF (in blue) did not follow. Our guess is that US market buying came from mostly domestic sources after the relief of a lack of interest rate hikes at home.
While global investment in the US has been coming down, Japan, so far has been steady. The trend in the sale of dollars could be an ominous indicator of an important shoe to drop from Japan if their investment levels change.
The Euro has also diverged showing strength versus the US dollar which is uncharacteristic of strong US markets. The Euro/Dollar relationship looks like it may break out of a large base at 1.15 it has formed over the last year and a half. Before this year, the Euro was consistently weak during the US market's climb.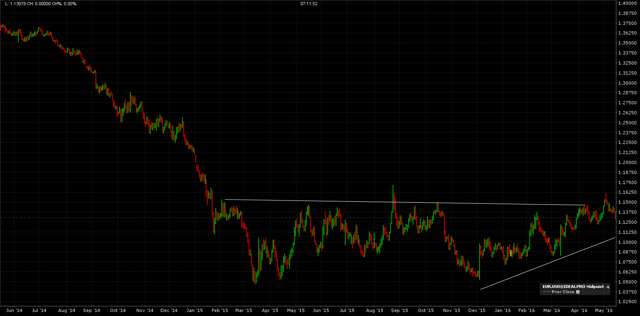 As foreigners show the propensity to sell US dollars, they may be giving a hint at having little patience for US markets. If fundamental reasons act as a catalyst, investors and governments could pull back their appetite for the US currency and markets.
We focus on Japan because they have been amongst the top 1 or 2 foreign investors in the US for years. Their selling dollars could leave business with less needed capital if the currency hints prove correct.
Last week the Japanese government said that they may intervene but the last time they did anything serious was back in 2011 when the Dollar/Yen was in the 80s, which would imply requiring a big move before they sold Yen and bought Dollars. The rhetoric nudged markets but did not, yet, move it from its downward trend channel started in November 2015 (Shown in the first chart).
On Tap In The US This Week: Stagflation Risk.
The US market has been held up by reduced fears of a near term rate hike. This week has important events that could guide that outlook. For now, the markets (as defined by the Fed Funds Futures) are not pricing in another rate hike until December 2016. CPI could potentially change that.
April CPI reports on Tuesday. The Fed is focused on keeping inflation at around 2%, which it has been. Recent reports for core CPI (which excludes the volatility of Food and Energy) have been:
| | | | | | | |
| --- | --- | --- | --- | --- | --- | --- |
| Sept | Oct | Nov | Dec | Jan | Feb | Mar |
| 0.2 | 0.2 | 0.2 | 0.2 | 0.3 | 0.3 | 0.1 |
A trend of .2 means an annualized 2.4% rate. A .3, even though it is only one tenth difference, would imply 3.6% inflation, which would be well above the Fed's target.
A combination of increasing inflation and slowing growth would, most likely, spook investors that rates could increase even as the economy is slowing.
Last week's jobless claims report sets the stage for stagflation fears heading into this week's CPI numbers and Fed minutes. Jobless claims saw their 3rd week in a row of higher levels. While the overall number is historically strong, any further increases could mean new 1 year highs for jobless claims, which would garner attention of a slow down. Depending on the CPI number, that slowing growth could be in the face of climbing inflation. Stagflation is usually associated with weak or trend-less markets and would be a reason for investors to sell.
Overall GDP growth's trajectory has been slowing. 3.9% in Q2'15, Q3'15: 2%, Q4'15: 1.4%, Q1'15: .5%. Consensus appears to be at 2.3% for Q2 and 2.4% for Q4. The direction of the trend, however, would say that there is a chance for downside to those expectations. Given jobless claims and recent weak retail reports at Nordstrom (NYSE:JWN), Macy's (NYSE:M), and JC Penney (NYSE:JCP) estimates for GDP could reset lower.
Negative Rates Head-fake Leading Into Fed Minutes
Leading into the minutes, much attention was given last week to Yellen's response to a question if she would consider negative rates. After previously not being reported to widely consider such a move, she appeared to give credence to the idea. Obviously, that is a move lower in interest rates. Traders could have this in mind leading into Fed minutes this week.
Fed minutes of the April meeting are expected to be released Wednesday at 2 pm EST. Markets went up on the days of the last 3 of 4 minutes releases after dovish tones prevailed. Previous meetings last year saw inconsistent market reaction. Now markets are expecting such tones to continue based on the last Fed meeting yet several governors have come out recently talking about the need to raise rates. Since the market is not pricing in a rate hike until December, any sooner expectations would likely hit markets. If the minutes focus on the points of dissension to the last FOMC minutes, this could spook markets in an important period.
Conclusion
Growth expectations could start to come down as inflation expectations could be hinting to higher levels. Global markets are also weighing on the US dollar, which could be a sign of little patience in the US recovery story. Some of these factors have important catalyst events that need watching this week. Our take, though, is that the markets need to catch up to the US dollar weakness, which would mean less foreign demand to support markets leading to more downside.
Elazar Advisors, LLC specializes in earnings and predicts, analyzes and reacts to earnings and earnings events as well as developing current company and macro stories with a hedge fund perspective.
If you want Elazar's analysis on Seeking Alpha, scroll to the top of the article and hit "Follow." Elazar also writes real-time pieces as earnings and news are reported on Seeking Alpha. If you want to be among the first updated, be sure to check the box for "Real-time alerts on this author" under "Follow."
Disclaimer: All investments have many risks and can lose principal in the short and long term. This article is for information purposes only. By reading this you agree, understand and accept that you take upon yourself all responsibility for all of your investment decisions and hold Chaim Siegel, Elazar Advisors, LLC, bestideas, their related parties, and its authors harmless.
Disclosure: I/we have no positions in any stocks mentioned, but may initiate a short position in SPY over the next 72 hours. I wrote this article myself, and it expresses my own opinions. I am not receiving compensation for it (other than from Seeking Alpha). I have no business relationship with any company whose stock is mentioned in this article.