Lending Club (NYSE: LC) recently announced that its chairman and chief executive, Renaud Laplanche, resigned after an in-house review revealed a violation of the organization's business practices. The company indicated that the violation related to the sale of $22 million in near-prime loans to one individual investor. Lending Club did not comment on how the sale deviated from the client's order, although they stressed that pricing and credit quality was not at issues.
In the announcement, the company stated that the financial impact of the sale was minor; however, the violation of stated practices, along with a lack of full disclosure during the review, prompted swift remedial actions in response.
In the aftermath of these revelations, two Wall Street investment banks halted purchases of the company's loans. The decision by both Jefferies LLC and Goldman Sachs may cause delay or cancel upcoming securitization deals for Lending Club, which quickly rose to become one of the largest, most successful online lenders.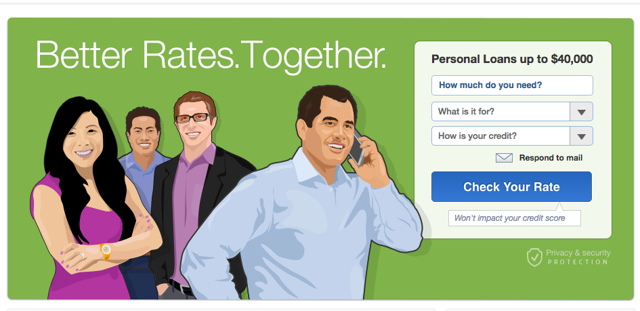 (Source)
Lending Club directly connects borrowers to willing lenders across an electronic platform. The company promoted itself by saying it was turning "the banking system into a frictionless, transparent and highly efficient online marketplace, helping people achieve their financial goals every day." Borrowers could get access to quick, competitively priced consumer installment loans, and lenders could realize higher returns than those paid by traditional banks and other financial institutions.
More Questions Arise Regarding Loan Securitization
The questions surrounding the event at Lending Club could impact the demand for securitized loans from other online lenders. This could compel the investment banks that structure those types of deals to delay future issues.
Although Lending Club does not rely upon the securitization of its loans for revenue, that channel for moving the company's consumer loans had shown promise-particularly to complement a difficult funding environment.
Demand from outside investors has waned recently across the online lending industry as a result of rising concerns about market volatility and more defaults. The latest developments surrounding the resignation of Mr. Laplanche have added to these challenges for Lending Club.
Decline In Loan Volume
The amount of Lending Club's first-quarter volume sold to hedge funds declined from 45 percent to 32 percent for the fourth quarter. In prior years, however, online lenders had little trouble finding investors for their consumer loans.
Competitors Could Step In
Competitors to Lending Club may now enjoy an opening in the industry and a chance to increase market share. Online lending platforms such as Kabbage, OnDeck Capital (NYSE:ONDK) and Prosper may initially face a decrease in demand as trust in the industry will need to be restored; however, they could benefit from assuming at least some of Lending Club's $2.75 billion in loan originations in Q1 2016 alone.
Conclusion: Time To Cash Out
Lending Club's high flying days may be on borrowed time. The company went public on December 11, 2014, and priced its IPO at $15, which was higher than the expected price range of $12 to $14. The stock soared on its first day of trading to close at $24.75 for an increase of 65 percent. Shares reached an all time high of $29 on December 18, 2014, but six months after its initial public offering, Lending Club's shares had dropped below the IPO price. The stock has continued its decline as doubts about peer-to-peer lending have emerged. Since the resignation of Mr. LaPlanche, the stock has dropped to the $3.50 price range.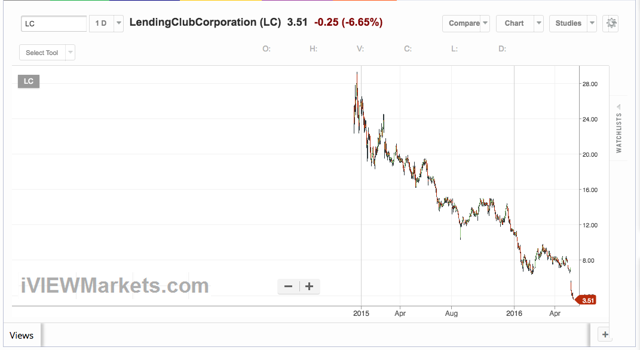 After a solid run, which we wrote about here and here; we strongly suggest investors cash out. While LC might not have much further down to go, it is doubtful from the evidence above that it will truly rebound.
Disclosure: I/we have no positions in any stocks mentioned, and no plans to initiate any positions within the next 72 hours.
I wrote this article myself, and it expresses my own opinions. I am not receiving compensation for it (other than from Seeking Alpha). I have no business relationship with any company whose stock is mentioned in this article.