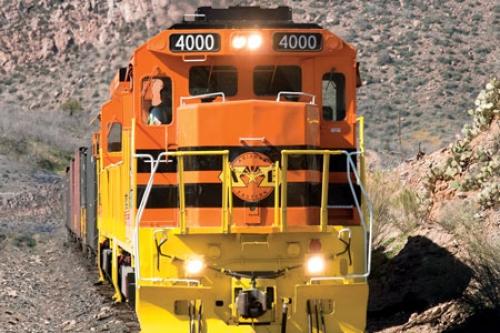 The U.S. economy appears to be in recession territory. Industrial production fell 0.6 percent in March, and fell for the 6th time in the previous seven months. The metric measures the output of manufacturing, mining and utilities. It peaked in November 2014 right after the Fed's quantitative easing ("QE") program ended and has fallen ever since. Less industrial production means fewer industrial products shipped by rail. That thesis appears to be playing out as Genesee & Wyoming's (NYSE:GWR) April carloads fell 8.6% Y/Y to 229,972 carloads.
Declining Carloads Is Foreboding
GWR is down over 6% to $56.56 after announcing the fall in rail traffic. Carloads from North America and Australia were down, while carloads from the U.K. and European operations were flat Y/Y.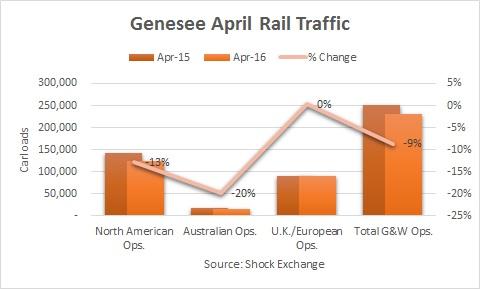 Revenue from North America was down 13%, while revenue from Australia was off 20%. The performance of Europe was key in that it is the first month the results will be apples-to-apples in comparison to those of the previous year. In Q1 2015 the company acquired Freightliner, an international freight rail operator with a presence in the U.S., Poland, Germany and Australia. Now that the impact of Freightliner is included in the results of both years, April carloads do not look so impressive.
North America was negatively impacted by coal and coke (off 40%) and agricultural products (down 16%). For the first 18 weeks of 2016 cumulative U.S. car loads were down by 14% Y/Y; double-digit declines in Genesee's North American carloads are consistent with those of competitors. Total U.S. rail traffic (including intermodal) was down about 8% for the first 18 weeks of 2016. North America represents 56% of Genesee's total carloads, so the region will likely drive sentiment.
Europe represents 39% of total carloads, up from 36% last year. April 2016 results were negatively affected by coke and coal (down 64%) and minerals & stone (off 12%). Intermodal traffic increased 11%, offsetting declines in other products. Intermodal was 83% of total rail traffic in April 2016, up from 75% in the same month last year.
Potential Impact On Revenue And EBITDA
Intermodal traffic tends to generate the lowest freight revenue per unit. Intermodal's increasing percentage of total European traffic, and Europe's increasing percentage of Genesee's total worldwide traffic implies revenue per unit will decline. In Q1 Europe's average revenue per carload for coke & coke, and intermodal was $539 and $304, respectively. Intermodal revenue per carload was at a 40% discount to coke & coal. Secondly, Q1 average revenue per carload for North America, Australia and Europe were $579, $536 and $317, respectively. The more carloads are weighted towards Europe the less revenue the company generates.
The company's adjusted EBITDA in Q1 was $126 million, equating to a 26% margin. Genesee's margins are paltry vis-a-vis competitors. Canadian Pacific (NYSE:CP) in the 49%; CSX (NYSE:CSX) and Norfolk Southern (NYSE:NSC) have margins in the mid-30% range. Management has vowed to replace its free falling coal volume with other traffic. It has also promised to rightsize the business and increase EBITDA margins to 30% in 2016.
However, that margin assumption was predicated on about $2 billion in full-year revenue. Q1 revenue was $483 million and with carloads and revenue in decline for April, the company will be hard-pressed to reach its revenue or EBITDA targets for 2016. GWR trades at nearly 11x run-rate EBITDA -- more than the 8x I think would be appropriate for railroads. Investors should continue to avoid GWR.
Disclosure: I am/we are short NSC, CP, GWR.
I wrote this article myself, and it expresses my own opinions. I am not receiving compensation for it. I have no business relationship with any company whose stock is mentioned in this article.