Our View On
Overall Score: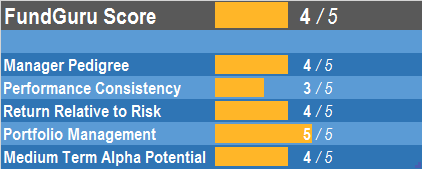 Return and Volatility Relative to Peers: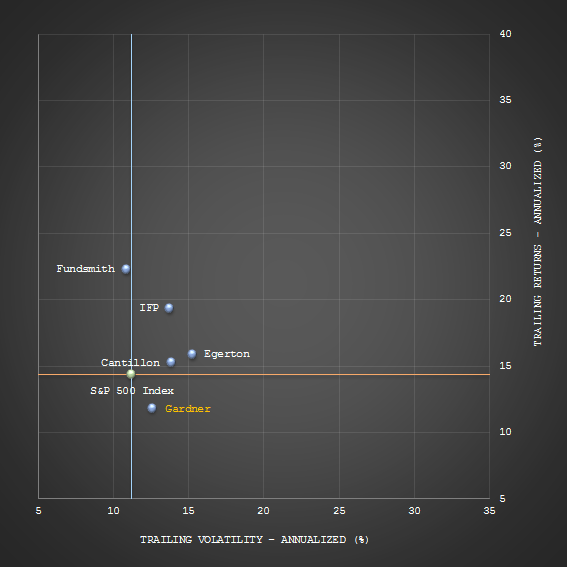 Orange data points denote manager portfolios we recommend readers to consider. For the full list of managers we cover, please visit Schedule of Manager Reviews.
I. Introduction
This is part of a series of quarterly reviews that analyze the performance and portfolio characteristics of interesting equity managers running public (mutual funds) or private pooled investment vehicles (hedge funds) that are not accessible by mainstream investors. Our aim is to provide readers:
An overview of the manager's background (Section II)
An analysis of the manager's historical return and risk characteristics based on its 13-F portfolio (Section III)
An analysis of the manager's portfolio characteristics and top holdings (Section IV)
An overview of the most interesting holdings (Section V)
An opinion on whether readers should follow the manager's ideas or copy its portfolio (Section VI)
All analysis is based on a clone portfolio of the manager's top 10 disclosed holdings. It may not be an accurate reflection of the manager's actual investment performance.
For more information on why our analysis is focused only on the top 10 holdings, please refer to our Schedule of Manager Reviews referenced above.
II. Manager Brief
| | |
| --- | --- |
| Manager Name: | Gardner Russo & Gardner LLC |
| Location: | Lancaster, PA |
| Year Founded: | 1968 |
| Investment Style: | Long-Only, Quality |
| Lead Portfolio Manager(s): | Tom Russo |
| Number of Employees: | 40 |
| MV of Latest 13-F Holdings: | $11.8bn ($11.7 at 12/31) |
Gardner Russo is a long-only equity manager. The firm has been around for a long time, and is currently under the stewardship of Tom Russo since 1989, a famed value investor of the Buffett-mold. It invests in high quality businesses with high ROIC, low leverage and dominant market positions. Due to the type of businesses it looks for, the portfolio tends to have a bias towards the consumer staples sector.
Gardner Russo's quality orientation is somewhat similar to some of managers we have covered, such as Fundsmith, Independent Franchise Partners, and Cantillon Capital Management.
III. Performance Analysis (USD Total Returns)
Our clone portfolio returned +11.8% annualized since 2013, underperforming the S&P 500 which returned +14.4%. This was driven by poor relative performance in 2013 and 2014. The portfolio performed well in 2015 and is so far closely matching the index in 2016.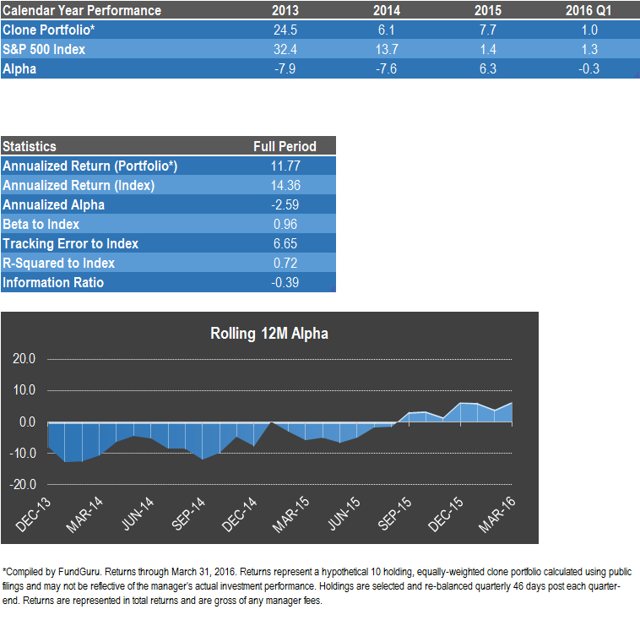 IV. Holdings Analysis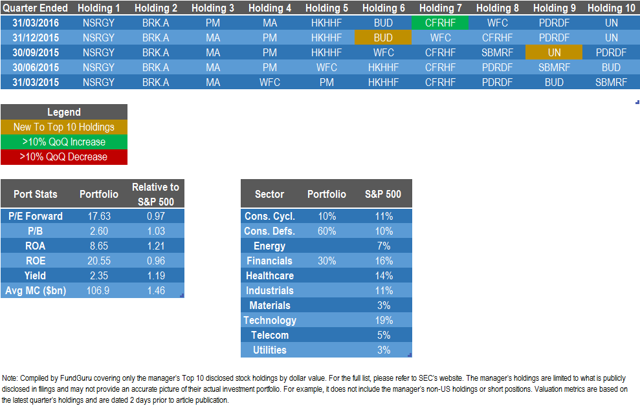 Portfolio Characteristics
This is a "buy-and-hold forever" style portfolio with very little QoQ turnover. From a P/E and P/B perspective, the portfolio is not too different from the S&P 500. Its ROA is slightly higher. There is a mega-cap orientation.
From a sector perspective the portfolio is heavily tilted towards the Consumer sectors (70%). The balance (30%) is in Financials.

Individual Names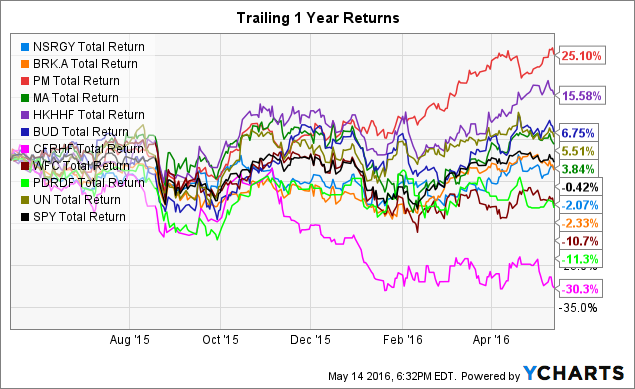 NSRGY Total Return Price data by YCharts
Among the top 10 holdings, individual name performance have varied widely over the trailing 1 year period.
The three best performing names are Philip Morris (NYSE:PM), Heineken (OTCQX:HKHHF) and Anheuser Busch Inbev SA ADR (NYSE:BUD).
The three worst performing names are Compagnie Financiere Richemont SA (OTCPK:CFRHF), Pernod Ricard SA (OTCPK:PDRDF) and Wells Fargo (NYSE:WFC).
This is the YTD performance through Friday's close: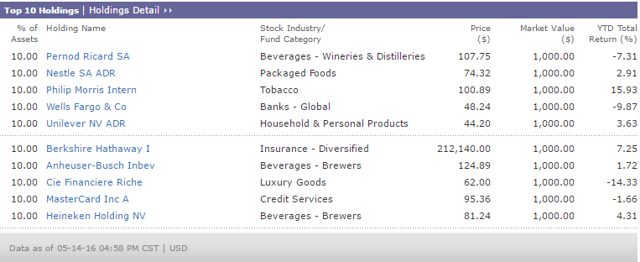 Recent Activity
During the first quarter of 2016, we observed the following portfolio activity:
New Entrant(s) to Top 10: None
Notable Increase(s) in Top 10: Compagnie Financiere Richemont SA
Notable Reduction(s) in Top 10: None
V. Holding of Interest: Compagnie Financiere Richemont SA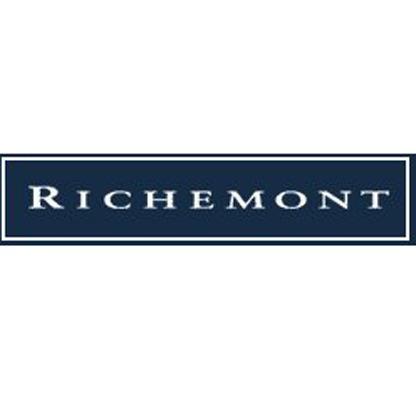 Gardner Russo is a rare manager that prefers to invest in European equity markets via US-listed instruments, such as ADRs, which are visible on 13-F filings.
We are highlighting Richemont as it is the only buying activity in the manager's portfolio during Q1 2016. It is also the worst performing name over 1-year and YTD.
Richemont is a Switzerland-based luxury goods holding company established in 1988. It owns several of the world's leading jewelry and watch brands that includes Cartier, Van Cleef & Arpels, Piaget, Vacheron Constantin, Jaeger-LeCoultre, IWC Schaffhausen, Panerai and Montblanc, many of which have been around for much longer than the holding company. It is the second largest listed luxury goods company after LVMH Moët Hennessy Louis Vuitton.
The company has underperformed the Swiss equity market, as defined by the iShares MSCI Switzerland Capped ETF (NYSEARCA:EWL), as well as the broader European equity market over the trailing 1 year period, as represented by the Vanguard FTSE Europe ETF (NYSEARCA:VGK):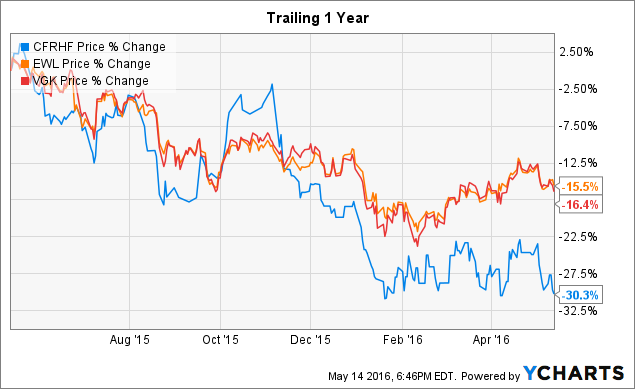 As a company operating in the cyclical luxury goods sector, it is currently experiencing sluggish demand for its high-end products, mainly due to strength of the Swiss Franc and decreased demand from Asian markets.
Its share prices have dropped about -40% from the peak reached in mid-2014, as revenues and earnings have declined: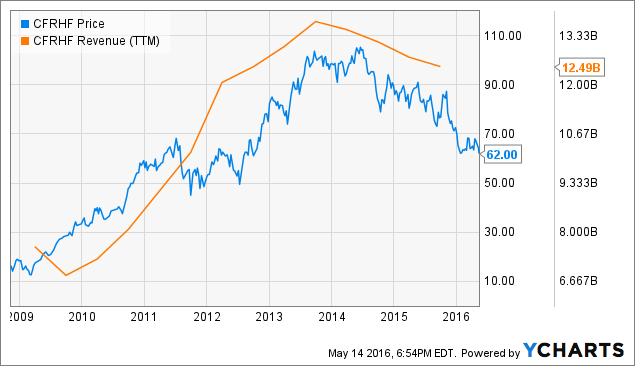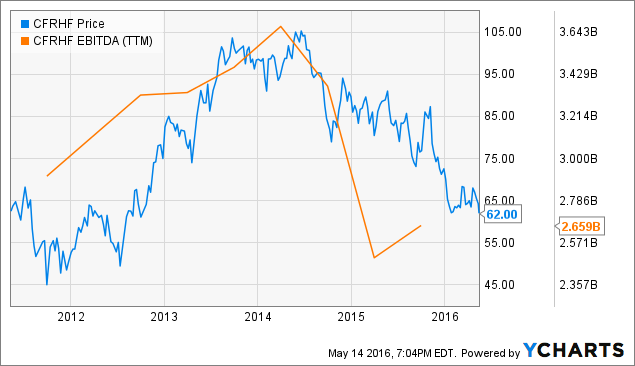 These worries aside, the company's financial strength and profitability still appears very robust at present and vs. the 5-year average: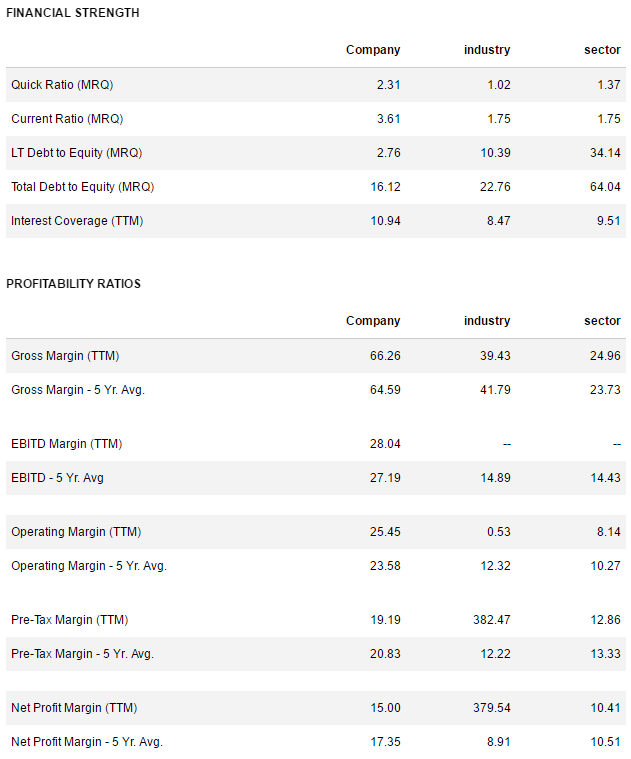 The company is currently trading on a trailing P/E of 19.1x, undemanding for a high quality business owning high quality assets. Its forward P/E is 17x, the lowest among the top 10 holdings, behind Wells Fargo.
Below are various ratios from Reuters: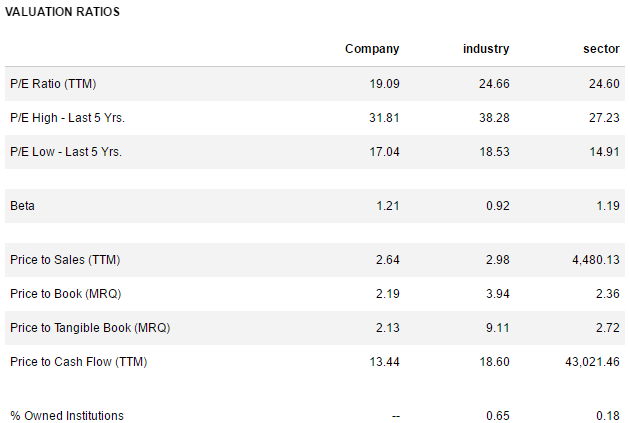 At current valuations, we believe the company may be interesting for investors looking for a high quality company outside of US markets.
We recommend accessing this company directly via the Swiss exchange, or via the company's sponsored ADR (OTCPK:CFRUY). The company is currently trading at late-2012 levels: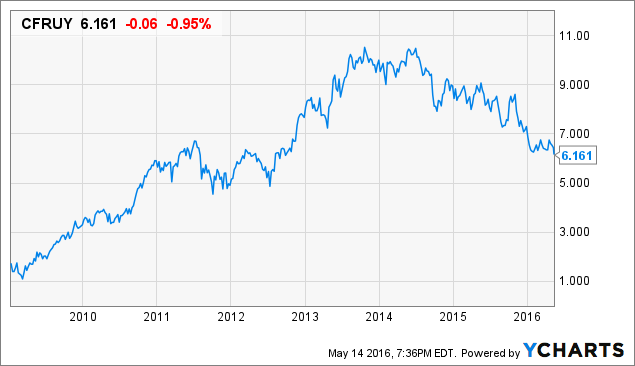 VI. Summary Thoughts
We Liked:
Established manager that has been around for a long time, and practicing a time-tested investment philosophy
Stable asset base
Turnover is almost non-existent
We Didn't Like:
Performance has been middling over the past 3 years, although numbers are improving (and will most likely outperform in a market downturn)
Concentration in the Consumer Staples sector, although this is more of a consideration
Actual 13-F portfolio slightly diversified
Bottom Line:
This is a defensive portfolio invested in some high quality businesses not trading at their peak. Its consumer-staple orientation will likely prove defensive in a market downturn, which cannot be ruled out given overvalued US markets. If a drop does materialize, this will be an opportunity for the manager to play catch-up. We recommend this portfolio to cautious investors.
Interested in Following More Alpha?
Follow us now to get live updates as we post new reviews, and/or see our Schedule of Manager Reviews (linked above) for an up-to-date list of the managers we have assessed so far.
Disclaimer:
Returns represent a hypothetical 10 holding, equally-weighted clone portfolio calculated by FundGuru using public filings made with the SEC by the investment manager. All information presented here is not endorsed by, affiliated with, sponsored by, or fully reflective of the manager or their companies. The information contained here includes the names, brief biographical information, and references the companies of certain persons whom FundGuru has identified from publicly available information as equity managers. FundGuru does not communicate with and is not supported or endorsed by or affiliated or associated with any of these managers or their companies. To the extent the managers use their names or the names of their companies as trademarks, such trademarks belong to their respective holders, and FundGuru's use of the same does not imply any affiliation with or endorsement by them. Information about the investments of the manager is limited to that which is publicly available in regulatory filings and may not provide an accurate picture of their actual investment portfolio nor investment return.
Disclosure: I/we have no positions in any stocks mentioned, and no plans to initiate any positions within the next 72 hours.
I wrote this article myself, and it expresses my own opinions. I am not receiving compensation for it (other than from Seeking Alpha). I have no business relationship with any company whose stock is mentioned in this article.
Editor's Note: This article discusses one or more securities that do not trade on a major U.S. exchange. Please be aware of the risks associated with these stocks.