Gold traded to highs of $1920.70 in 2011 and silver almost made it to $50 per ounce that year, posting a high of $49.82. Platinum, the third major precious metal that trades on the futures exchange in the U.S. traded to $1918.50 in 2011, the industrial precious metal traded to highs of $2,308.80 in 2008.
In 2011, these metals entered a prolonged bear market as each metal began to make a series of lower highs and lower lows. When the dollar index started to appreciate in May 2014, precious metal prices picked up downside steam. They fell to lows in late 2015 and early 2016. Gold got down to $1046.20 last December. Silver's nadir came at $13.635 at the same time, and platinum got to lows of $812.20 per ounce in January 2016. Gold, silver and platinum fell 45.5%, 72.6%, and 64.8% respectively from the highs to the lows of the bear market.
In 2016, the world changed for precious metals, and all three have posted dramatic gains of the first four and one-half months of the year.
New highs and then profit taking
The most recent high for gold came on May 2 when the yellow metal traded up to $1306 in the active month June COMEX futures contract.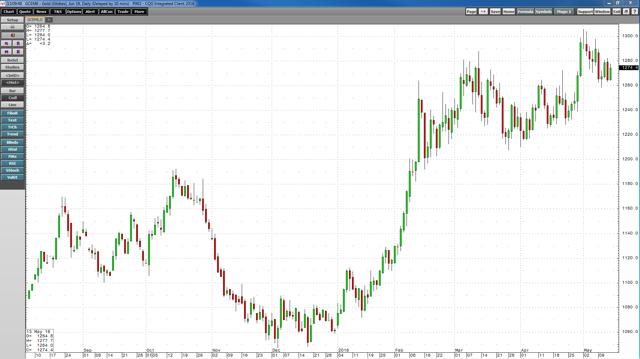 As the daily chart highlights, gold moved lower after the latest high, trading down to lows of $1258.30 on May 10, it closed last Friday around the $1273 per ounce level.
Silver peaked at $18.06 on May 2, when it traded at the highest level since January 2015. On that day, silver put in a bearish key reversal. It made a new high but closed below the previous session's lows.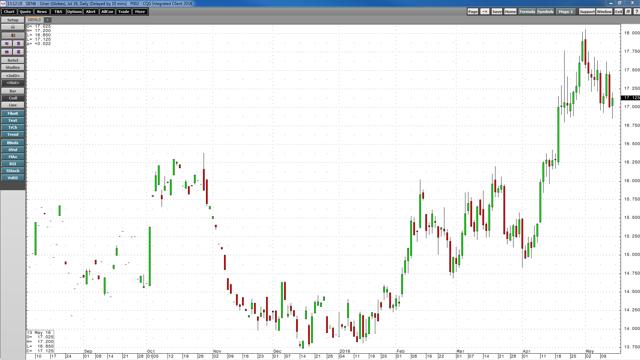 The daily chart shows that silver moved to lows of $16.85 per ounce last Friday on the active month July COMEX futures contract. Silver then recovered and closed last Friday at around $17.13 per ounce.
Platinum peaked at $1092.30 per ounce on May 3 and, like silver, put in a bearish key reversal trading pattern on the same day.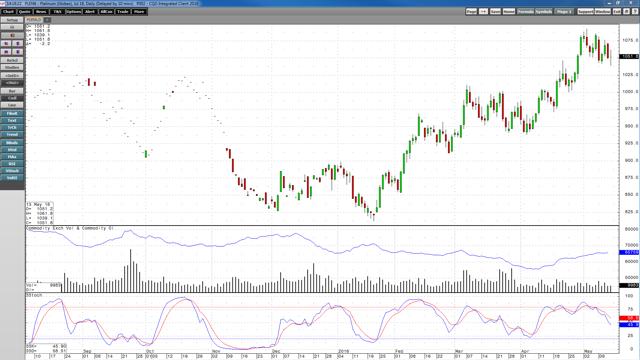 Platinum moved to a low of $1039.10 before recovering and closing the week just above the $1050 level.
A bounce in the dollar from recent lows, weakness in other commodity prices and profit taking took all three metals lower from new highs.
This correction can go a lot further - but that is not likely
Markets tend not to move in a straight line; there is always a lot of two-way price action in any bull or bear market. While commodities are more volatile assets than stocks, bonds or currencies, price corrections are common even at times when they are trending lower, or in the current case higher.
The truth is that there is a lot of downside room in all three metals given their dramatic moves from lows in late 2015 and early 2016. A 50% retracement of the recent moves could take the price of gold to $1176, silver to $15.85 and platinum to $952. However, there are reasons why I believe that although we could see further selling in precious metals in the sessions to come, a move to those levels is highly unlikely. To start, we have witnessed a reversal in long-term trends for all three metals.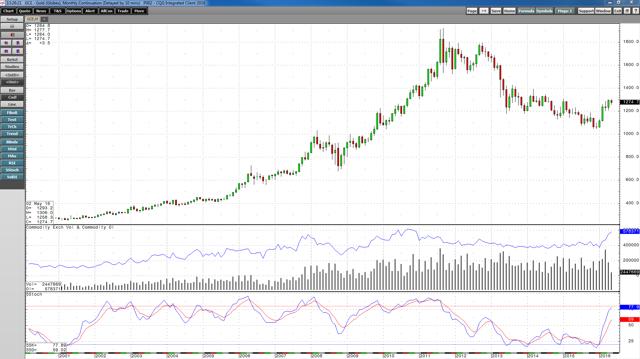 As the monthly gold chart illustrates, the slow-stochastic which is a momentum indicator shows a reversal to a positive trajectory for gold on a long-term basis. This change occurred in late 2015, and it continues to point to higher prices. The next resistance level for gold is the January 2015 high of $1307.80 per ounce. We recently traded to only $1.80 lower than that level and given the current state of technical indicators it is likely that the precious yellow metal will eventually surpass those highs.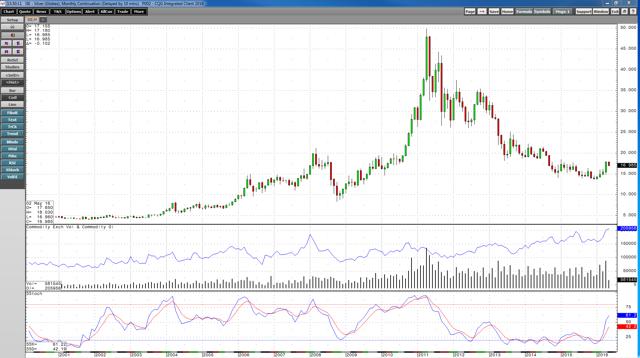 The monthly silver chart also presents a positive case regarding long-term momentum. Resistance is at the January 2015 high at $18.505 per ounce. The technical picture for silver suggests that it will test that high and move even higher after almost five years of bear market price action.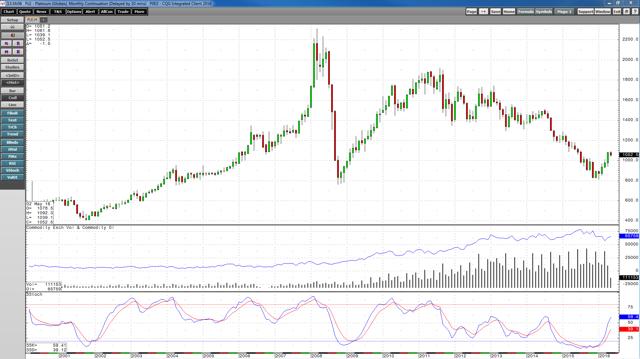 Platinum's monthly chart displays the same technical picture with the momentum metric pointing to higher prices. The next test on the upside for "rich man's gold" is at the $1180 level where there is minor resistance.
While long-term technical indicators tell us that a big wash-out in precious metals prices is not likely, and we could be looking at tests of upside resistance, fundamentals for the precious metals are even stronger.
Global interest rates support the lustrous metals
Precious metals are both commodity and currency assets. They are metals, making them commodities but they all have long histories as means of exchange or assets that retain value over time. Therefore, precious metals have a high degree of sensitivity to moves in both currencies and interest rates.
Precious metals moved lower while the dollar was rallying from May 2014 until early 2016. Recently, the dollar has been in correction mode. A lower dollar has provided additional support for gold, silver and platinum. Moreover, interest rates around the world remain at the lowest level in history. In the U.S., the Fed Funds rate remains well below the 1% level and will likely stay below there even if the central bank moves to hike rates as promised at their upcoming June meeting.
In Europe and Japan, short-term rates are in negative territory. Precious metals compete with other assets, such as currencies. The low and in some case negative currencies yields have caused gold, which has little or no yield, to become more attractive. Therefore, gold has not only appreciated over recent months in U.S. dollar terms but every other currency as well. The action in the U.S. dollar and interest rates around the world provides a compelling fundamental case for further gains in precious metal prices.
Investment demand is back in 2016
As commodities, precious metals have other applications aside from their role as investment assets. Fabricated or jewelry demand plays an important role for gold, silver and platinum each year. Industrial demand also provides for a myriad of applications which affect the demand side of the fundamental equation for these lustrous metals. However, each year it is hoarding or dis-hoarding that determines the path of least resistance for prices. Investors, traders, savers, central banks and others around the globe tend to turn to precious metals at times of uncertainty and inflation. These days, with central bank policies aimed at stimulating demand via low interest rates and quantitative easing which amounts to printing money, fears of an inflationary backlash have increased. People's faith in the credit of governments that print currencies around the world has declined, resulting in an increase in the popularity of precious metals.
In 2015, Central Banks alone added more than 700 tons of gold to their coffers. Central banks around the world currently hold over one-third of all of the gold ever mined in the history of the world. The monetary authorities classify their gold holdings as foreign currency reserves giving the ultimate credence to the argument that gold and precious metals are money.
Investment demand for precious metals is strong and rising these days, and another technical metric in the futures market provides the proof. Open interest is the total number of open long and short positions in a futures market. Rising open interest that accompanies an increasing price is a bullish signal for a market. It tells us that investors and traders are willing to pay higher prices for long positions expecting prices to rise further. In precious metals, open interest is often a signal that markets are attracting interest.
As of Friday, May 13, 2016, open interest in COMEX gold futures stood at 578,371 contracts - the highest level since December 2010 when gold was on its way to all-time highs in 2011. The highest level open interest in gold ever reached was 612,454 in September 2010. While gold is approaching all-time highs in this metric, silver is already there. As of last Friday, there were 205,956 contracts of open interest in COMEX silver futures. In NYMEX platinum futures, open interest is currently at the 66,759 contract level; it has been edging higher since March. The highest level platinum open interest has ever reached was just under 76,000 contracts.
Some may argue that the high level of open interest in precious metals today means that there are too many long positions in these markets. However, I believe this metric is a sign of increasing investment demand for precious metals which is a fundamentally bullish sign.
Higher lows will lead to higher highs
Long-term technical factors point to higher precious metals prices. Investment demand is rising, and low interest rates are supportive from a fundamental perspective. The strongest markets are those that have both technical and fundamental strength behind them. While gold, silver and platinum could move lower, support at the 50% retracement levels for all three metals is far below current prices. So long as they stay above those levels, the technical picture remains bullish. I believe that there is much more upside than downside in these markets in the weeks and months ahead. Fasten your seatbelts; precious metals are likely to continue to make higher lows and higher highs, as the bear market of 2011-2015 is over.
Disclosure: I/we have no positions in any stocks mentioned, and no plans to initiate any positions within the next 72 hours.
I wrote this article myself, and it expresses my own opinions. I am not receiving compensation for it (other than from Seeking Alpha). I have no business relationship with any company whose stock is mentioned in this article.
Additional disclosure: The author always holds part of his portfolio in precious metals. The percentage varies with market conditions.