Investors in Kroger (NYSE:KR) have thus far experienced a tumultuous 2016. During the 2015 Q4 earnings release on March 3rd, the company reported its 49th straight quarter of identical store sales growth, a 10% increase in earnings per share vs. same period year ago and reduced operating expenses as a percentage of sales for the 11th straight year. Nevertheless the stock immediately dropped due to a slight revenue miss caused by price deflation in meat and lower fuel prices. Year to date the stock is down nearly 17%.
Long term investors need to ignore this volatility; Kroger is a solid business to own.
Revenue and Operating Margin Growth
Grocery is a notoriously low margin and extremely competitive industry. According to analyst Jeff Cohen of IBIS World, the average profit margin for grocery stores is 1.3%. Kroger is not only operating in a low margin business but also competing with top tier companies including Wal-Mart (NYSE:WMT), Target (NYSE:TGT) and Whole Foods (NASDAQ:WFM).
In this difficult operating environment, Kroger has managed to increase same store sales for 49 straight quarters (over 12 years) and has been recently outperformed peers Wal-Mart and Target.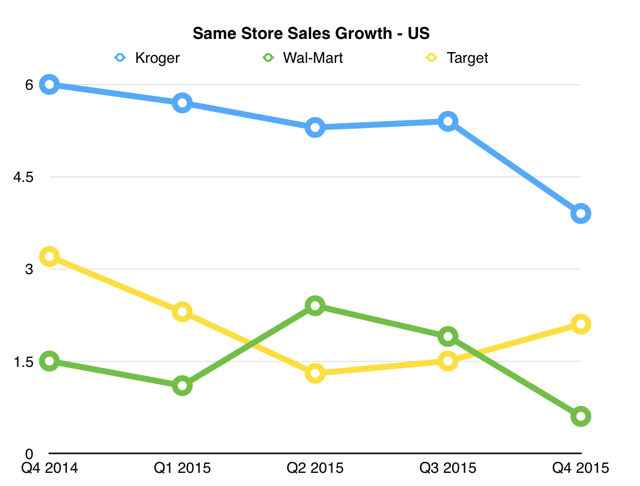 Kroger's gains in same store sales is more impressive when its growth in operating margin is also considered. During the past three years, Kroger has increased its operating margin from under 2.5% to slightly under 3.5%.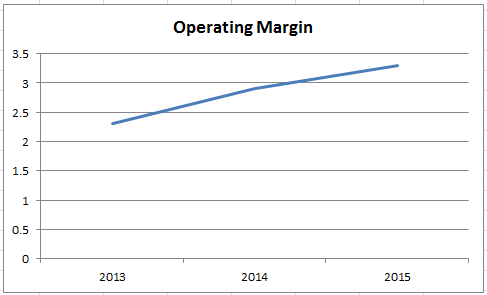 Kroger's gains in operating margin have been partly driven by its strength in private label products. According to the Food Marketing Institute, when a retailer sells a name brand product, the gross margin is around 28%. When retailers sell a private label product, the gross margin is higher; around 35%.
Over the past three years, Kroger has increased the dollar and volume share of product label goods sold through its stores. Kroger's strength in high margin private label products is partly driving its increasing operating margin.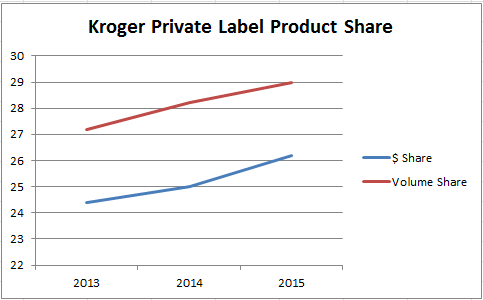 I mention the three data points above to remind investors that Kroger is a company that is operated with excellence. Kroger is growing its top line through increases in identical store sales while also increasing its operating margin partly through private label products.
Room To Grow With Fill In Strategy
Four years ago, Kroger announced it would begin a fill in strategy to increase the company's presence. Kroger began expanding the square footage of existing locations, opening new stores and acquiring numerous competitors including Harris Teeter's Roundy's, Hiller's and others. Kroger's fill in strategy has succeeded and the company still has room to expand.
In the most recent earnings call, CFO Michael Schlotman disclosed Kroger increased its overall market share by 40 basis points. Of the 20 geographies the company competes in, market share increased in 17 geographies. Kroger's fill in strategy is clearly winning for sales growth. How financially efficient is this strategy?
Existing store expansion, new store openings and acquisitions all require capital expenditure. Partly as an effect of the fill in strategy, Kroger's capital expenditures have increased nearly 50% the past three years.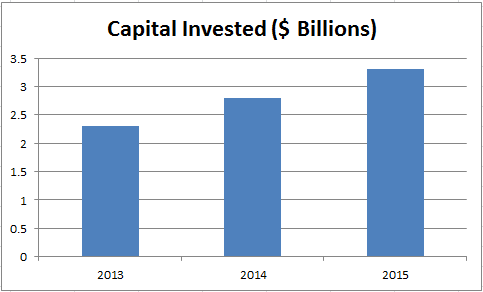 Alongside the billion dollar increase in cap-ex, Kroger has also increased its return on invested capital by over 50 basis points.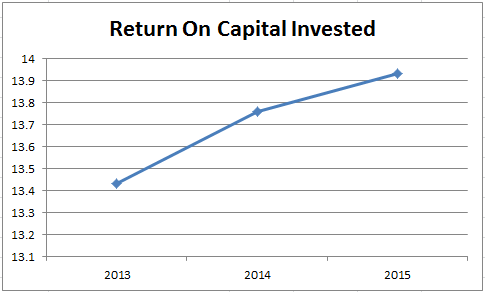 While Kroger is already the nation's top grocer, the company still has significant room for expansion. As of January 1st, 2015, Kroger's 2,500+ supermarkets are primarily concentrated in the Midwest, Central Atlantic and Western coastline. Kroger has no or minimal presence in Northeast, Florida or many western states.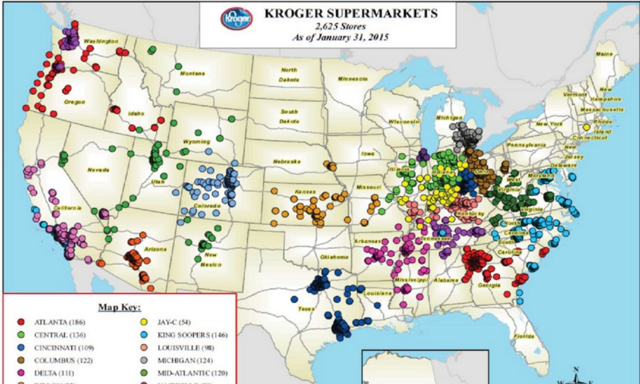 Kroger's increasing return on invested capital has proven to investors the company can efficiently expand. The company also has significant room to grow throughout the United States. Kroger likely has decades of growth ahead.
Share Buybacks
I'm not always a fan of share buybacks as many company's buy back shares when the stock price is high. Kroger is not one of those company's. Kroger has repurchased an immense amount of shares and continues to do so at attractive prices. This increases the ownership stake for existing investors.
Over the past nine years, Kroger has decreased its split adjusted shares outstanding from nearly 1.5 billion to slightly under 1 billion as of January 2016. They have repurchased 33% of outstanding shares the past nine years.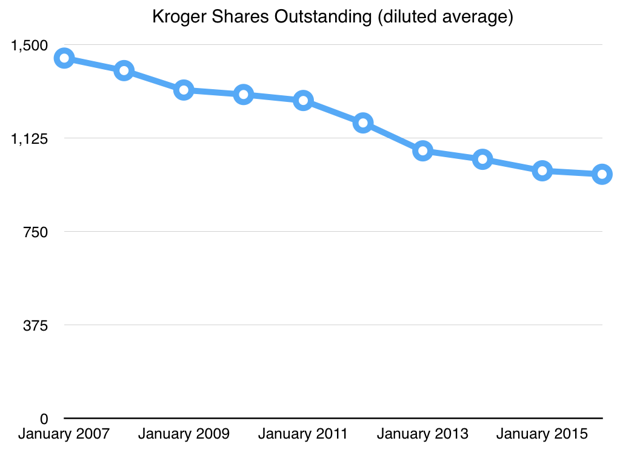 Kroger's large share repurchases have increased the ownership stakes for existing investors. At what price point have these shares been repurchased?

In fiscal year 2015, the company repurchased $700million worth of shares at an average price of $36.84. Nearly 20% below the high of $42.75 during that time period. I am not showing similar results for 2014 and prior years since Kroger's stock was on a continuous upward trajectory during that time. For fiscal year 2015, the stock had "only" increased 12%.
In June 2015, the company announced a $500 million buyback followed by an additional $500 million buyback authorization announced in the March 2016. Kroger's continued share buybacks at prices below their period highs will efficiently increase the ownership stake of existing investors.
Conclusion
In conclusion, long term investors should ignore the recent volatility in Kroger. The company is increasing revenue while simultaneously increasing operating margin, expanding to new markets in a capital efficient manner and repurchasing massive amounts of shares at attractive prices. The Kroger company will continue to outperform and investors that stay the course will be rewarded.
Supporting Documents
Disclosure: I am/we are long KR.
I wrote this article myself, and it expresses my own opinions. I am not receiving compensation for it (other than from Seeking Alpha). I have no business relationship with any company whose stock is mentioned in this article.